Watch Disaster House
Disaster House, hosted by Josh Temple, takes a comedic approach to the wear and tear home owners experience in their house. The series centers around damage that homes endure over the years, but uses theatric antics to speed up the process. The show actually causes the damage using a simulated manner, like dropping a piano from 10 stories into the house, or bringing in an elephant to clog the sewer system, or hosting a roller derby. Whatever the project, the show offers some creative ways to simulate the damage, and then shows viewers how to repair it, using appropriate materials.
Friday 10:00 PM et/pt on DIY Network

3 Seasons,

39

Episodes - Currently Airing

10

/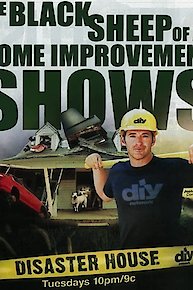 Disaster House

Full Episode Guide
Episode

13

-

Shaky Ground

Disaster House hosts its first-ever dance competition in the "Disaster House" living room to see what kind of foot-stomping creates the most squeaks in our floor.

Episode

12

-

Terra Un-Firma

Josh Temple and the Disaster House crew show you what to look for when your landscape is damaged and how to safely remove critters from your property.

Josh Temple and a crew create a nocturnal obstacle course for animals you're destined to run over in the dark. Later, Josh shows you just how dangerous an improperly lit property can be.

Episode

10

-

Daily Damage

Episode

9

-

Plumbing Problems

Episode

8

-

Unexpected Impact

Episode

7

-

Small But Mighty

Episode

6

-

Waxy Build-Up

Episode

5

-

Accidents Upon Entry

Episode

4

-

Sticks and Stones

Episode

3

-

Down the Drain

Episode

1

-

Nocturnal Nuisances
Episode

12

-

Spore Center

Episode

11

-

Subterranean Catastrophe

Episode

9

-

Greased Lightning

Episode

3

-

Hail to the Thief

Episode

2

-

Cars and Stripes
If You Like Disaster House, Then Try...