Watch Girls
Girls is a comedy on HBO that is written, directed and produced by Lena Dunham. It premiered in the spring of 2012 to immediate acclaim. Critics and fans praised Girls for its unflinching look at the real lives of young adults in New York City. The titular girls are not glamorous or aspirational. They are not even likable all the time, and they are not supposed to be.
In the pilot episode, Dunham's Hannah learns that her parents will no longer be financially supporting her. She becomes just another over-educated young adult who cannot find a job. She struggles with the realistic need to land a white collar job despite her lofty dreams of becoming a writer. The show casts Hannah as a ridiculous character. She dreams of writing her memoirs even though it is clear that her life is not special enough to warrant a memoir.
Hannah's best friend Marnie, played by the beautiful Allison Williams, has a respectable adult lifestyle, but her high-strung nature alienates her from her friends and boyfriend. Jemima Kirke's Jessa is a worldly Brit who shakes up her friends' lives when she returns from traveling overseas. She projects a free-spirited attitude that is really covering up pain and fear. She does not crack often, but when she does, there are major repercussions. Jessa's cousin Shoshanna is initially introduced as little more than fast-talking comic relief, but Zosia Mamet gradually chips away at her character's neuroses to reveal a charming oddness. Shoshanna is a mirror for her older friends, shattering their illusions of maturity.
Girls was helmed under the tutelage of Judd Apatow, so audiences can expect improvisational humor laced with brutal drama. Girls does not hesitate to depict the characters in unattractive moments. They fight about inconsequential things and have cyclical, endless conversations about their boy troubles. When these girls are annoying, audiences cringe because they can relate.
Girls does not wrap up complex circumstances in neat packages. Confusing situations play out without clear resolutions. One notably entertaining subplot involves the end of Marnie's relationship. She did not enjoy dating Charlie when he was in love with her, but she is upset when he quickly moves on after the breakup. Marnie's feelings are contradictory and completely common. The situation is played for laughs without insulting real girls who have acted the same way. Girls depicts many realistic scenarios this way, with humor and heart.
Watch Full Episodes of Girls

Season 5 Episode 10
I Love You Baby
Season 5 Episode 9
Love Stories (34:23)
Season 5 Episode 8
Homeward Bound (34:15)
Season 5 Episode 7
Hello Kitty
Season 5 Episode 6
The Panic in Central... (33:48)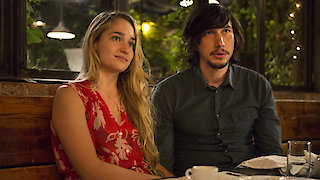 Season 5 Episode 5
Queen for Two Days (34:26)

Watch Episodes
News
Clips & Extras
Season
5
10 full episodes
Episode

10

-

I Love You Baby

Elijah and Loreen help Hannah with her plan to participate in the Moth Story Slam. Marnie prepares to go on tour with Desi. Shoshanna's idea for an "anti-hipster" Ray's takes off. After helping take care of the baby, Jessa and Adam have an epic fight.

Hannah gives Principal Toby some unexpected news; Marnie has an unsettling dream; Shoshanna offers to help Ray with marketing his business; Elijah wants an exclusive relationship with Dill.

Episode

8

-

Homeward Bound

Hannah becomes stranded after her road trip with Fran gets cut short; Adam stops by Laird's place and stays to help with the baby; Shoshanna gets a wake up call; while recording a new song, Marnie receives parameters for her relationship with Desi.

Hannah gets in trouble by the school principal, and her response angers Fran. At Adam's play, an anxious Jessa is concerned about seeing Hannah after their scuffle, and Marnie shares information with Ray. Elijah goes to a cool party at Dill's apartment, where he thinks that he may be one of many.

Episode

6

-

The Panic in Central Park

Needing space after a fight with Desi, Marnie goes for a walk and has an unexpected run-in with someone from her past.

Episode

5

-

Queen for Two Days

Hannah and her mom, Loreen, embark on a female-empowerment retreat, where Loreen hopes for clarity in her situation with Tad, and Hannah relishes time away from Fran. In Tokyo, Shoshanna enjoys her budding romance with Yoshi, and gets a surprise visitor from the U.S. Jessa meets up with her sister Minerva and asks for a favor.

Hannah and Fran disagree about their teaching methods. Marnie fumes over Desi's decision to launch a major construction project in their studio apartment. Jessa pushes Hannah away over an awkward rice-pudding meetup. Elijah gets closer to Dill Harcourt.

Thriving at her new job in Japan, Shoshanna flirts with the boss, but reminds her work friends that she has someone back in America. Hannah makes a shocking discovery on Fran's phone and struggles to contain her emotions. After viewing Adam's performance on a TV police procedural, Jessa shares her insights into his character.

An unusual roommate prompts Fran to move in with Hannah in New York. Also, Hannah receives an important call from her father, who is trying to figure out a new kind of dating. Adam and Jessa occupy the day together after they run into each other at an AA meeting. Ray is scared that the new cafe across the road is harming his business. Elijah has a come on from a famous news anchor.

Marnie tries to act calm while micromanaging her upstate nuptials to Desi. She requests for Shoshanna to dismiss Fran, Hannah's date, so the girls can prep themselves. Fran has an unusual moment with Adam as she is banned to the boys' area. A gloomy Ray assists Desi with his wedding-day worries.
Season
4
10 full episodes, 18 clips available
Hannah, Adam, and Jessa try to persuade Caroline and Laird out of having a home birth. Shoshanna is faced with a difficult decision when given a job opportunity. Ray lays it all out for Desi after Marnie and Desi meet with a record label exec.

Hannah's maturity is in doubt after she is faced with a family dilemma; Jessa, Ace, Mimi-Rose and Adam have an uncomfortable encounter; Marnie makes an announcement at Ray's campaign party.

Episode

8

-

Tad & Loreen & Avi & Shanaz

Hannah spends time with a new friend. Marnie and Desi argue over money. Jessa gives Shoshanna some tips on the art of seduction.

Episode

7

-

Ask Me My Name

Hannah goes out with a new coworker before attending a unique art show. Later, she spends some one-on-one time with Mimi-Rose, while Adam is agitated by Mimi-Rose's friend, Ace. Meanwhile, Shoshanna helps Ray with his community board election campaign.

Hannah does some soul-searching which leads her to an epiphany.

Hannah's friends try to help her through a life crisis. Hannah and Adam have a heart to heart.

Shoshanna spends the day with Ray after being rejected at her job interview.

Episode

3

-

Female Author

With only one class, Hannah has a lot of free time each week. Elijah visits Iowa.

Hannah moves into a new place and is excited she can get more for her money in Iowa, but struggles with the reality of life as a grad student.

In the fourth season premiere, Hannah and Adam pick up her remaining things and discuss how they'll endure a long-distance-relationship. Marnie and Desi perform as part of a jazz brunch for a distracted crowd at a downtown restaurant. Shoshanna signs for her diploma with her parents.
Season
3
12 full episodes, 16 clips available
Season
2
10 full episodes, 42 clips available
Season
1
11 full episodes
If You Like Girls, Then Try...
Most Popular Girls Episodes
Season 5 Episode 2

Good Man

2/28/2016

Season 1 Episode 1

Pilot

4/15/2012

Season 5 Episode 10

I Love You Baby

4/17/2016

Season 5 Episode 7

Hello Kitty

4/03/2016

Season 3 Episode 1

Females Only

1/12/2014
Girls News
New 'Girls' Trailer Shows Lena Dunham's Hannah in Iowa
Hannah's getting a change of scenery, but the rest of the cast seems to be staying the same.
Lena Dunham Under Fire for Claims She Sexually Abused Her Younger Sister
Dunham wrote about her childhood experiences in her new book, but one particular passage isn't going over well with conservatives.
Report: Lena Dunham Isn't Paying Performers On Her Book Tour
Is the very wealthy "Girls" creator taking advantage of people?
Allison Williams in the First Official 'Peter Pan' Photo
"The transformation begins!" Check out the "Girls" actress in her first official photo as the boy who never grows up.
Taylor Swift Is Now a Feminist, Thanks to Lena Dunham
The "Girls" star seems to have set the singer straight on the proper definition.
'Girls' Star Zosia Mament Reveals She Struggles With an Eating Disorder
In her column, My Zo-Called Life, Mamet opens up about her long-term struggle with body issues.
'Girls' Character Leaves Show After Differences With Lena Dunham
Christopher Abbott, who plays Charlie on the series, has announced that he will not be returning.
View More News

Girls Video Clips & Extras
Girls Season 4: Marnie & Desi: Making the Band (HBO)
Clip (04:49)
Girls Season 4: Episode #10 Preview (HBO)
Clip (00:31)
Girls Season 4: Inside the Episode #9 (HBO)
Clip (03:33)
Girls Season 4: Episode #8 Recap (HBO)
Clip (00:41)
Girls Season 4: Inside the Episode #8 (HBO)
Clip (03:54)
Girls Season 4: Episode #9 Preview (HBO)
Clip (00:31)
Girls Season 4: Episode #7 Recap (HBO)
Clip (00:41)
Girls Season 4: Episode #8 Preview (HBO)
Clip (00:31)