Watch How to Rock
How to Rock is a sitcom on television that is broadcast on the Nickelodeon cable network. Based upon a book entitled How to Rock Braces and Glasses by Meg Haston, the show stars Cymphonique Miller who plays Kacey Simon. The show follows the popular Kacey Simon, who was part of a group of mean girls at Brewster High School. Kacey is portrayed to be quite fashionable, preferring to wear skirts and dresses to jeans or t-shirts. She also appears very selfish with friends, often provoking trouble that she later works to get them out of.
After Kacey's status lowers upon wearing glasses and braces, the mean girls abandon her and she discovers new ways to enjoy life. For example, later she becomes the lead singer of a hip-hop, pop band.
Although she at first ridiculed members of Gravity 5, she joins them partly due to the influence of her friend, Zander. This occurs after she more clearly sees that by just being herself, she can make true friends who love her for who really she is, rather than her popularity. The group includes Stevie (played by Lulu Antariksa), Xander (played by Max Schneider), Nelson (played by Noah Crawford), and Kevin (played by Christopher O'Neal).
Gravity 5 develops a rivalry with The Perf's (short for Perfect), Kacey's former group. The rival band features former friends who have become enemies: Molly (played by Samantha Boscarino and and Grace (played by Halston Sage.
Molly Garfunkel (played by Samantha Boscarino) is the main antagonist and used to be Kacey's best friend. After Kacey realized that the only reason Molly liked her was because she was perfect, Kacey quit the Perfs group, resulting in Molly's rivalry and hatred.
It is very possible that Molly was merely waiting for the best moment to push Kacey out for good so that she could reign as the most popular girl at Brewster High School. Molly is a phony, appearing angelic to friends, displaying a very sweet, soft and warm personality to fellow Perfs, but is very cruel, snarky to Gravity 5 band members.
As Queen of the Perfs musical group. Molly is just as competitive and popular as Kacey. However, she spends her time masterminding an evil plot to destroy Kacey's standing. The pilot episode features her humiliating Kacey in front of a very large crowd of people. Stevie comes to the rescue, exposing her for harassing Kacey.
Kacey becomes even more confident and goes on a tireless campaign to take Gravity 5 to the highest heights possible while also climbing the school's social ladder. She writes songs, sings and dances.
1 Season,

26

Episodes - Currently Airing

8/10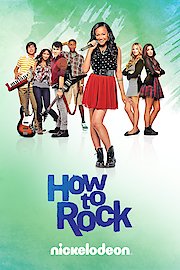 How to Rock

Full Episode Guide
Season 1
(75 full episodes)
Episode 26 - How To Rock Christmas

Gravity 5 and Molly get stuck in a mall on Christmas Eve.

Episode 25 - How to Rock a Tennis Ball

Kacey tries to prove she's responsible when Mr. March asks her to watch his flea market booth. When Mr. March's prized tennis ball gets destroyed on her watch, Gravity 5 and the Perfs help replace it.

Episode 24 - How to Rock a Uniform

The principal establishes a new school-uniform policy because of Kacey and Molly's intense fashion rivalry. The girls must unite to get it overthrown.

Episode 23 - How to Rock a Fashion Victim

Kacey applies for an internship with a fashion designer, but the work she submits is below par and she realizes she can't be perfect in everything.

Episode 22 - How to Rock Camping

Episode 21 - How to Rock a Good Deed

Episode 20 - How to Rock a High School Sensation

Episode 19 - How To Rock a Yearbook

Episode 18 - How To Rock a Singing Telegram

Episode 17 - How to Rock Cee Lo, Part 2

Episode 16 - How to Rock Cee Lo, Part 1

Episode 15 - How to Rock a Love Song

Episode 14 - How to Rock a Basketball Team

Episode 12 - How to Rock a Part-Time Job

Episode 11 - How to Rock a Birthday Party

Episode 10 - How to Rock a Lunch Table

Episode 9 - How to Rock a Secret Agent

Episode 8 - How to Rock a Prank

Episode 7 - How to Rock a Newscast

Episode 6 - How to Rock an Election

Episode 5 - How to Rock a Music Video

Episode 4 - How to Rock a Statue

Episode 3 - How to Rock a Guest List

Episode 2 - How to Rock a Messy Bet

Episode 1 - How to Rock Braces and Glasses