Watch Live! with Kelly
Former New York Giants defensive end Michael Strahan and Kelly Ripa entertain their audience with their automatic chitchat about their families, personal lives, in the news events, as well as welcoming celebrity guests and musical performances on their daily Live! talk show.
To keep it fresh, this daytime show occasionally drops its standard show format routine in favor of a particular themed show, such as their Broadway Week, and Top Teacher Week. For their annual Halloween show, the co-hosts change into a menagerie of costumes and act out the parts of the most famous people of the year. For the 2012 Halloween show titled Halloween Hurricane Telethon, Michael portrayed Oprah interviewing the Long Island Medium star Theresa Caputo (Kelly), and then later Kelly transformed herself into Honey Boo Boo. Viewer submissions are accepted for their special shows as when Live! creates a wedding for a couple who writes in the reasons why they should be married on the show and recently all was let loose before the cameras when Nashville star Hayden Panettiere was a guest and played a practical joke on Michael by telling him that she has two pet snakes, afterwards tossing a fake snake at the former New York Giants star. Live! has also traveled to several states which include Hawaii, Las Vegas, Walt Disney World and Hollywood (the show airs itís post-Oscar Awards special in which Michael and Kelly interview the celebrity attendees backstage and on the red carpet).
When Bizarre Foods host Andrew Zimmerman visited Live! Kelly became horror-struck as he tempted her to sample freakish foods such as blood pudding and grilled ox heart. A guarded eater, Kelly blasted into a panic mode even before the food spread came on stage.
On the September 4, 2012 Michael Strahan was announced as Kellyís new co-host (replacing Regis Philbin). The choice of Michael marked the end of a year-long search in which Kelly auditioned 59 celebrities to see who would make the best morning-chat partner.
Weekdays 9:00 AM et/pt on ABC

30 Seasons,

4204

Episodes - Currently Airing

September 5, 1988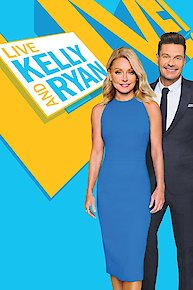 Live! with Kelly

Full Episode Guide
Episode

38

-

Guillermo Diaz

Episode

34

-

Cedric the Entertainer

Episode

33

-

Mark Consuelos, Naomi Watts, Ashley G...

Episode

32

-

Anderson Cooper, Scott Speedman, Mel ...

Episode

31

-

D.L. Hughley, Alexander Skarsgard, Me...

Episode

30

-

Andy Samberg, Michael Weatherly, gues...

Episode

29

-

Cameron Diaz, Ben Falcone, Gloria Van...

Episode

28

-

Matthew Perry, Darby Stanchfield, Col...

Episode

27

-

Oprah Winfrey, Brooke Shields, guest ...

Episode

26

-

Liam Hemsworth, Anna Chlumsky, guest ...

Episode

25

-

Mark Consuelos, Matthew McConaughey, ...

Episode

24

-

Kevin Hart, Martin Short, Ana Gasteye...

Episode

23

-

Jerry O'Connell, Ed O'Neill, Michiel ...

Episode

22

-

Jerry O'Connell, Jeff Goldblum, Nene ...

Episode

21

-

Trevor Noah, Sabrina Carpenter, Frank...

Episode

20

-

Dwayne Johnson, Aaron Tveit, guest co...

Episode

19

-

Mark Ruffalo, Paula Patton, Michael F...

Episode

18

-

Ethan Hawke, Marc Anthony, Dan + Shay...

Episode

17

-

James Corden, Miss USA Deshauna Barbe...

Episode

16

-

Eric Dane, Freddie Prinze Jr., guest ...

Episode

15

-

Paula Abdul, Jason Patric, guest co-h...

Episode

14

-

Beth Behrs, Alexander Jean, guest co-...

Episode

13

-

Gloria Estefan, X Ambassadors, guest ...

Episode

12

-

Maya Rudolph, the winner of the Scrip...

Episode

11

-

Mariah Carey, Chris Byrne, guest co-h...

Episode

10

-

Tyler Perry, Lizzy Caplan, Richard Bl...

Episode

9

-

Megan Fox, the winner of "The Voice",...

Episode

8

-

Stephen Amell, the winners and runner...

Episode

7

-

Anna Paquin, James McAvoy, Dr. Tanya ...

Episode

6

-

Emilia Clark, JoJo Fletcher, Dr. Taz ...

Episode

5

-

Daniel Dae Kim, Blake Shelton, Scienc...

Episode

4

-

David Muir, Julianne Moore, Rose Byrn...

Episode

3

-

Cedric the Entertainer, Zac Efron, Jo...

Episode

2

-

Jussie Smollett, Andy Samberg, Michae...

Episode

1

-

Jimmy Kimmel, Gordon Ramsay, Priyanka...
Episode

753

-

Richard Gere; Colin Hanks

Episode

752

-

Andy Samberg; Naomi Watts. Also: the ...

Episode

751

-

Benicio Del Toro. Also: Brett Eldredg...

Episode

750

-

Carol Burnett; Dylan O'Brien

Episode

749

-

Neil Patrick Harris; Chris Harrison; ...

Episode

748

-

Ben McKenzie; BIlly Gardell

Episode

747

-

Steven Tyler, Chrissy Teigen

Episode

746

-

Craig Ferguson, Kate Bosworth

Episode

745

-

Tyra Banks, Hank Azaria

Episode

744

-

Mel B, Kunal Nayyar, Shawn Mendes

Episode

743

-

Adam Sandler, Kit Harington, "Science...

Episode

742

-

Amy Schumer, Jason Statham, Dove Came...

Episode

741

-

Kevin James, LL Cool J, Blake Lively

Episode

740

-

Ryan Seacrest, Michael Douglas, Carli...

Episode

739

-

Taylor Swift, Jon Hamm

Episode

738

-

Joe Manganiello, Common, Kate McKinno...

Episode

737

-

Jude Law, Elizabeth Banks, Tori Kelly

Episode

736

-

Ricky Martin, Kim Kardashian West, Ri...

Episode

735

-

Paul Rudd, Bill Hader, Ashley Benson

Episode

734

-

Patrick Stewart, Katie Brown

Episode

733

-

Charlize Theron, John Cena, Rebel Wil...

Episode

732

-

Hugh Jackman, Ross Lynch, Scripps Nat...

Episode

731

-

Melissa McCarthy, Jennifer Arnold & B...

Episode

730

-

Howie Mandel, Patricia Clarkson, R5, ...

Episode

729

-

Kristen Stewart, Oscar Isaac, guest c...

Episode

728

-

Zachary Quinto, guest co-host Sara Ha...

Episode

727

-

Connie Britton, Rupert Friend, guest ...

Episode

726

-

Heidi Klum, Brad Keselowski, guest co...

Episode

725

-

Armie Hammer, Nick Cannon, guest co-h...

Episode

724

-

Henry Cavill, guest co-host Ciara

Episode

723

-

Alexander Skarsgard

Episode

722

-

Miles Teller, Rick Springfield

Episode

721

-

Salma Hayek, Mamie Gummer

Episode

720

-

Jason Segel, Kate Mara

Episode

719

-

Meryl Streep, Michael B. Jordan

Episode

718

-

Kevin Bacon, Elle King

Episode

717

-

Leona Lewis

Episode

716

-

Ed Helms, Joss Stone

Episode

715

-

Parker Posey, Kaitlyn Bristowe

Episode

714

-

Jeremy Renner, Dove Cameron

Episode

713

-

Christina Applegate, Josh Gad

Episode

712

-

Jake Gyllenhaal, Ashley Benson, Dr. W...

Episode

711

-

Katie Holmes, Jane Krakowski, MKTO

Episode

710

-

Adam Sandler, Cara Delevingne, Silent...

Episode

709

-

Kevin James, Bo Derek, Jill Scott

Episode

708

-

Ben Kingsley, the Broadway cast of "A...

Episode

707

-

Amy Schumer, R5

Episode

706

-

Paul Rudd, Bill Hader, Shawn Mendes

Episode

705

-

Michael Douglas, John Cena

Episode

704

-

Ian McKellen, Ryan Seacrest, O.A.R.

Episode

703

-

Nick Lachey

Episode

702

-

Kyle MacLachlan, Rachel Platten

Episode

701

-

Laura Linney, Jane Lynch

Episode

700

-

Ryan Reynolds, Bernadette Peters

Episode

699

-

Taye Diggs, Melissa Leo

Episode

698

-

Josh Groban

Episode

697

-

Marg Helgenberger, Jennifer Morrison

Episode

696

-

Amy Poehler, Miguel

Episode

695

-

Jon Hamm, Jason Derulo

Episode

694

-

Denis Leary, Tori Kellyq

Episode

693

-

Liam Neeson, Jim Parsons, Rixton

Episode

692

-

Robert Downey Jr., Chris Pratt

Episode

691

-

Channing Tatum, Fifth Harmony

Episode

690

-

Matt Bomer, Laura Prepon

Episode

689

-

Joe Manganiello, Deion Sanders

Episode

688

-

Colin Farrell, Adam Lambert, guest co...

Episode

687

-

Holly Hunter, Laverne Cox, Hilary Duf...

Episode

686

-

Mark Ruffalo, James Taylor, Chris Byr...

Episode

685

-

Eric Dane, Uzo Aduba, guest co-hHost ...

Episode

684

-

Taylor Schilling, Alan Rickman, guest...

Episode

683

-

Melissa McCarthy, Josh Hartnett

Episode

682

-

Jason Alexander, Joe Jonas, Katharine...

Episode

681

-

Curtis "50 Cent" Jackson, Ali Wentwor...

Episode

680

-

Hugh Jackman, American Authors

Episode

679

-

Molly Shannon, Hugh Dancy

Episode

678

-

Ricky Martin, Rose Byrne

Episode

677

-

Jude Law, Jeff Gordon, Lifehouse

Episode

676

-

Jason Statham, Robert Duvall, Barenak...

Episode

675

-

Jesse Tyler Ferguson, Ross Lynch, San...

Episode

674

-

James Corden, Bryce Dallas Howard

Episode

673

-

Jeremy Piven, Carla Gugino

Episode

672

-

Adrian Grenier, Joan Jett & the Black...

Episode

671

-

Kevin Connolly, Paula Abdul

Episode

670

-

Kevin Dillon, Jennifer Arnold & Bill ...

Episode

669

-

Kim Kardashian West, Ray Liotta, Kevi...

Episode

668

-

Mariah Carey

Episode

667

-

Dwayne Johnson

Episode

666

-

Patricia Heaton, James Van Der Beek, ...

Episode

665

-

Jimmy Kimmel, Scott Foley, the winner...

Episode

664

-

Christina Aguilera, one of the three ...

Episode

663

-

Queen Latifah, Alex Trebek

Episode

662

-

Matt Dillon, Anna Camp, David Duchovn...

Episode

661

-

Jane Fonda, Tatiana Maslany

Episode

660

-

Rebel Wilson, Rosie Huntington-Whitel...

Episode

659

-

Charlize Theron, Tom Brokaw

Episode

658

-

Jim Parsons, Trisha Yearwood

Episode

657

-

John Legend, Bellamy Young

Episode

656

-

Reese Witherspoon

Episode

655

-

Kristin Chenoweth, Lily Tomlin

Episode

654

-

Elizabeth Banks, Darren Criss, Peter ...

Episode

653

-

Helen Hunt, Kunal Nayyar, the latest ...

Episode

652

-

Kate McKinnon, Magic!

Episode

651

-

Josh Groban, Cobie Smulders

Episode

650

-

Mark Ruffalo, Jonny Lee Miller, Who I...

Episode

649

-

James Spader, Nene Leakes, guest co-h...

Episode

648

-

Robert Downey Jr., Diane Sawyer, the ...

Episode

647

-

Kelsey Grammer, Guillermo Diaz

Episode

646

-

Russell Crowe, Hayden Panettiere

Episode

645

-

Blake Lively, James Oseland

Episode

644

-

LL Cool J, Rachael Ray, the latest "A...

Episode

643

-

Patricia Arquette, James Purefoy, Pet...

Episode

642

-

John Slattery, Anna Chlumsky

Episode

641

-

David Burtka, Vance Joy

Episode

640

-

Matthew Morrison, Pauley Perrette, th...

Episode

639

-

Kevin James, Oscar Isaac, Fifth Harmo...

Episode

638

-

Candice Bergen, Nikolaj Coster-Waldau...

Episode

637

-

Kit Harington, Scott Eastwood, Johnny...

Episode

636

-

Edie Falco, Kat Dennings, "Science Bo...

Episode

635

-

Jon Cryer, Jane Lynch, the latest "Da...

Episode

634

-

Michelle Obama, Connie Britton, Antho...

Episode

633

-

Pharrell Williams, Jordana Brewster, ...

Episode

632

-

Timothy Hutton, Chrissy Teigen, guest...

Episode

631

-

Pharrell Williams, Vanessa Hudgens, g...

Episode

630

-

Helen Mirren, the latest "Dancing wit...

Episode

629

-

Sissy Spacek, Billy Gardell, guest co...

Episode

628

-

Chris Hemsworth, Lucy Hale, Shaquille...

Episode

627

-

Dakota Johnson, Terrence Howard, Echo...

Episode

626

-

Taylor Swift, Jamie Dornan

Episode

625

-

Julie Andrews, Zoe Kravitz

Episode

624

-

Ben Stiller, guest co-host Maria Meno...

Episode

623

-

Octavia Spencer, Anne Heche, guest co...

Episode

622

-

Kevin Hart, Carey Mulligan, guest co-...

Episode

621

-

Will Ferrell, Derek Hough, guest co-h...

Episode

620

-

Theo James, Kyle Chandler, guest co-h...

Episode

619

-

Shailene Woodley, Jerry O'Connell, gu...

Episode

618

-

Steve Martin, Bruno Tonioli, Carrie A...

Episode

617

-

Ethan Hawke, Elisabeth Moss, Mike Tys...

Episode

616

-

Common, Abbi Jacobson, Olly Murs

Episode

615

-

Elizabeth Hurley, Richard Madden, Chr...

Episode

614

-

Liam Neeson, Chelsea Clinton, Lily Ja...

Episode

613

-

Jada Pinkett Smith, Ginnifer Goodwin,...

Episode

612

-

Hugh Jackman, Peter Gros, Henrik Lund...

Episode

611

-

Felicity Huffman, Theresa Caputo

Episode

610

-

Sigourney Weaver, Ansel Elgort

Episode

609

-

Kevin Bacon, Juliette Lewis

Episode

608

-

Jason Biggs, Lana Parrilla, Echosmith

Episode

607

-

Ryan Phillippe, Will Forte, Misterwiv...

Episode

606

-

Josh Duhamel, Lisa Rinna, Chris Byrne

Episode

605

-

Martin Short, Anthony Anderson

Episode

604

-

"After Oscar Show", Neil Patrick Harr...

Episode

603

-

Kevin Costner

Episode

602

-

Matthew Perry, Mae Whitman

Episode

601

-

Mary J. Blige, Travis Fimmel

Episode

600

-

Dylan McDermott, Angie Harmon

Episode

599

-

William H. Macy, Rainn Wilson

Episode

598

-

Jamie Dornan, Dale Earnhardt Jr., Kat...

Episode

597

-

Dakota Johnson, Shaquille O'Neal

Episode

596

-

Hugh Grant, Terrence Howard

Episode

595

-

Colin Firth, Patricia Arquette

Episode

594

-

Samuel L. Jackson, Christina Perri

Episode

593

-

Seth Meyers, Adam Savage & Jamie Hyne...

Episode

592

-

Ryan Reynolds, Bob Odenkirk

Episode

591

-

David Duchovny, Leeza Gibbons, Lance ...

Episode

590

-

Matthew Rhys

Episode

589

-

Jeff Bridges, Busy Philipps, Diana Kr...

Episode

588

-

Antonio Banderas, the winner of "The ...

Episode

587

-

Viola Davis, Joanne Froggatt, Katheri...

Episode

586

-

Tony Goldwyn, the new Miss Universe

Episode

585

-

Donald Trump

Episode

584

-

Kristen Stewart, Grant Gustin

Episode

583

-

Ryan Seacrest, Fall Out Boy

Episode

582

-

Don Cheadle, Simon Helberg

Episode

581

-

Jude Law, Allison Williams

Episode

580

-

Anne Hathaway, Taylor Schilling, New ...

Episode

579

-

Jennifer Lopez

Episode

578

-

Nicole Kidman, Sienna Miller, Dr. Wen...

Episode

577

-

Bradley Cooper, Olivia Munn, Dr. Davi...

Episode

576

-

Julianne Moore, Angela Bassett, Nina ...

Episode

575

-

Chris Hemsworth, Ella Henderson, Dr. ...

Episode

574

-

Patricia Heaton, Hugh Bonneville, Dr....

Episode

573

-

Lena Dunham, Chalene Johnson

Episode

572

-

Liam Neeson, Matt LeBlanc, Jessie Pav...

Episode

571

-

Forest Whitaker, J.K. Simmons, Shaun ...

Episode

570

-

Jessica Lange, Lucy Hale, Chris Powel...

Episode

569

-

Taraji P. Henson, Chris Soules, Dolve...

Episode

568

-

Year-End Viewers' Choice Show

Episode

567

-

Dwayne Johnson, Caroline Rhea, "Disne...

Episode

566

-

Sting, Nick Jonas

Episode

565

-

Reese Witherspoon, Christine Baranski

Episode

564

-

Emily Blunt, Rupert Friend, the Harle...

Episode

563

-

Oprah Winfrey, Christoph Waltz

Episode

562

-

James Franco, Quvenzhane Wallis

Episode

561

-

Chris Pine, David Oyelowo

Episode

560

-

Amy Adams, Larry the Cable Guy

Episode

559

-

Mark Wahlberg, Idina Menzel

Episode

558

-

Jamie Foxx, Jeffrey Tambor, Anthony H...

Episode

557

-

Ricky Gervais, Austin Mahone, Johnnys...

Episode

556

-

Joaquin Phoenix, Anna Kendrick, Sara ...

Episode

555

-

Cameron Diaz, Nick Cannon, Renee Flem...

Episode

554

-

Jake Gyllenhaal, Megan Boone, Lance U...

Episode

553

-

Rosario Dawson, Theo Rossi, Chris Byr...

Episode

552

-

Meryl Streep, Laura Dern, Lawrence Za...

Episode

551

-

Seth MacFarlane, Gabrielle Union, Car...

Episode

550

-

Chris Rock, Alfre Woodard, Amy Astley

Episode

549

-

Craig Ferguson, Diane Von Furstenberg

Episode

548

-

Allison Williams, Dan Patrick, Josh B...

Episode

547

-

Garth Brooks, Russell Brand

Episode

546

-

Tim Allen, Ben McKenzie

Episode

545

-

Kate Walsh, Anna Camp

Episode

544

-

Mark Ruffalo, Kristin Chenoweth

Episode

543

-

Russell Brand, Matt Czuchry, Katie Br...

Episode

542

-

Keira Knightley, Charlie Day, the win...

Episode

541

-

Benedict Cumberbatch, Allison Janney

Episode

540

-

Liam Hemsworth, Katherine Heigl, Tony...

Episode

539

-

Channing Tatum, Estelle

Episode

538

-

Josh Hutcherson, Anjelica Huston, Are...

Episode

537

-

Alicia Keys, Andy Cohen, Shawn Mendes

Episode

536

-

Ewan McGregor, Ioan Gruffudd

Episode

535

-

Bette Midler, Beth Behrs

Episode

534

-

Jeff Daniels, Eddie Redmayne

Episode

533

-

Anne Hathaway, Kristen Johnston

Episode

532

-

Matthew McConaughey, Felicity Jones

Episode

531

-

Jessica Chastain, Michael C. Hall

Episode

530

-

LIVE's Halloween Show

Episode

529

-

Rene Russo, Sam Hunt

Episode

528

-

Lucy Liu, Deion Sanders

Episode

527

-

Amy Poehler, Joey McIntyre

Episode

526

-

Emma Thompson, Stanley Tucci

Episode

525

-

Howie Mandel, Ginnifer Goodwin

Episode

524

-

Mark Consuelos, Jessica Capshaw, Anni...

Episode

523

-

Hugh Jackman, Emma Roberts

Episode

522

-

Keanu Reeves, Tom Cavanagh, Kiesza

Episode

521

-

Naomi Watts, Tori Spelling

Episode

520

-

Jason Schwartzman, Ylvis, guest co-ho...

Episode

519

-

Glenn Close, Julianne Hough, Paloma F...

Episode

518

-

Emma Stone, Suzanne Somers, Neon Tree...

Episode

517

-

Michael Keaton, Minnie Driver

Episode

516

-

Neil Patrick Harris, Maura Tierney, J...

Episode

515

-

Jeremy Renner, Jennifer Morrison

Episode

514

-

Steve Carell, Emmy Rossum

Episode

513

-

Robert Downey Jr., Alan Cumming, Hila...

Episode

512

-

Nathan Lane, Martina McBride, La Roux

Episode

511

-

Matthew Broderick, Ansel Elgort

Episode

510

-

Claire Danes, Emily Ratajkowski

Episode

509

-

Jennifer Garner, Blake Shelton

Episode

508

-

Tyler Perry, Ana Gasteyer

Episode

507

-

Mark Harmon, Taye Diggs

Episode

506

-

Ben Affleck, Bryan Adams

Episode

505

-

Andy Samberg, Omar Epps, AJR

Episode

504

-

Sofia Vergara, Terry Crews

Episode

503

-

Denzel Washington, Rosamund Pike

Episode

502

-

Kerry Washington, Bill O'Reilly

Episode

501

-

James Spader, Jim Caviezel, Mary Lamb...

Episode

500

-

Tina Fey, Luke Wilson

Episode

499

-

Liam Neeson, Tea Leoni

Episode

498

-

Julianna Margulies, Jeff Probst

Episode

497

-

Rose Byrne, Miss America 2015, Jason ...

Episode

496

-

Octavia Spencer, Dylan O'Brien, Lara ...

Episode

495

-

Connie Britton, Mindy Kaling

Episode

494

-

Katharine McPhee, Taraji P. Henson

Episode

493

-

Ashley Judd, Justin Long, Jimmie John...

Episode

492

-

Jason Bateman, Jenna Dewan Tatum

Episode

491

-

Steve Buscemi, Max Greenfield

Episode

490

-

Kevin Kline, Juliette Lewis

Episode

489

-

Ray Liotta, the winner of "So You Thi...

Episode

488

-

Liev Schreiber, Jesse Metcalfe, Nick ...

Episode

487

-

Mandy Patinkin, David Muir

Episode

486

-

Lea Michele, Dr. Wendy Bazilian

Episode

485

-

Jennifer Lopez, Justin Theroux, Betha...

Episode

484

-

Cameron Diaz, Steven Yuen

Episode

483

-

Andrew Garfield, Ricky Gervais, MKTO

Episode

482

-

Dwayne Johnson, Michael Douglas

Episode

481

-

Anna Paquin, Michael Hauke, guest co-...

Episode

480

-

Halle Berry, Kesha, Keri Russell, Nat...

Episode

479

-

Charlize Theron, Jon Hamm, Cher Lloyd

Episode

478

-

Hugh Jackman, Shailene Woodley, "Scie...

Episode

477

-

Emma Stone, Howie Mandel, Maia Mitche...

Episode

476

-

Chloe Grace Moretz, Lana Parrilla, In...

Episode

475

-

Jonah Hill, Jennifer Lawrence, Philli...

Episode

474

-

Anne Hathaway, Jimmy Kimmel, Peter Gr...

Episode

473

-

Channing Tatum, Jon "Bones" Jones, El...

Episode

472

-

Jessica Alba, Patrick J. Adams, guest...

Episode

471

-

Ethan Hawke, Elisabeth Moss, guest co...

Episode

470

-

Will Arnett, Nick Cannon, guest co-ho...

Episode

469

-

Jeff Bridges, Sasha Alexander, Meghan...

Episode

468

-

Katie Holmes, Mark-Paul Gosselaar, gu...

Episode

467

-

Helen Mirren, Sean Bean, Romeo Santos...

Episode

466

-

Daniel Radcliffe, Nina Dobrev, guest ...

Episode

465

-

Vin Diesel, Maggie Gyllenhaal, Jean-G...

Episode

464

-

Martin Lawrence, Dan + Shay

Episode

463

-

Heidi Klum, Chris Pratt

Episode

462

-

James Franco, Andi Dorfman

Episode

461

-

Zoe Saldana, Bethany Mota

Episode

460

-

Kelsey Grammer, Kesha, Anita Lo

Episode

459

-

Morgan Freeman, Mira Sorvino, Shawn M...

Episode

458

-

Hank Azaria, Jennifer Morrison, Lance...

Episode

457

-

Dwayne Johnson, Sarah McLachlan

Episode

456

-

Dan Aykroyd, Julia Stiles

Episode

455

-

Kurt Russell, Stephen Moyer, Alton Br...

Episode

454

-

Cameron Diaz, Mark Feuerstein

Episode

453

-

Zach Braff, Andie MacDowell, guest co...

Episode

452

-

Jason Segel, Willem Dafoe

Episode

451

-

Eric Dane, Tori Amos

Episode

450

-

Michael Douglas, Marcus Samuelsson

Episode

449

-

Justin Theroux, Steven Yeun, Lyle Lov...

Episode

448

-

Halle Berry, Lizzy Caplan, Florida Ge...

Episode

447

-

Diane Keaton, Keri Russell, O.A.R.

Episode

446

-

Nicole Richie, Bernadette Peters

Episode

445

-

Amy Brenneman, Caroline Rhea, Scott C...

Episode

444

-

Pierce Brosnan, Terry O'Quinn, "Scien...

Episode

443

-

Liv Tyler, Maia Mitchell, Vern Yip

Episode

442

-

Kelly Osbourne, Joey Chestnut, Sonya ...

Episode

441

-

Toni Collette, Chris Byrne

Episode

440

-

Mark Wahlberg, Daniel Boulud, guest c...

Episode

439

-

Tony Goldwyn, Ben Falcone, guest co-h...

Episode

438

-

Melissa McCarthy, Olivia Munn, Susan ...

Episode

437

-

Susan Sarandon, Joel McHale, Nico & V...

Episode

436

-

Adam Levine, Joe Manganiello, guest c...

Episode

435

-

Matt Damon, Drew Barrymore

Episode

434

-

Jamie Foxx, Zac Efron

Episode

433

-

Adam Sandler, Jennifer Garner, John L...

Episode

432

-

Jennifer Lopez, Ian Ziering

Episode

431

-

Jason Biggs, Cher Lloyd, Dr. Greg Yap...

Episode

430

-

Gerard Butler, Josh Groban, Eric Ripe...

Episode

429

-

Laurence Fishburne, Taylor Schilling,...

Episode

428

-

America Ferrera, the new Miss USA, Ar...

Episode

427

-

Kit Harington, John Lloyd Young, Rick...

Episode

426

-

Adam Savage & Jamie Hyneman, Colbie C...

Episode

425

-

Ice Cube, Maria Menounos, Guy Fieri

Episode

424

-

Channing Tatum, Daughtry

Episode

423

-

Jonah Hill, Laura Dern

Episode

422

-

Ricky Gervais, Kendall & Kylie Jenner

Episode

421

-

Shailene Woodley, Curtis "50 Cent" Ja...

Episode

420

-

Marc Forgione

Episode

419

-

John Malkovich, the "American Idol" s...

Episode

418

-

Elle Fanning, the "American Idol" run...

Episode

417

-

Howie Mandel, the winner of "American...

Episode

416

-

Clive Owen, Bella Thorne, Lily Allen

Episode

415

-

Jennifer Lawrence, Phillip Phillips

Episode

414

-

Patrick Stewart, Chris O'Dowd, the wi...

Episode

413

-

Hugh Jackman, the "Dancing With The S...

Episode

412

-

Charlize Theron, Josh Hartnett

Episode

411

-

Jennifer Lopez, Andi Dorfman, Blondie

Episode

410

-

Adam Sandler

Episode

409

-

Drew Barrymore, Theresa Caputo

Episode

408

-

Harry Connick Jr., Santana

Episode

407

-

Matt Bomer, Willie Randolph, the late...

Episode

406

-

Mark Ruffalo, Jimmy Kimmel

Episode

405

-

Zoe Saldana, John Slattery

Episode

404

-

Jon Hamm, Roger Goodell

Episode

403

-

Jenny McCarthy, MKTO

Episode

402

-

Neil Patrick Harris, Rick Springfield

Episode

401

-

Zac Efron, the latest "American Idol"...

Episode

400

-

Jamie Foxx, Idina Menzel

Episode

399

-

Kiefer Sutherland, Bellamy Young, Dav...

Episode

398

-

Lucy Liu, Dane Dehaan

Episode

397

-

Emma Stone, Keith Urban

Episode

396

-

Andrew Garfield, Nicole Murphy, the l...

Episode

395

-

Leslie Mann, Christine Baranski

Episode

394

-

Cameron Diaz, Emily VanCamp

Episode

393

-

Kate Upton, Paul Wesley, Neon Trees

Episode

392

-

Robin Roberts, Jon Jones

Episode

391

-

Michelle Obama, Christina Hendricks, ...

Episode

390

-

Colin Firth, Margo Martindale

Episode

389

-

David Duchovny, Ingrid Michaelson

Episode

388

-

Nicolas Cage, Whoopi Goldberg

Episode

387

-

Billy Bob Thornton, Alicia Silverston...

Episode

386

-

Jeremy Piven, the latest "American Id...

Episode

385

-

Jennifer Garner, Merritt Weaver, R5

Episode

384

-

Kevin Costner, Tracy Morgan

Episode

383

-

Kristin Chenoweth, Jeff Perry

Episode

382

-

Anne Hathaway, Brooklyn Decker

Episode

381

-

Edie Falco, Colin Hanks, the latest "...

Episode

380

-

James Franco, Poppy Montgomery

Episode

379

-

Anna Chlumsky

Episode

378

-

Samuel L. Jackson, Connie Britton, Pe...

Episode

377

-

Daniel Radcliffe, Minnie Driver, Nick...

Episode

376

-

Seth Meyers, Cedric the Entertainer, ...

Episode

375

-

Russell Crowe, James Van Der Beek, gu...

Episode

374

-

Arnold Schwarzenegger, Steven Yeun, g...

Episode

373

-

Jude Law, Christopher Meloni, guest c...

Episode

372

-

Zach Braff, Rachel Zoe, Aloe Blacc, g...

Episode

371

-

Joan & Melissa Rivers, John Cena, the...

Episode

370

-

Denzel Washington, Hayden Panettiere,...

Episode

369

-

Cher, Mark Wahlberg

Episode

368

-

Will Ferrell, Ricky Martin, Lucy Hale

Episode

367

-

Usher, Gillian Anderson

Episode

366

-

Tina Fey, Theo James

Episode

364

-

Emmy Rossum, Deion Sanders

Episode

363

-

Aaron Paul, Shailene Woodley

Episode

362

-

Robert Wagner, Kyle MacLachlan

Episode

361

-

Kristen Bell, American Authors

Episode

360

-

Lea Michele, Patrick Duffy, Lawrence ...

Episode

359

-

Annette Bening, Ralph Fiennes

Episode

358

-

Maria Menounos, Carson Kressley, Lawr...

Episode

357

-

Ben Affleck, Katie Brown

Episode

356

-

Liam Neeson, Kat Dennings

Episode

355

-

Julianne Moore, Keri Russell

Episode

354

-

Chandra Wilson, Roma Downey

Episode

353

-

Beth Behrs, Josh Henderson

Episode

352

-

Howie Mandel, Norman Reedus, Kaitlyn ...

Episode

351

-

Christian Slater, Kate Mara, the Vamp...

Episode

350

-

Mandy Patinkin, Diogo Morgado

Episode

349

-

Matt LeBlanc, Kit Harington, John Leg...

Episode

348

-

Kiefer Sutherland, Amber Heard, Deion...

Episode

347

-

Ian McKellen, Adewale Akinnuoye-Agbaj...

Episode

346

-

Denzel Washington, Joel Kinnaman

Episode

345

-

Alan Cumming, Carly Rae Jepsen

Episode

344

-

Colin Farrell, Alana "Honey Boo Boo" ...

Episode

343

-

Jennifer Connelly, Ruben Studdard

Episode

342

-

Matt Damon, Kenny "Babyface" Edmonds,...

Episode

341

-

George Clooney, Karmin

Episode

340

-

Cate Blanchett, Vanna White, the winn...

Episode

339

-

Eric Stonestreet

Episode

338

-

Elizabeth Banks, Kermit the Frog

Episode

337

-

Johnny Knoxville, Drew Brees

Episode

336

-

Jimmy Johnson, Terry Bradshaw, Howie ...

Episode

335

-

Victor Cruz, Sarah Hyland, James Blun...

Episode

334

-

Kate Hudson, Mindy Kaling

Episode

333

-

Sara Ramirez, Jeff Garlin

Episode

332

-

James Purefoy, guest co-host Anderson...

Episode

331

-

Aaron Eckhart, A Great Big World, gue...

Episode

330

-

Rosario Dawson, Michael B. Jordan

Episode

329

-

Andy Samberg, Stephen Amell

Episode

328

-

Kevin Bacon, Troian Bellisario

Episode

327

-

Heather Graham, Daniel Dae Kim, guest...

Episode

326

-

William H. Macy, Dr. Melina Jampolis

Episode

325

-

Kevin Hart, Ana Gasteyer, Dr. Ian Smi...

Episode

324

-

Debra Messing, Lucy Hale

Episode

323

-

Christina Ricci, Tom Mison, Dr. Wendy...

Episode

322

-

Lena Dunham

Episode

321

-

Joel McHale, Oscar Isaac

Episode

320

-

Jessica Simpson, Kellan Lutz

Episode

319

-

Ryan Seacrest, Gabrielle Union

Episode

318

-

Carey Mulligan, Allison Williams, Jua...

Episode

317

-

Repeat Interview Segments, featured g...

Episode

316

-

Repeat Interview Segments

Episode

315

-

Ben Stiller, Trans-Siberian Orchestra

Episode

314

-

Steve Carell, American Authors

Episode

313

-

Jeremy Renner, Lenny Kravitz, Mark Fo...

Episode

312

-

Keanu Reeves, the winner of "The Voic...

Episode

311

-

Paul Rudd, Bradley Cooper, Daniel Bou...

Episode

310

-

Will Ferrell, Candice Glover, Jean-Ge...

Episode

309

-

Christina Applegate, John Leguizamo, ...

Episode

308

-

Evangeline Lilly, Larry the Cable Guy...

Episode

307

-

Jonah Hill, Ylvis, Amy Astley

Episode

306

-

Emma Thompson, Guy Fieri, Katie Brown

Episode

305

-

Amy Adams, Jimmy Smits, Chris Byrne

Episode

304

-

Tyler Perry, Faith Ford

Episode

303

-

John Goodman, Lupita Nyong'o, Colbie ...

Episode

302

-

Zoe Saldana, Mandy Patinkin, Leona Le...

Episode

301

-

Mark Wahlberg, Stephen Moyer

Episode

300

-

Claire Danes, Joe Manganiello, Goo Go...

Episode

299

-

Lucy Liu, Sheryl Crow

Episode

298

-

Forest Whitaker, Damian Lewis, Colbie...

Episode

297

-

Episode 297

Episode

296

-

Woody Harrelson, Jena Malone, Sarah S...

Episode

295

-

Billy Crystal, Nene Leakes

Episode

294

-

Stanley Tucci, Amber Tamblyn

Episode

293

-

Jennifer Hudson, Nicole "Snooki" Poli...

Episode

292

-

Liam Hemsworth, James Brolin

Episode

291

-

Jennifer Lawrence, Chiwetel Ejiofor

Episode

290

-

Josh Hutcherson, Anjelica Huston, 201...

Episode

289

-

Vince Vaughn, David Blaine

Episode

288

-

Adam Levine, Cobie Smulders, Daughtry

Episode

287

-

Seth Meyers, Idris Elba, the new Miss...

Episode

286

-

Naomi Watts, Evan Rachel Wood, Cirque...

Episode

285

-

Ricky Martin, Idina Menzel

Episode

284

-

Mark Consuelos, Jessica Lange

Episode

283

-

Bruce Dern, Carrie Ann Inaba

Episode

282

-

Kevin Kline, Jane Lynch

Episode

280

-

Chris Hemsworth, the Wanted

Episode

279

-

Jason Statham, Pharrell Williams

Episode

278

-

Michael Douglas, Abigail Breslin

Episode

277

-

Halloween Show

Episode

276

-

Will Arnett

Episode

275

-

Mary Steenburgen, Rick Schwartz

Episode

274

-

Robert DeNiro, Jackson Nicoll

Episode

273

-

Malin Akerman

Episode

272

-

Javier Bardem, Jenna Dewan-Tatum

Episode

271

-

John Lithgow, Natalie Dormer

Episode

270

-

Johnny Knoxville, Alyssa Milano, Fift...

Episode

269

-

Ted Danson, Jennifer Morrison

Episode

268

-

Arnold Schwarzenegger, Barkhad Abdi

Episode

267

-

Chloe Grace Moretz

Episode

265

-

Cee-Lo Green, Anna Faris, Cher Lloyd

Episode

264

-

Julianne Hough, Matt Bomer, John Lege...

Episode

263

-

Elizabeth Olsen

Episode

262

-

Sandra Oh, David Boreanaz

Episode

261

-

Hayden Panettiere, Max Irons

Episode

260

-

Sarah Michelle Gellar, Jessica Seinfe...

Episode

259

-

Tom Hanks, Diana Nyad

Episode

258

-

Kimberly Williams-Paisley, Hilaria Ba...

Episode

257

-

Sandra Bullock, Curtis "50 Cent" Jack...

Episode

256

-

Rebel Wilson, Blair Underwood, Peter ...

Episode

255

-

Cher, Theresa Caputo

Episode

254

-

Daniel Radcliffe, Jerry O'Connell

Episode

253

-

Julianna Margulies, Emily Vancamp

Episode

252

-

Robin Williams, Peter Krause

Episode

251

-

Michael J. Fox, Sofia Vergara, Blake ...

Episode

250

-

Joseph Gordon-Levitt, Clark Gregg, Ja...

Episode

249

-

Scarlett Johansson, James Spader, Law...

Episode

248

-

Dylan McDermott, Andre Braugher

Episode

247

-

Tom Selleck, Toni Collette

Episode

246

-

Jake Gyllenhaal, Mike Tyson, "Science...

Episode

245

-

Taye Diggs, Mindy Kaling, the new Mis...

Episode

244

-

Julia Louis-Dreyfus

Episode

243

-

Special anniversary show, featuring t...

Episode

242

-

Ricky Gervais

Episode

241

-

Michelle Pfeiffer, Rachael Ray

Episode

240

-

Howie Mandel, Sean Kingston

Episode

239

-

Katie Couric, Stacy Keibler

Episode

238

-

Jimmy Johnson, Curt Menefee, Jay Glaz...

Episode

237

-

Arsenio Hall, Jennifer Hudson, Ariana...

Episode

236

-

Zachary Quinto, Mel B., Tamar Braxton

Episode

235

-

Demi Lovato, Cedric the Entertainer, ...

Episode

234

-

Lisa Kudrow, Selena Gomez, Dr. Wendy ...

Episode

233

-

Kevin James, Nick Cannon

Episode

232

-

Cuba Gooding Jr., guest co-host Whitn...

Episode

231

-

Harrison Ford, guest co-host Maria Me...

Episode

230

-

Forest Whitaker, the cast of "Duck Dy...

Episode

229

-

Joe Manganiello, Keri Russell, Carrie...

Episode

228

-

Jeff Daniels, Jennifer Coolidge, gues...

Episode

227

-

Ashton Kutcher, Brett Eldredge, guest...

Episode

226

-

Lenny Kravitz, Emma Roberts, guest co...

Episode

225

-

Amanda Seyfried, Chris Colfer, guest ...

Episode

224

-

Oprah Winfrey, Desiree Hartsock, gues...

Episode

223

-

Liam Hemsworth, Jason Sudeikis, guest...

Episode

222

-

Sharon Stone, Matthew Morrison, Commo...

Episode

221

-

Bryan Cranston, Poppy Montgomery, Pas...

Episode

220

-

Matt Damon, Jayma Mays

Episode

219

-

Denzel Washington, Hank Azaria, Rober...

Episode

218

-

Mark Wahlberg, Chloe Grace Moretz

Episode

217

-

Selena Gomez, the Broadway cast of "M...

Episode

216

-

Stanley Tucci, the Broadway cast of "...

Episode

215

-

Hugh Jackman, the Broadway cast of "R...

Episode

214

-

Heidi Klum, the Broadway cast of "Mot...

Episode

213

-

Octavia Spencer, Daniel Sunjata, the ...

Episode

212

-

Shaquille O'Neal, Marc Anthony

Episode

211

-

Jeff Bridges, Ross Lynch, Matthew Mor...

Episode

210

-

Josh Duhamel, Sara Bareilles

Episode

209

-

Mary-Louise Parker, Darren Criss, Cod...

Episode

208

-

Helen Mirren, Howie Mandel, John Cena

Episode

207

-

Kevin James, Lawrence Zarian

Episode

206

-

Salma Hayek Pinault

Episode

205

-

Adam Sandler, Ciara, Beth Stern

Episode

204

-

David Spade, Bear Grylls

Episode

203

-

Olivia Munn, Cory Booker

Episode

202

-

Liev Schreiber, Mary Murphy

Episode

201

-

Benjamin Bratt, Sig Hansen, Keith Col...

Episode

200

-

Jane Lynch, Nicole Murphy

Episode

199

-

Nick Cannon, Sasha Alexander, Dr. Wen...

Episode

198

-

Miranda Cosgrove, Aaron Tveit

Episode

197

-

Jamie Foxx, Allison Janney, guest co-...

Episode

196

-

Sandra Bullock, Ginny Blackmore, gues...

Episode

195

-

Steve Carell, Miley Cyrus, the Backst...

Episode

194

-

Channing Tatum, Eric McCormack, guest...

Episode

193

-

Melissa McCarthy, Armie Hammer, guest...

Episode

192

-

Mark Cuban, Gabriel Mann

Episode

191

-

Bret Michaels

Episode

190

-

Russell Crowe, guest co-host Mark Con...

Episode

189

-

Kevin Costner, Leo Howard, Matchbox T...

Episode

188

-

Mark Feuerstein, Goo Goo Dolls

Episode

187

-

Seth Rogen, Judith Light, the Lonely ...

Episode

186

-

Jennifer Connelly, Henry Cavill, Litt...

Episode

185

-

Rebecca Romijn

Episode

184

-

Jeffrey Donovan, Beth Behrs

Episode

183

-

Vince Vaughn, Rick Schwartz and San D...

Episode

182

-

Neil Patrick Harris, Rose Byrne, Bare...

Episode

181

-

Alyssa Milano, the winner of the Scri...

Episode

180

-

Mark Ruffalo, Melissa Joan Hart

Episode

179

-

Steven Tyler, the Wanted

Episode

178

-

Clive Owen, Khloe Kardashian Odom, Il...

Episode

177

-

Tyler Perry, Trisha Yearwood

Episode

176

-

Heather Graham, Desiree Hartsock, Dem...

Episode

175

-

Ethan Hawke, the third and fourth pla...

Episode

174

-

Ken Jeong, the winner of the National...

Episode

173

-

Morgan Freeman, the winners of "Danci...

Episode

172

-

Psy, the winner of "Celebrity Apprent...

Episode

171

-

Colin Farrell, Elisabeth Moss, the wi...

Episode

170

-

Connie Britton

Episode

169

-

Zoe Saldana

Episode

168

-

Jesse Tyler Ferguson

Episode

167

-

Mark Harmon, Huey Lewis & the News

Episode

166

-

Jimmy Kimmel, Alyson Hannigan

Episode

165

-

Carey Mulligan, Rod Stewart

Episode

164

-

Tobey Maguire

Episode

163

-

Jessica Alba, Katie Couric

Episode

162

-

Zooey Deschanel, Zachary Quinto

Episode

161

-

Kerry Washington, Psy, the latest "Am...

Episode

160

-

Isla Fisher, Chris O'Dowd

Episode

159

-

Ben Kingsley

Episode

158

-

Jim Parsons, Carly Rae Jepsen

Episode

157

-

Robert Downey Jr., Carl Edwards

Episode

156

-

Lauren Graham, the latest "American I...

Episode

155

-

Don Cheadle, Geraldo Rivera, Emeli Sa...

Episode

154

-

Laura Linney, Michael Buble

Episode

153

-

Jon Hamm, Snoop Lion

Episode

152

-

Kate Hudson, Christina Hendricks, Rog...

Episode

151

-

Pierce Brosnan, Jake Johnson, the lat...

Episode

150

-

Susan Sarandon, Cher Lloyd, guest co-...

Episode

149

-

Zac Efron, the Jonas Brothers, guest ...

Episode

148

-

Brad Garrett, Nick Lachey, guest co-h...

Episode

147

-

Alan Cumming, Caroline Kennedy, guest...

Episode

146

-

Mark Wahlberg, Emilia Clarke, the lat...

Episode

145

-

Josh Dallas

Episode

144

-

Demi Lovato, Kurt Warner

Episode

143

-

Joan Rivers, Ashley Tisdale

Episode

142

-

Alexander Skarsgard, Jason O'Mara, Ke...

Episode

141

-

Eva Longoria, Jordana Brewster, the l...

Episode

140

-

Chelsea Handler, Jane Levy

Episode

139

-

Shia LaBeouf, Rita Wilson

Episode

138

-

Jeremy Irons, Jeremy Sisto, Juanes

Episode

137

-

Rosario Dawson, Andy Cohen, the Bacon...

Episode

136

-

Laurence Fishburne, Stana Katic, the ...

Episode

135

-

Tyler Perry, Ed Sheeran, guest co-hos...

Episode

134

-

Jeremy Piven, Blake Shelton, guest co...

Episode

133

-

Dwayne Johnson, Florida Georgia Line,...

Episode

132

-

Kim Kardashian, Dido, guest co-host K...

Episode

131

-

Usher, the latest "American Idol" cas...

Episode

130

-

Gerard Butler

Episode

129

-

Emma Stone, Timothy Olyphant

Episode

128

-

Ryan Reynolds, James Purefoy

Episode

127

-

Josh Henderson

Episode

126

-

Ian Somerhalder, Abigail Breslin

Episode

125

-

Serena Williams, Sean Lowe

Episode

124

-

Angela Bassett, Bridgit Mendler

Episode

123

-

Nicole Richie, Jesse Metcalfe

Episode

122

-

Goran Visnjic, Peter Gros

Episode

121

-

James Franco, Jennifer Love Hewitt, T...

Episode

120

-

Tina Fey, Gillian Jacobs

Episode

119

-

Matthew Fox, Zosia Mamet

Episode

118

-

Eli Roth, Alexander Spit, Family of t...

Episode

117

-

One Republic

Episode

116

-

Donald Trump, Taraji P. Henson

Episode

115

-

Scarlett Johansson, Megan Hilty

Episode

114

-

Jimmy Kimmel, Maria Menounos, Carson ...

Episode

113

-

Carley Roney, the winners of "Girls' ...

Episode

112

-

Zach Braff, Ne-Yo

Episode

111

-

Johnny Galecki, Chris Wallace

Episode

110

-

Howie Mandel, Gary Allan

Episode

109

-

Jon Cryer, Kat Graham

Episode

108

-

Heidi Klum, Nicole "Snooki" Polizzi, ...

Episode

107

-

Bruce Willis, Molly Shannon, Andrew Z...

Episode

106

-

Josh Duhamel, Anthony Edwards, Jillia...

Episode

105

-

Viola Davis, "Toy Guy" Chris Byrne, N...

Episode

104

-

Emmy Rossum

Episode

103

-

Jennifer Hudson, Madeline Stowe

Episode

102

-

Rooney Mara, Josh Groban

Episode

101

-

Eric Stonestreet, Reba McEntire

Episode

100

-

Katharine McPhee, Leeza Gibbons

Episode

99

-

Russell Brand, Pauley Perrette

Episode

97

-

Jason Bateman, Jonny Lee Miller

Episode

96

-

Dustin Hoffman, Keri Russell

Episode

95

-

Melissa McCarthy, Stephen Amell

Episode

94

-

Seth MacFarlane, Linda Gray

Episode

93

-

Lena Dunham, Nicholas Hoult

Episode

92

-

Jennifer Lawrence, Anthony Anderson

Episode

91

-

Jason Statham, Christine Baranski, Ol...

Episode

90

-

Jeremy Renner, Taye Diggs

Episode

88

-

Kevin Bacon, Allison Williams

Episode

87

-

Catherine Zeta-Jones, Matt Bomer

Episode

86

-

Ryan Seacrest

Episode

85

-

Mark Wahlberg, Kim & Kourtney Kardash...

Episode

84

-

Chris Colfer, AnnaSophia Robb

Episode

83

-

Lena Dunham, Ginnifer Goodwin, Nas, C...

Episode

82

-

William H. Macy, Jenna Elfman

Episode

81

-

David Duchovny, Marlon Wayans, Dr. Me...

Episode

80

-

Jessica Chastain, Busy Phillips, Farn...

Episode

79

-

Betty White, "Bachelor" Sean Lowe

Episode

78

-

Live's Viewer's Choice 2012

Episode

77

-

A look back at classic "Live" holiday...

Episode

76

-

Matt Damon, Aretha Franklin

Episode

75

-

Richard Gere, the Love Chef, the star...

Episode

74

-

Samuel L. Jackson, the winner of "The...

Episode

73

-

John Travolta, Olivia Newton-John

Episode

72

-

Seth Rogen, Lilla Crawford

Episode

71

-

Paul Rudd, Christoph Waltz

Episode

70

-

Ewan McGregor, Kerry Washington, Jack...

Episode

69

-

Eddie Redmayne, Colbie Caillat

Episode

68

-

Anne Hathaway, Alan Cumming, Ashanti

Episode

67

-

Mandy Patinkin, Lifehouse

Episode

66

-

Hugh Jackman, Howie Mandel, Richard M...

Episode

65

-

Keira Knightley, Donnie Wahlberg

Episode

64

-

Laura Linney, Scott Baio

Episode

63

-

Elijah Wood, Katherine Jenkins

Episode

62

-

Jane Fonda, Ed Sheeran

Episode

61

-

Neil Patrick Harris, Ian McKellen, th...

Episode

60

-

Rod Stewart, David Pogue

Episode

59

-

Patricia Heaton, Scott Speedman, Clin...

Episode

58

-

Dolly Parton, Kevin McKidd, Chris Byr...

Episode

57

-

Helen Hunt, Bryan Adams, Carley Roney

Episode

56

-

Jack Black, Carrot Top, Lori Bergamot...

Episode

55

-

Helen Mirren, Miranda Cosgrove

Episode

53

-

Alec Baldwin, Nicki Minaj

Episode

52

-

Amy Poehler, Rico Rodriguez

Episode

51

-

Katie Holmes, Dave Salmoni

Episode

50

-

Zooey Deschanel, Jason Cameron & Tony...

Episode

49

-

Chris Tucker, Ashley Greene, Bridgit ...

Episode

48

-

Hayden Panetierre, Kellan Lutz

Episode

47

-

Bradley Cooper

Episode

46

-

Robert DeNiro, Isla Fisher, Connor Cr...

Episode

45

-

Taylor Lautner, the New York Nets Bro...

Episode

44

-

Robert Pattinson, Bellydance Supersta...

Episode

43

-

Kristen Stewart, Josh Peck, Alvin Ail...

Episode

42

-

Gabrielle Douglas, Andre Braugher, An...

Episode

41

-

Halloween show, Paul "DJ Pauly D" Del...

Episode

40

-

Judi Dench, Sarah Silverman

Episode

39

-

Gary Sinise, Jennifer Carpenter

Episode

38

-

Diane Sawyer

Episode

37

-

Jimmy Kimmel

Episode

36

-

Don Cheadle, Jimmy Kimmel

Episode

35

-

Ellen Barkin, Adam Levine

Episode

34

-

Usher, Nicole "Snooki" Polizzi, Cher ...

Episode

33

-

Ted Danson, Jack McBrayer, Little Big...

Episode

32

-

Gerard Butler, Krysten Ritter, Rick S...

Episode

31

-

Elisha Cuthbert, Victoria Justice, "S...

Episode

30

-

Michelle Obama, Brandy

Episode

29

-

Shaquille O'Neal, Isaac Mizrahi

Episode

28

-

Kaley Cuoco, Jason Aldean

Episode

27

-

Ben Stiller, Gavin DeGraw

Episode

26

-

Cynthia Nixon, Max Greenfield

Episode

25

-

Salma Hayek, Kyle MacLachlan

Episode

24

-

Bryan Cranston, Stanley Tucci

Episode

23

-

Kevin James, Kristin Kreuk, the Scrip...

Episode

22

-

Christopher Walken, Connie Britton, R...

Episode

21

-

Ben Affleck, John Cena

Episode

20

-

Chace Crawford, Mindy Kaling, Mary Gi...

Episode

19

-

Ricky Martin, Samantha "Sammi" Gianco...

Episode

18

-

Stephen Colbert, Leighton Meester

Episode

17

-

Tom Selleck, Mamie Gummer, Heart

Episode

16

-

Liam Neeson, Rachel Bilson, Diana Kra...

Episode

15

-

Julianna Margulies, Emily VanCamp

Episode

14

-

Sara Ramirez, Lana Parrilla

Episode

13

-

Ty Burrell, Terry O'Quinn

Episode

12

-

Jimmy Fallon, Nene Leakes

Episode

11

-

Maggie Gyllenhaal, Billy Gardell, Law...

Episode

10

-

Michael Chiklis, America Ferrerra, Ri...

Episode

9

-

Jake Gyllenhaal, Archie Panjabi, Aust...

Episode

8

-

Maya Rudolph, Elizabeth Olsen, Neon T...

Episode

7

-

Kelsey Grammer, Mitt & Ann Romney

Episode

6

-

Lucy Liu, Penny Marshall, Nelly Furta...

Episode

5

-

Tyra Banks, Theresa Caputo

Episode

4

-

Emma Watson, Jimmie Johnson

Episode

3

-

Jeremy Irons, Owl City

Episode

2

-

Matthew Perry, Olivia Wilde

Episode

1

-

Blake Shelton, Josh Radnor