Watch Lucky Louie
Lucky Louie is an American made television sitcom. It came out on HBO, in the year 2006. It is about a guy named Louie, and his family. Louie has a wife named Kim, and a four year old daughter named Lucy. Louie works for the local muffler shop, that is owned by his best friend Mike. Louie works at this muffler shop part time. Louie's wife Kim works full time. She is a full time registered nurse. Kim brings home more money then Louie. The other characters in the show are Tina, Walter, Ellen, Rich, and Jerry. Louie is the protagonist in the show Lucky Louie. Louis C.K. stars in the show as Louie. Louis C.K. is also the writer, and the producer of the show. The plot of the show has controversy, and comedy.
Watch Full Episodes of Lucky Louie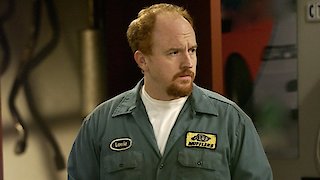 Season 1, Episode 13
Clowntime Is Over (21:50)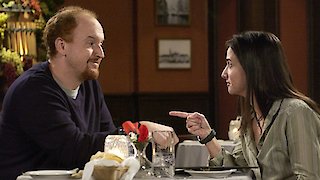 Season 1, Episode 12
Kim Moves Out
Season 1, Episode 11
Louie Quits
Season 1, Episode 10
Confession (26:28)
Season 1, Episode 9
Drinking
Season 1, Episode 8
Get Out

Lucky Louie

Full Episode Guide
Season
1
13 full episodes
Episode

13

-

Clowntime Is Over

In this exclusive unaired episode, an impromptu appearance as a clown named Mr. Pizza Box Man lands Louie a profitable new side gig. Meanwhile, Kim's foul mouth gets her in hot water at Lucy's upscale ballet class.

Episode

12

-

Kim Moves Out

In the Season One finale, Kim realizes she hates Louie and decides to move out, to the short-term benefit of both.

Kim gets Louie a raise at the muffler shop, so Louie demonstrates the only control he has left--by quitting.

Forced to go to church after pawning Lucy off on Ellen, Louie finds an unexpected ear in the confessional booth.

Louie goes to a basketball game instead of caring for his sick daughter, then gets a double-DWI.

Tina's rebellious daughter Shannon walks out of her mother's life--and into Louie and Kim's.

With Walter's help, Louie and Kim look to remedy Lucy's suddenly rude and disruptive behavior.

Episode

6

-

Flowers for Kim

With Lucy away, Louie thinks he's in for a weekend of sex with Kim until a memory lapse derails his plans.

Concerned about Louie's bad eating habits, Kim puts him on a healthy diet that only aggravates the problem.

Kim's plans for a July 4th bash are dashed when Louie uses her money to make a dumb impulse purchase.

Episode

3

-

A Mugging Story

Kim tries to turn the tables on a mugger, but ends up forcing Louie into the role of night watchman.

Having led Kim into uncharted sexual terrain, Louie is asked to rekindle the magic--or face the consequences.

Kim's offer of a week full of sex arouses Louie's suspicions of her motives; Louie tries to befriend his black neighbor, Walter.
If You Like Lucky Louie, Then Try...