Watch Misfits
The television show Misfits airs on the British television network E4. In America, the show airs exclusively on Hulu. The series centers around a group of young adults who gain supernatural powers while sentenced to do community service work. In season one of the show, the group of young offenders gains supernatural powers while caught outside in a freak electrical storm. The character Kelly gains the ability to read minds; the character Alisha's touch drives men crazy; Curtis becomes able to rewind time; and Simon gains the ability to turn invisible. Only one character, Nathan, does not appear changed. The season focuses on the aftermath of the group being forced to kill their probation worker, who attacked them in a rage after the same electrical storm which gave them their powers.
In season two, the group is followed by a mysterious unidentified man, who saves their lives on several occasions. The man is later identified as the character Simon, who has traveled from the future in order to save his girlfriend. The characters sell their powers, and are shown purchasing new powers.
Season three of Misfits reveals the new powers purchased by the characters. Simon can see the future; Alisha can see what other people are doing; Curtis can change his gender; and Kelly gains knowledge about rocket science. Alisha dies in Simon's arms, and Simon travels back in time to die in her arms.
The show has received good critical reviews, and won the 2010 British Academy Television Award for Best Drama Series.
Thursday 10:00 PM et/pt on E4

6 Seasons,

43

Episodes

November 12, 2009

10

/
Watch Full Episodes of Misfits

Season 5 Episode 8
Wed 11 Dec 2013 (45:45)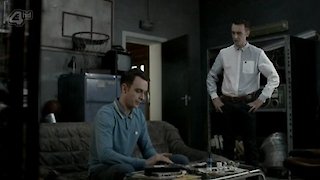 Season 5 Episode 7
Seven (45:32)
Season 5 Episode 6
Six (44:02)
Season 5 Episode 5
Five (49:02)
Season 5 Episode 4
Four (48:02)
Season 5 Episode 3
Three (47:34)

Watch Episodes
Clips & Extras
Misfits

Full Episode Guide
Episode

1

-

Top 5 Episodes - 4oD Exclusive

To celebrate the end of the iconic series, Misfits cast past and present remember classic Misfits moments, as voted by you, the internet. What will be number one?
Season
5
8 full episodes, 1 clip available
Episode

8

-

Wed 11 Dec 2013

In the final episode, the gang discover that their community service is over and begin to contemplate life after the orange jumpsuits

It's the first anniversary of the Storm. Rudy is totally freaked out by the future sweater Maggie gives to Jess so she ends their relationship. Sally's birthday party gets a little out of hand when Rudy passes out party favors.

Determined to prove that the gang were involved in Tony's disappearance, Sally focuses her investigation on Simon. Meanwhile, Nathan becomes strangely infatuated with a baby he finds at the community center.

Abby and Laura learn the real reason for their connection. Sam, the flying boy from the future jumper, saves Dark Rudy from a robber. While spurning Greg's advances, Finn thinks he has inadvertently killed their probation worker...

There's a mysterious superpower support group on the estate where people with powers go to talk about their troubles. Meanwhile, Alex is in the hospital recovering from being stabbed and a group of Devil-worshipping scouts turn up at the community center.
Season
4
8 full episodes, 11 clips available
Season
3
9 full episodes, 4 clips available
Season
2
7 full episodes, 22 clips available
Season
1
6 full episodes, 14 clips available
If You Like Misfits, Then Try...
Most Popular Misfits Episodes
Season 1 Episode 4

Episode 4

12/03/2009

Season 1 Episode 1

Episode 1

11/12/2009

Season 1 Episode 3

Episode 3

11/26/2009

Season 2 Episode 2

Two

11/18/2010

Season 5 Episode 8

Wed 11 Dec 2013

12/31/1969
Misfits Video Clips & Extras
Series Trailer
Clip (01:43)
Promo
Clip (00:19)
Strung Out: Webisode 8
Clip (03:03)
Strung Out: Webisode 7
Clip (02:10)
Strung Out: Webisode 6
Clip (01:44)
Strung Out: Webisode 5
Clip (02:13)
Strung Out: Webisode 4
Clip (01:48)
Strung Out: Webisode 3
Clip (01:59)