Watch Ragin Cajuns
Take a trip down the Mississippi for a 3-month long white shrimp season. These shrimp workers try hard to make the shrimp season a success even with the after effect of Hurricane Katrina and the bad economy.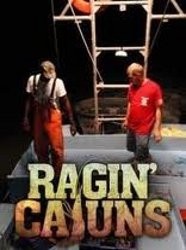 Ragin Cajuns

Full Episode Guide
Episode 6 - Man Overboard

A deckhand goes overboard, Dardar loses power and Kip loses steering and Kip tries to find a buyer who owes him money.

Episode 5 - Engine Assault and Battery Acid

Episode 4 - Under Pressure

A shrimping duel between student and mentor unfolds; a dispute with a deckhand turns ugly; efforts to change a boat's propeller are complicated by treacherous conditions.

Episode 3 - Loyalty versus Livelihood

A captain goes to Alabama amid a slump in the shrimp supply; a skipper thinks there's a curse on his boat.

Episode 2 - Shrimping, Storming and Stabbing
If You Like Ragin Cajuns, Then Try...