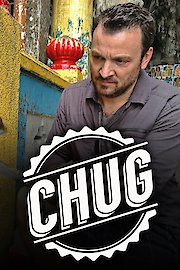 Watch Chug
Chug was a travel and drinking show hosted by Zane Lamprey, with Stephen McKenna as his producer and occasional drinking buddy. The show premiered in 2014 on National Geographic and consisted of six hour-long episodes. The premise of the show was simple: Lamprey and McKenna would travel to different countries and cities around the world to explore their drinking cultures. They would sample local beers, wines, spirits, and cocktails, and learn about the history and traditions behind them. Each episode focused on a different destination, from Munich, Germany to New Orleans, USA to Bangkok, Thailand.
What set Chug apart from other travel and food shows was Lamprey's irreverent and comedic approach to drinking. He was not a sommelier or a mixologist; he was a regular guy who enjoyed a good drink and a good time. He would often engage in silly antics, like wearing a giant beer mug hat or entering a drinking contest with locals. McKenna, on the other hand, was the more serious and responsible one, making sure Lamprey didn't drink too much and helping him avoid dangerous situations.
Besides the drinking, Chug also showcased the cultural and historical aspects of each destination. Lamprey and McKenna would visit local landmarks, festivals, and events, and interview locals about their drinking habits and customs. For example, in Munich, they attended Oktoberfest and learned about the strict brewing laws that govern German beer. In Bangkok, they visited a street food market and drank buckets (literally) of Thai whisky with the vendors.
Chug was also known for its impressive production value. Each episode was aesthetically pleasing and well-shot, with beautiful shots of landscapes, architecture, and people. The editing was fast-paced and dynamic, with jump cuts and animations that matched the show's playful tone. The music, composed by Lamprey himself, was catchy and upbeat.
Although Chug was lighthearted and entertaining, the show did not shy away from serious topics. Lamprey and McKenna discussed the dangers of excessive drinking and the importance of responsible consumption. They also addressed cultural differences and stereotypes, acknowledging the potential harm of cultural appropriation.
Overall, Chug was a fun and engaging show that offered a unique perspective on travel and drinking. Lamprey and McKenna's chemistry and humor made it easy to watch, while the educational and cultural aspects added depth and substance. If you're a fan of travel shows, drinking culture, or witty banter, Chug is definitely worth checking out.