DailyMailTV
ABC News Correspondent, ESPN Football Analyst and former NFL Quarterback Jesse Palmer has today been announced as host of DailyMailTV, the new daily syndicated series from Stage 29 Productions and DailyMail.com, which will launch across the United States on Monday, September 18, 2017. Palmer joins DailyMailTV from ABC News where he is a Special Contributor for Good Morning America. He is also an analyst for ESPN, a role he will continue while hosting DailyMailTV. Of his appointment, he said: "I'm honored to be joining DailyMailTV. I've always been a huge fan of DailyMail.com, so to bring the world's most read English language newspaper website to television for the first time is an opportunity I couldn't refuse. "I love telling stories that engage and excite Americans and to be able to do this five days a week on DailyMailTV is a dream come true." DailyMailTV will bring the best of DailyMail.com to life on television. From exclusive stories to breaking news, showbiz, politics, crime, health and science and technology, DailyMailTV will be must-watch television. Sharing captivating stories from across the United States and around the globe, viewers will become addicted to DailyMailTV, just as they have to DailyMail.com.
Weekdays 11:00 PM et/pt on Syndication

1 Season,

5

Episodes

September 18, 2017

/

10

Cast:

Jesse Palmer, Judy Ho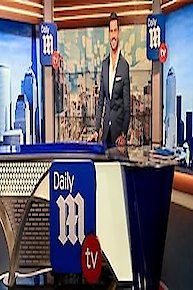 DailyMailTV Full Episode Guide
Tory Spelling; a mom poses with 20,000 bees for a maternity shoot.

Nancy Grace weighs in on jogger mom Sherri Papini; Prince Harry's girlfriend Meghan Markle.