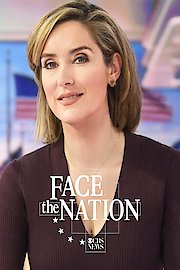 Watch Face The Nation
TV-PG
1954
69 Seasons
Face The Nation is a long-running Sunday morning political talk show on CBS that first aired in 1954. Over the years, the show has featured a wide range of hosts and guests, all discussing the latest news and issues affecting politics and the country at large. Today, Face The Nation is one of the most respected and widely watched political news programs in the country.
The show's current host is John Dickerson, a seasoned political journalist and author who has covered numerous presidential campaigns and important political events throughout his career. His deep knowledge of the political landscape, coupled with his sharp interview skills and ability to ask tough questions of his guests, makes him a perfect fit for the show's format, which focuses on in-depth interviews with key figures in politics.
Over the years, Face The Nation has featured a rotating cast of co-hosts and correspondents, many of whom have gone on to become icons of American journalism. Some of the most famous include Bob Schieffer, Lesley Stahl, George Herman, Martin Agronsky, Paul Niven, Howard K. Smith, Stuart Novins, and Ted Koop.
The show's regular format consists of a series of interviews with politicians, journalists, and other public figures, all discussing the latest headlines and hot-button issues of the week. Guests often include members of Congress, presidential candidates, and officials from the White House and State Department, as well as experts and analysts from the media and think tanks.
One of the defining characteristics of Face The Nation is its non-partisan approach to political news. The show does not take sides or push any particular agenda, but rather seeks to present all sides of the issues in a fair and balanced way. This has won the program a large and diverse audience, from political insiders to everyday citizens who are interested in keeping up with the latest political news.
In addition to its regular Sunday morning broadcasts, Face The Nation also occasionally airs special episodes covering breaking news or significant events in American politics. These special episodes are typically hosted by one of the show's regular hosts, and can provide valuable insight and analysis during times of national crisis or uncertainty.
Over the years, Face The Nation has become an important part of the American political landscape, providing valuable insights and analysis to viewers across the country. With its blend of seasoned journalism, tough interviews, and non-partisan analysis, the show continues to be a must-watch for anyone interested in politics and government.
Face The Nation is a series that is currently running and has 69 seasons (707 episodes). The series first aired on November 7, 1954.