Don't Be A Victim
This TV show provides information about how the police and military use self-defense tactics. It also shows how civilians can protect their selves. They tell you things that can help keep you safe in various high stress situations. They also tell you different ways to safe guard your home from intruders.
Saturdays at 9:00 am on Spike TV

1 Season,

13

Episodes

September 22, 2010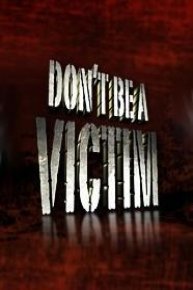 Don't Be A Victim Full Episode Guide
Episode

13

-

The LA Riots

1992 Los Angeles Civil Unrest was sparked on April 29, 1992, when a jury acquitted four LAPD officers accused in the videotaped beating of...

Episode

12

-

The Girl Next Door

The last of our nine students comes to learn a few things in personal defense. Get tips on things you should keep in mind to preserve safety when moving to a new community. And later, it's out to the range for a men vs. women competition.

Episode

11

-

The Night Stalker

In 1984, leaving your window open could have serious ramifications. In fact, 13 people ended up dead at the hands of the man known as The Night Stalker.

Episode

10

-

Concealment and Cover

SWAT team commander David Bowie demonstrates the effective ways of using right and left-hand cover in a shooting engagement, SEAL members demonstrate...

Episode

9

-

Home Invasion

Rich Wyatt is back at the High Caliber Training facility spending his day in their shoot house, running drills that include what to do during a home...

Episode

8

-

Right-Hand Man

We'll take a closer look at one of Bill Davison's better-known assistant instructors, Chris Bird. Then, Ruger Firearms has been making guns for more...

Episode

7

-

Better Safe Than Sorry

In the 1990s, television star Jameson Parker was shot twice by a man who was later convicted for attempted murder. While behind bars the attacker...

Episode

6

-

Driving Skills

Driving is the focus as Rich Wyatt goes through a series of drills at the High Caliber Training facility that can help save your life. Defending...

Episode

5

-

The San Ysidro McDonalds Massacre

Huberty gathered up his 9mm Uzi semiautomatic, a 12 gauge pump-action shotgun, and a 9mm Browning HP and told his wife he was "Going hunting humans." He then proceeded to kill 21 people and wound 19 other before being taken out by a police snipers bullet.

Episode

4

-

Training vs. Real Life

From proven professional strategies, tactics, and methods of self-defense, to recognizing and avoiding threats, to the latest in gear, security systems, and weaponry, audiences will learn what it takes to be a modern-day guardian of their own homes, families, and lives.

Episode

3

-

Non-Traditional Weapons

Episode

2

-

Prime of Life

Andy Villa is a clean cut, young man from a nice neighborhood in Rochester, NY. Andy has a great job, a great home, and he's in the best shape of...

Episode

1

-

The North Hollywood Shootout

The North Hollywood shootout was an armed confrontation between two heavily armed bank robbers, Larry Phillips, Jr. and Emil Matasareanu, and patrol and SWAT officers of the LAPD in North Hollywood, California on February 28, 1997. It happened when responding patrol officers engaged Phillips, 26 and Matasareanu, 30 leaving a bank, which the two men had just robbed.
If You Like Don't Be A Victim, Then Try...