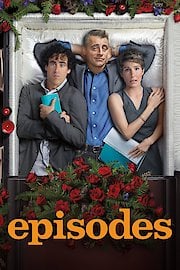 Watch Episodes
TV-MA
2011
5 Seasons
Episodes is a British-American television comedy series that premiered on Showtime in 2011. The show stars Matt LeBlanc, who plays a fictionalized version of himself, Tamsin Greig, and Stephen Mangan as the three main characters, with supporting roles from John Pankow, Kathleen Rose Perkins, Mircea Monroe, Genevieve O'Reilly, Chris Diamantopoulos, Joseph May, Daisy Haggard, Sam Palladio, Demetri Goritsas, and Lou Hirsch.
The plot of Episodes follows the story of a British couple, Sean and Beverly Lincoln (Mangan and Greig) who have achieved success in their home country with a television show they created called Lyman's Boys. However, their success leads to an invitation from an American TV executive, Merc Lapidus (Pankow), to adapt their show for a US audience.
After the couple moves to Los Angeles to start work on the American version of their show, they quickly find themselves out of their depth and struggling to adapt to the Hollywood system. Merc and his assistant, Carol (Perkins), make drastic changes to the show, including casting Matt LeBlanc (playing himself) as the lead character in a move that makes little sense to the Lincolns but seems to bring the show new life.
As the series progresses, the Lincolns become increasingly disillusioned with the creative compromises they are forced to make, as well as with the erratic behavior of both Merc and LeBlanc. Meanwhile, LeBlanc's personal life becomes a source of ongoing drama, with recurring issues that include failed relationships, financial instability, and a strained relationship with his own family.
Episodes is a clever, sharply written comedy that mixes elements of satire and parody with more nuanced character-driven storytelling. The show is well-regarded for its sharp writing and strong cast, particularly for LeBlanc's performance, which earned him a Golden Globe for Best Actor in a Comedy Series.
Overall, Episodes is an entertaining and insightful portrayal of the American television industry and the behind-the-scenes machinations that drive it. With a strong cast and engaging storyline, it is a strong addition to Showtime's comedy lineup.
Episodes is a series that is currently running and has 5 seasons (41 episodes). The series first aired on January 9, 2011.