Extreme
The series Extreme follows a team of rescuers that work on the Rocky Mountains. They risk their own lives to help people that have gotten stuck on the mountain. This team must endure the dangers of the mountain in order to save the lives of others.
3 Seasons,

37

Episodes

July 16, 2008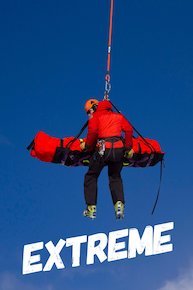 Extreme Full Episode Guide
Episode

12

-

Extreme Competitions

Extreme Competitions is a whirlwind trip in search of the most over the top tournaments around. From a mustache competition to the Redneck Games, Extreme Competitions will blow your mind with what lengths people will go to for victory!

Episode

11

-

Extreme Alaskan Adventures

No leisurely strolls through the wilderness here - that stuff's for the bears! Pack up your arctic gear and throw in an extra dose of wild because we are soaring, sledding and salmon fishing our way across the nation's biggest state! This is EXTREME ALASKAN ADVENTURES!

Episode

10

-

Most Terrifying Places in America 2

We explore the mysteries and legends surrounding seven spine tingling sites. Gathering a team of ghost hunters, psychic mediums and historians, we reveal why these paranormal hotspots deserve their reputations as the MOST TERRIFYING PLACES IN AMERICA!

Episode

9

-

Extreme Traditions

Episode

8

-

Extreme Wild Races

Battle runners from around the world in a race to the top of the Empire State Building, drive for 24 hours in the junkiest jalopies in a battle to the finish, & then throw your wife on your back in a race to win her weight in beer!It's EXTREME WILD RACES!

Episode

7

-

Extreme Conventions

Where can you find kid inventors, flame throwing bartenders and a heck of a lot of trekkies? On EXTREME CONVENTIONS! Check out celebrity impersonators, roller girls, magicians, Barbie fanatics and the most fiery BBQ at some bizarre conventions!

Episode

6

-

Extreme Hawaiian Escapes

Brush up on your hula skills and pack your sunscreen - we're off to Hawaii for surf, sun and wild adventures! We've hopped the islands to hunt down the longest zip line in Hawaii, the largest maze in the world and the gnarliest waves for kite boarding.

Episode

5

-

Extreme Superstructures

There is big - and then there is SUPER-BIG! And we're about to show you the most colossal of them all. EXTREME SUPERSTRUCTURES is taking you around the world from the tallest building ever to the largest underground complex, complete with apartments and ice skating rinks. We'll redefine mega in a whole new way!

Episode

4

-

Extreme Terror Rides: Mega Speed

Throw the seesaws and swings to the wind because we're bringing you the most intense rides that deliver the fastest rushes in the world! It's Extreme Terror Rides: Mega Speed!

Episode

3

-

Extreme Terror Rides: Death-Defying D...

In this hour we'll defy gravity on the Steel Hawg, the steepest roller coaster around, dodge 9-foot breakers in the tallest man made waves on the planet and then get thrown out of a volcano in the biggest slingshot ride in the world.

Episode

2

-

Extreme Mega Factories

Episode

1

-

Extreme Collections

You won't find any stamp, coin or train collections in this show. We've spanned the globe to hunt down the wackiest, weirdest and all out strangest collections in the world! From a house made out of beer cans to an entire village dedicated to a car collection, EXTREME COLLECTIONS has unearthed them all!
Episode

13

-

Out of the Ashes

A picture-perfect lakeside community in rural Minnesota is suddenly sent reeling when a 19 year-old woman disappears. Detectives turn to a solar physicist using NASA technology to identify a killer with a burning desire.

Episode

12

-

Extreme Resorts

You won't find any cozy bed and breakfasts here! From the largest spa in the world to an indoor ski resort in the middle of the desert, EXTREME RESORTS has uncovered the ultimate adventure, kid-centric and craziest vacation havens out there!

Episode

11

-

Extreme Wild Parties

From the world's largest pub-crawl to the biggest and baddest club in the country, we're taking you to the zaniest bashes around on EXTREME WILD PARTIES! See a new side of Hanukkah with strip dreidel then grab your sleeping bag for a slumber party under the dinosaurs at a museum!

Episode

10

-

Extreme Barhopping

Kiss your local watering hole goodbye because after seeing this show you won't ever want to go back! From a fully automated wine bar to the largest ice bar in the world EXTREME BARHOPPING is serving up a major dose of insanity with your drinks!

Episode

9

-

Extreme Pools

EXTREME POOLS is trekking the globe in search of the largest, the longest, the most teched out and coolest pools ever! Check out a pool full of beer and the ultimate dolphin experience, then swim in the deepest and the largest poolS in the world.

Episode

8

-

Extreme Vegas

Episode

7

-

Extreme Miami Hotspots

Think you know Miami? Well, you have no idea! EXTREME MIAMI has sought out the largest Cuban sandwich in the country, the priciest pad in the city and a jaw-dropping nightclub that puts the rest of the South Beach scene to shame!

Episode

6

-

Extreme Towns

You won't find any white picket fences in this show! From a city full of psychics to a community made entirely out of junk, EXTREME TOWNS is taking you far and wide to find the wackiest, spookiest and most satanic neighborhoods out there!

Episode

5

-

Extreme Roadside Adventures

Buckle your seatbelt and fill up the tank this 'aint no ordinary roadtrip! From a woman who collects the locks of Marilyn Monroe, Abe Lincoln and thousands of other pieces of hair, to a farm where you can fish for ostrich, EXTREME ROADSIDE ADVENTURES is taking you to the weirdest and wackiest pit stops in America and beyond!

Episode

4

-

Extreme Animal Encounters

Forget your fears of all things that crawl, climb, quiver and squirm out the door! You're about to travel the globe to encounter the wildest and most dangerous creatures face to face - this is EXTREME ANIMAL ENCOUNTERS!

Episode

3

-

Extreme Waterparks

Time to slap on the sunblock and inflate those floaties because we're taking you on the big plunge into the wettest and wildest waterparks. From a watercoaster that has you rocketing uphill, to a bowl ride that spins riders at a dizzying 35 feet per second, this is the ultimate tour of the most EXTREME WATERPARKS.

Episode

2

-

Extreme Restaurants

Episode

1

-

Extreme Bathrooms

Grab some toilet paper, 'cause you won't have to wait in line to sneak a peek at some of the most eye-popping bathrooms around! From a city where peeing in the streets is actually legal to a voyeuristic bathroom that makes private moments totally public, this is the ultimate pit stop - EXTREME BATHROOMS.