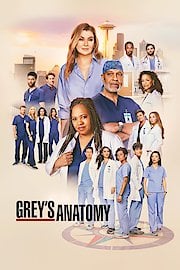 Watch Grey's Anatomy
TV-14
2005
19 Seasons
Grey's Anatomy is a medical drama television series that premiered on ABC in 2005, and it has been captivating audiences ever since. The show follows the lives of surgical interns, residents, and attending physicians as they navigate the intense and emotional world of medicine.
At the center of Grey's Anatomy is Dr. Meredith Grey (Ellen Pompeo), a young doctor who begins her residency at Seattle Grace Hospital. As the series progresses, viewers follow her growth as a surgeon and as a person, as she faces various challenges in her professional and personal life.
Joining Meredith at the hospital are a diverse group of doctors, including her best friend Cristina Yang (Sandra Oh), the ambitious Izzie Stevens (Katherine Heigl), the charming Alex Karev (Justin Chambers), and the lovable George O'Malley (T.R. Knight). Together, they form a close-knit group that supports each other through the highs and lows of their medical careers.
The show also features a talented supporting cast, including Chandra Wilson as the no-nonsense Dr. Miranda Bailey, James Pickens Jr. as the Chief of Surgery, Isaiah Washington as the enigmatic Dr. Preston Burke, and Patrick Dempsey as the charming Dr. Derek Shepherd.
Throughout its long run, Grey's Anatomy has tackled a wide range of medical and personal issues, from rare diseases and groundbreaking surgeries to the intricacies of love and loss. Emotions run high as relationships form, falter, and evolve, and as doctors fight to save their patients' lives.
The series has consistently been praised for its strong storytelling, compelling characters, and stunning cinematography. It has won numerous awards over the years, including several Emmy nominations for its talented cast and crew.
For those who are new to the show or those who want to catch up on missed episodes, ABC offers viewers the opportunity to Watch Grey's Anatomy Online through their website or the ABC app. Fans can also watch the show on various streaming platforms, such as Netflix and Hulu.
Overall, Grey's Anatomy is a must-see for fans of medical dramas and those who appreciate strong writing, complex characters, and nuanced storytelling. It remains an iconic and beloved series that has left an indelible mark on television history.
Watch Grey's Anatomy Online today and experience the gripping drama and unforgettable characters for yourself.
Grey's Anatomy is a series that is currently running and has 19 seasons (420 episodes). The series first aired on March 27, 2005.