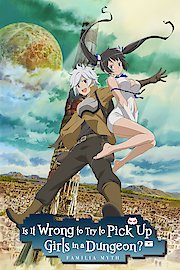 Watch Is It Wrong to Try to Pick Up Girls in a Dungeon?
TV-14
2015
4 Seasons
Is It Wrong to Try to Pick Up Girls in a Dungeon? (also known as DanMachi) is a Japanese anime series produced by Sentai Filmworks in 2015. The show is set in a world where gods have descended to Earth and share their powers with ordinary humans in exchange for their prayers. The story follows a young adventurer named Bell Cranel, who wants to become a great warrior and win the heart of the beautiful goddess, Hestia.
The show explores the fictional world of Orario, a bustling city filled with adventurers and gods. Wealth, fame, and honor await those who can successfully navigate the treacherous dungeons beneath the city, where monsters lurk and danger is always present. Bell is a rookie adventurer who quickly finds himself drawn to the dangers of the dungeons and the thrill of the fight. With Hestia as his patron goddess, he embarks on a mission to become the best warrior in the city.
The show's characters are one of its defining features, with each one brimming with personality and uniqueness. Bell is a shy and kind-hearted young man, who is naïve to the complicated atmosphere of the city. His desire to protect his friends and loved ones makes him the perfect hero. Hestia is a goddess who takes on a human form, and she is obsessed with Bell, often getting jealous when he interacts with other women. She is loving, kind-hearted, and always willing to help others.
The show features a rich cast of supporting characters, including adventurers from other powerful Familias (groups of adventurers) and powerful gods. Loki, Freya, and Hermes are just a few of the prominent gods who make an appearance in the show, each with their unique motivations and ambitions. The supporting cast of adventurers is equally diverse, with characters like Aiz Wallenstein and Welf Crozzo being fan favorites.
The world-building in Is It Wrong to Try to Pick Up Girls in a Dungeon? is also exceptional. The city of Orario is incredibly detailed, with its bustling streets and towering architecture. The various Familias which control the city's dungeons are also unique, each with their own customs, culture, and beliefs. The way gods interact with each other and with humans also adds a layer of depth to the show that is often not present in other anime shows.
The animation and visuals of the show are fluid and well-done. The fight scenes are entertaining, with each character having their own unique fighting style. The use of color and lighting also adds to the overall aesthetic and helps to immerse the viewer in the world. The character designs are also unique, with each character having their own distinct look.
Overall, Is It Wrong to Try to Pick Up Girls in a Dungeon? is an entertaining anime that is well worth watching. The show has a great balance of action, romance, and comedy, making it a perfect show for any anime fan. The characters are all engaging, and the world-building is top-notch. The animation and visuals are also excellent, adding to the overall quality of the show.
Is It Wrong to Try to Pick Up Girls in a Dungeon? is a series that is currently running and has 4 seasons (59 episodes). The series first aired on April 4, 2015.