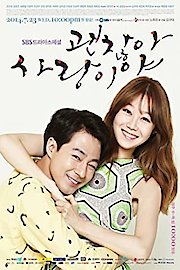 Watch It's Okay, That's Love
TV-14
2014
1 Season
It's Okay, That's Love is a 2014 drama series that aired on SBS. The show stars Jo In-sung as Jang Jae-yeol, a popular mystery novelist and radio DJ who suffers from obsessive-compulsive disorder (OCD). Gong Hyo-jin plays Ji Hae-soo, a psychiatrist who is assigned to treat Jae-yeol after witnessing one of his episodes on the radio show.
The show takes place in Seoul, South Korea and explores the lives of these two characters as they navigate their way through their personal issues, as well as their budding romantic relationship. The show delves into themes such as mental illness, relationships, and family dynamics.
One of the strongest elements of the show is its portrayal of mental illness. The show does an excellent job of depicting the daily struggles that come with OCD, as well as the stigma that accompanies mental health issues in society. Jae-yeol's condition is not merely used for comedic effect; rather, it is treated with sensitivity and respect throughout the series.
In addition to the main characters, the show also features a strong supporting cast. Lee Kwang-soo plays Park Soo-kwang, a fellow patient at the psychiatric hospital who becomes friends with Jae-yeol. Soo-kwang suffers from Tourette syndrome and provides both comic relief and emotional depth to the series. Do Kyung-soo, also known as D.O., plays Han Kang-woo, Hae-soo's younger brother who has Asperger's syndrome. Kang-woo provides another layer of insight into mental illness and how it affects those around them.
The show also explores the complexities of relationships. Both Jae-yeol and Hae-soo have had troubled pasts, and their individual issues are revealed as the show progresses. The series does an excellent job of showing how these issues affect their relationship, as well as how they work together to overcome them. The chemistry between Jo In-sung and Gong Hyo-jin is excellent, and their on-screen relationship is both heartwarming and realistic.
Family dynamics also play a significant role in the show. Hae-soo's relationship with her mother is strained, and the show explores the root of that tension. Jae-yeol also has familial issues, namely with his father, who was abusive when he was a child. The show does an excellent job of showing how these issues have impacted their characters and their relationships with others.
The show is beautifully shot, with stunning visuals of Seoul throughout the series. The use of music is also notable, with an impressive soundtrack that complements the emotional weight of the show.
In conclusion, It's Okay, That's Love is an excellent drama series that explores a range of important themes with sensitivity and depth. The show's portrayal of mental illness is particularly notable, and the performances by the lead actors are outstanding. The show is well-paced, with excellent writing and direction, and is sure to appeal to fans of K-dramas and international dramas alike.
It's Okay, That's Love is a series that is currently running and has 1 seasons (16 episodes). The series first aired on July 23, 2014.