Stairway to Heaven
Stairway To Heaven is a South Korean television series about childhood friends Han Jung-suh and Cha Song-joo that share a special bond. That bond eventually leads to romance between the two. The bond between the two friends stems from the fact that they both know the pain of losing a loved one.
When Jung-suh's father remarries, it turns into the classic Cinderella evil step-mother and ugly step-siblings rivalry. Jung-suh then becomes abused by her step-mother who does all she can to ruin Jung-suh's life and keep her from acheiving her goals in life. Song-joo in the meantime goes to America to study and when he comes back, the step-sister does all she can to keep the two from reuniting with each other.
1 Season,

20

Episodes

December 14, 2009

/

10

Cast:

Ha Jae-Young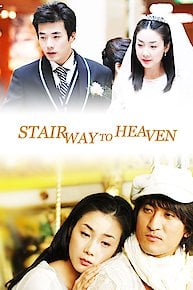 Stairway to Heaven Full Episode Guide
A donor is found for Jung Suh after the serious accident involving Tae Hwa. Song Joo and Jung Suh go to the beach house one last time to say goodbye.

Yuri's father tells everyone at the wedding that she ran over Jung Suh and asked him to cover up the accident. Tae Hwa goes to see Tae Mira in a psychiatric facility.

Now completely blind, Jung Suh meets Song Joo at a coffee shop and it brings him to tears. Tae Hwa finds out from his father that his mother Tae Mira wants both of them killed.

Jung Suh spends time at the beach house before Tae Hwa arrives. After Tae Hwa gets arrested, he asks Song Joo to be with Jung Suh because she is alone.

Tae Hwa visits the family and details come out about Jung Suh's accident. Song Joo and Jung Suh go to the beach and he carries her through a difficult moment.

Song Joo and Jung Suh spend the day having fun at an amusement park. After a visit to her doctor, Jung Suh finds out that she is losing her eyesight.

An important family gathering reveals the truth about Chulsoo's identity and his relationship to Jung Suh. Yuri and Tae Hwa's father meets with criminals responsible for obtaining the paintings.

Tae Hwa is held against his will and criminals force him to paint forgeries of other pieces. Jung Suh must go to the hospital after suddenly developing an unknown illness.

The engagement party starts for Song Joo and Yuri just as Tae Hwa shows up. Song Joo and Tae Hwa get into a fight after Tae Hwa thinks he went back on the decision to take care of Jung Suh.

Now angry, Yuri tries to make things difficult for Jung Suh upon her return. Yuri and her mother plot to publicly announce the engagement in hopes of trapping Song Joo.

Jung Suh is angry with Chulsoo and questions his motives about the five year deception. Song Joo comes to realize that the girl calling herself Jisoo is really Jung Suh.

Jung Suh is accused of being a bad person as she confronts Yuri, Madam, and her stepmother. Chulsoo cries out for Jisoo after being assualted because of a deal concerning his father

Jisoo runs into Song Joo and Yuri at the jewelry store. Jung Suh gets her memory back but fails to tell Song Joo about her news when the time comes.

Song Joo is determined to make Jisoo remember her true identity and the family she left behind. The plan to return Jisoo's memory fails and she still feels no connection to her past life.

Yuri tells her mother that Song Joo has growing suspicions about Jung Suh's death. Many people that are close to Jisoo are starting to the realize that she is actually Jung Suh.

An upset Yuri tries to commit suicide on her engagement day as bad memories of Jung Suh linger. Jisoo is unaware of Song Joo's help in saving the store from closing

Song Joo and Yuri arrive in Seoul for the fifth anniversary of Jung Suh's death. A surprised Song Joo sees Jung Suh at an amusement park but she is now known as Jisoo due to her amnesia.

A fight between Jung Suh and Yuri causes one of the sisters to run away from home. Jung Suh is hit by Yuri's car and there is consequences for everyone involved.

Han Yu Ri sees Han Jung Seo in the attic and decides to punish her with a devious act. Han Tae Hwa confronts Han Jung Seo to discover if she has feelings for him.