LisaRaye: The Real McCoy
LisaRaye: The Real McCoy is a reality television series that shows the daily life and events of actress Lisa Raye. During a number of episodes, viewers will watch Lisa live her daily life which will include doing things such as attending fashion shows, hosting parties, interviewing and also spending time with her daughter.
In each episode, viewers will watch Lisa meet with people and engage in social events on a regular basis. Since Lisa is an actress she has a lot of ties to some famous people and therefore viewers will watch her spend time with them. These people include Jamie Foxx and Al Sharpton. Viewers will see Lisa do something unique in each episode so there is a considerable amount of variety in terms of content.
When watching this show, viewers will get to see a day in the life of Lisa and get in depth coverage of what her lifestyle is really like. As a result it will be very interesting for people who are fans of the actress as well as reality television shows. LisaRaye: The Real McCoy usually airs up to 10 episodes per season and so it is a rather short series. However it gives viewers an interesting perspective of what the actress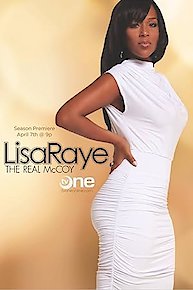 LisaRaye: The Real McCoy Full Episode Guide
Episode

9

-

Alls Fair in Love & Pranks

Episode

8

-

Mommy Knows Best

Episode

7

-

Spiritual Cleanse

Episode

6

-

All in the Family

Episode

5

-

The Gift of Giving

Episode

4

-

Run For Her Life

Episode

3

-

Whats Love Got to do With It?

Episode

2

-

The LisaRaye Brand

Episode

1

-

Lisa Rayes La Vida Loca
Episode

8

-

LisaRaye, Chicago Style

Episode

7

-

Season 1, Episode 7

Episode

6

-

Season 1, Episode 6

Episode

5

-

Season 1, Episode 5

Episode

4

-

LisaRaye Hits Hot-lanta

Episode

3

-

LisaRaye, the Hollywood Cowgirl

Episode

2

-

LisaRaye: Date Police

Episode

1

-

LisaRaye Gets Back to Business