Nuremberg: Nazis on Trial
This historical documentary series from the BBC reenacts the infamous Nuremberg War Trials that took place after World War II. The set of three one-hour episodes observes the 60th anniversary of the Nuremberg War Trials. Each episode tells the story of one of three men who were place on trial for crimes against humanity: Rudolf Hess, Herman Goring, and Albert Speer. The documentary employs both the use of archival film footage of the actual trial activity, combined with dramatic reenactments of these historic events.
1 Season,

3

Episodes

September 26, 2006

/

10

Cast:

Matthew Macfadyen, Richard Overy, John Dolibois, Whitney Harris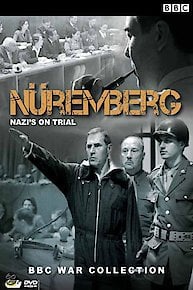 Nuremberg: Nazis on Trial Full Episode Guide
Episode three details the trial of fanatical Nazi Rudolf Hess, whose trial was marked by his increasingly bizarre and paranoid behavior.

Installment two looks at the trial of the Nazi's top soldier, Hermann Goering, and how it turned into a battle for his legacy with the German people.

Episode one focuses on Nazi Albert Speer, who used his charisma to, according to some, fool the court into a lighter sentence than he deserved.