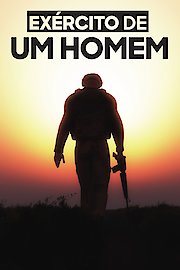 Watch One Man Army
One Man Army was a Discovery Channel reality show that aired in 2011, where contestants competed in physical and mental challenges to prove they were the ultimate warrior. The show was hosted by Mykel Hawke Pierce, a survival expert and former Green Beret; James Yeager, a firearms instructor and former U.S. Army Special Forces soldier; and Dale Comstock, a former U.S. Army Delta Force operator.
Each episode featured four contestants, who were all highly skilled in various combat and survival techniques. The competitors were tested in a wide range of challenges that required not only physical abilities but also strategic thinking and mental toughness. The contestants were subjected to extreme situations such as jungle warfare, hand-to-hand combat, firearms drills, and survival scenarios.
In each episode, the contestants were given a specific mission, such as completing an obstacle course or retrieving a hidden object within a certain timeframe. The challenges were designed to test the contestants' endurance, agility, marksmanship, problem-solving skills, and quick thinking, and they were also required to demonstrate their proficiency in different weapons and equipment.
During the challenges, the contestants were pushed to their limits and often had to face unexpected obstacles that tested their abilities to adapt and improvise. They had to think on their feet and make quick decisions while under pressure.
The show was notable for its focus on real-life combat scenarios, and the contestants were required to perform complex maneuvers that were similar to those used by special operations forces in real-world situations. One of the key aspects of the show was the use of military-style weapons and equipment, which added to the authenticity of the challenges.
Throughout the show, the contestants were evaluated by the hosts, who provided feedback on their performance and offered advice on how to improve. The judges were highly experienced in combat and survival techniques and provided valuable insights into what it takes to become a true warrior.
In addition to the challenges, the show also featured interviews with the contestants, where they shared their backgrounds, experiences, and motivations for competing in the show. The interviews provided a glimpse into the lives of the competitors and the diverse range of skills and backgrounds that they brought to the competition.
Overall, One Man Army was a thrilling and intense show that tested the limits of the contestants' physical and mental capabilities. It was a showcase of the skills and training that are needed to become an elite warrior, and it was a fascinating look at the world of combat and survival.
One Man Army is a series that is currently running and has 1 seasons (10 episodes). The series first aired on July 13, 2011.