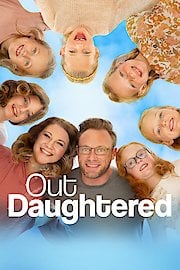 Watch Outdaughtered
TV-PG
2016
9 Seasons
Outdaughtered is a popular American reality series, which chronicles the adventures of Danielle Busby and Adam Busby, along with their six daughters. The show premiered on TLC in May 2016 and has become a fan-favorite in the years since. With a mix of heartwarming family moments and hilarious parenting mishaps, Outdaughtered offers a unique window into the lives of this happy family of eight.
The Busby family consists of parents Danielle and Adam, who are both in their thirties, and their six daughters: 10-year-old Blayke Louise and quintuplets Ava Lane, Olivia Marie, Hazel Grace, Riley Paige, and Parker Kate. The Busbys live in Houston, Texas, where they juggle their busy lives as parents of six young children.
One of the main storylines of Outdaughtered is the challenges that come with raising quintuplets. According to Danielle and Adam, their quints were conceived naturally, which makes their birth exponentially rarer. As such, the Busbys' lives are constantly in a state of chaos, as they try to keep up with the demands of feeding, bathing, clothing, and diapering five infants. The show offers an intimate look at the Busbys' daily routine, as they navigate everything from mealtime struggles to sleep training mishaps.
However, Outdaughtered is not just about the difficulties of raising five babies. The show also focuses on the unique personalities of each of the Busby girls, from the oldest, Blayke, to the youngest, Parker Kate. Fans of the show enjoy watching the girls grow and develop over the years, seeing them reach new milestones and form special bonds with each other.
One of the standout features of Outdaughtered is the love and support that Danielle and Adam have for each other and their children. The family clearly values spending time together and creating meaningful memories. From outdoor excursions to family game nights, the Busbys show that it is possible to be a loving family even in the midst of chaos.
Overall, Outdaughtered is a heartwarming and hilarious look at a unique family living a unique life. Whether you are a parent yourself or just enjoy watching adorable children, this show is sure to tug at your heartstrings and make you laugh out loud.
Outdaughtered is a series that is currently running and has 9 seasons (85 episodes). The series first aired on May 10, 2016.