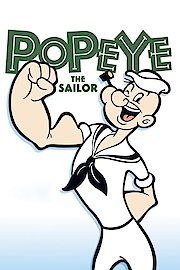 Watch Popeye the Sailor
TV-G
1969
18 Seasons
Popeye the Sailor is an animated television show that follows the misadventures of the titular character, Popeye, as he navigates through various challenges in his life. The show was first aired in 1960 and ran for two years until 1962. The show was produced by King Features Syndicate and was heavily based on the comic strip created by E.C. Segar.
The show was brought to life through the talented voice acting of Mae Questel, who portrayed the voice of Olive Oyl. Jackson Beck provided the voice for Bluto, while William, Gus Wickie, Jack Mercer, and Margie Hines were responsible for various supporting roles.
The storyline of the show centers around Popeye, a tough, scrappy sailor who possesses an insatiable appetite for spinach, which gives him incredible strength. Alongside his love interest, Olive Oyl, Popeye finds himself constantly embroiled in comedic situations that put his strength and wit to the test.
Each episode of Popeye the Sailor revolves around a different story, with Popeye and his friends taking on a variety of foes, including his arch-nemesis, Bluto. Bluto is constantly trying to win over Olive Oyl's affections and often finds himself in direct conflict with Popeye.
Despite being a children's show, Popeye the Sailor tackled a number of themes that were relevant to its audience. The show often touched on topics like friendship, perseverance, and self-confidence. Young viewers learned important life lessons through the exploits of Popeye and his friends, who taught them the importance of being true to oneself and standing up for what's right, no matter what.
One of the unique features of Popeye the Sailor was its distinctive animation style, which was based on the original comic strip. The characters were drawn with exaggerated features, including elongated limbs and oversized heads. The animation also utilized bold colors and high contrast, which added to the show's overall aesthetic.
Apart from the unique animation style, the show was also known for its catchy theme song, which featured Popeye's famous catchphrase, "I'm Popeye the Sailor Man." This theme song became a cultural touchstone, recognized around the world by audiences of all ages.
Overall, Popeye the Sailor was a beloved show that captured the hearts of viewers young and old. Its legacy lives on, and the show continues to be enjoyed by generations of fans across the globe. From its iconic characters to its memorable music, Popeye the Sailor remains an important piece of animation history that continues to inspire and entertain audiences to this day.
Popeye the Sailor is a series that is currently running and has 18 seasons (348 episodes). The series first aired on .