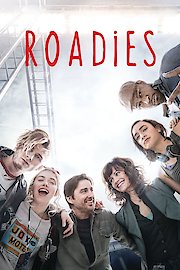 Watch Roadies
TV-MA
2016
1 Season
"Roadies" is a comedy-drama television series that originally aired on Showtime in 2016. The show revolves around the lives of a group of roadies, who work behind the scenes to make sure the concerts of their rock band go smoothly. The show's main characters include Bill (Luke Wilson), the tour manager, who is constantly struggling to keep his team of roadies organized and focused, and Shelli (Carla Gugino), the production manager, who is fiercely passionate about her job but is often forced to deal with difficult band members and sponsors.
Imogen Poots plays Kelly Ann, the newest member of the team who is struggling to find her place in the male-dominated world of rock and roll. Rafe Spall is Reg Whitehead, the financial manager who is still harboring feelings for Shelli, even though she is involved with someone else.
Keisha Castle-Hughes plays Donna Mancini, the electrician who is often the only female presence on stage. Peter Cambor is Milo, the sound mixer, who is also the self-proclaimed philosopher of the group. Machine Gun Kelly plays Wes, the stoner roadie who is struggling with the reality of being a father. Ron White is Phil, the veteran roadie who has seen it all and knows how to get things done.
The show takes place during a ten-week tour of a fictional band called The Staton-House Band, and each episode focuses on the different challenges the roadies face as they travel across the country. From dealing with unexpected equipment failures to navigating the complicated relationships between band members and staff, the show captures the real-life struggles of those behind the scenes of a rock concert.
Despite the chaotic and often stressful nature of their job, the roadies are portrayed as a tight-knit family who share a love for music and the thrill of being on tour. The show explores their personal lives and relationships, with several romantic subplots woven throughout the series.
In addition to its main cast, "Roadies" features several guest stars including Eddie Vedder of Pearl Jam, Lindsey Buckingham of Fleetwood Mac, and Jim James of My Morning Jacket. Each celebrity guest plays themselves and adds an additional layer of authenticity to the show's portrayal of the music industry.
Overall, "Roadies" is a fun and engaging series that offers a unique glimpse into the world behind the stage. Its cast of talented actors, dynamic storytelling, and memorable music performances make it a must-watch for fans of comedy-drama and music lovers alike.