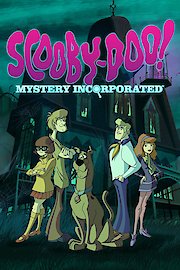 Watch Scooby Doo Mystery, Inc.
TV-Y7-FV
2010
4 Seasons
Scooby Doo Mystery, Inc. was a popular animated television series that aired on Cartoon Network from 2010 to 2013. The show followed the adventures of four teenagers and their talking dog, Scooby Doo, as they solved mysteries and uncovered spooky secrets in the town of Crystal Cove.
The show featured an all-star cast of voice actors, including Frank Welker as Fred Jones and Scooby Doo, Mindy Cohn as Velma Dinkley, and Grey Griffin as Daphne Blake. These beloved characters have been a fixture of the Scooby Doo franchise since its inception in 1969, and fans were excited to see them take on new challenges in Mystery, Inc.
One of the stand-out elements of the show was its focus on a larger, ongoing story arc. Each episode featured its own self-contained mystery, but these individual cases were all tied together by a central plot that ran throughout the entire series. This gave the show a sense of continuity and progression that was rare for a children's show at the time.
In addition to its overarching storyline, Scooby Doo Mystery, Inc. also differed from previous iterations of the franchise by incorporating darker and more complex themes. The show tackled issues like morality, identity, and betrayal, while still maintaining its trademark sense of humor and fun.
Fans of traditional Scooby Doo tropes were not disappointed by the show, however. The gang still relied on classic detective work and creative trap-setting to catch the perpetrators of each mystery. There were plenty of villains in disguise, spooky abandoned buildings, and chase scenes featuring Scooby and Shaggy's classic food-focused antics.
The show also introduced several new elements to the franchise, including a greater emphasis on technology and advanced gadgets. The Mystery Machine, the gang's iconic van, was upgraded with all sorts of cutting-edge equipment, and Velma became even more of a genius when it came to computer programming and hacking.
Scooby Doo Mystery, Inc. was a hit with both critics and audiences during its run on Cartoon Network. It was praised for its engaging storyline, excellent voice acting, and updated take on the classic franchise. The show also spawned a number of tie-in merchandise, including toys, books, and video games.
Unfortunately, Scooby Doo Mystery, Inc. was cancelled after only two seasons due to low toy sales, despite its popularity with fans. This was a disappointment for many who had come to love the show's characters and storylines, and there has been ongoing discussion and speculation about a potential revival or continuation of the series in the years since.
In conclusion, Scooby Doo Mystery, Inc. was a groundbreaking television series that took the beloved franchise in bold new directions. With its engaging storyline, excellent voice acting, and exciting new elements, it garnered a devoted following during its all-too-brief run on Cartoon Network. While the show may be gone, its memory lives on, and it remains a favorite among Scooby Doo fans both old and new.
Scooby Doo Mystery, Inc. is a series that is currently running and has 4 seasons (56 episodes). The series first aired on July 12, 2010.