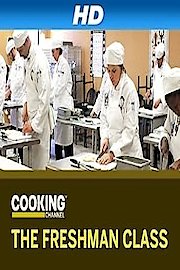 Watch The Freshman Class
The Freshman Class is a reality television show that first aired on the Cooking Channel in 2013. The series follows a group of 13 culinary students as they navigate their way through the rigorous culinary program at Johnson & Wales University in Charlotte, North Carolina. Each episode showcases the students' individual personalities, cooking skills, and the emotional struggles they face both inside and outside of the kitchen.
The premise of the show is to document the journey of these culinary students as they take on challenging classes, prepare elaborate dishes, and compete in cooking competitions. The students on The Freshman Class face a range of challenges; from mastering the art of knife skills, butchering meat, and filleting fish, to learning about the various cuisines of the world and how to cater to the diverse tastes of their customers.
The show features a diverse cast of students from all over the country, including a former NFL player, a mother of two, and a student who has never cooked before. Each student brings their unique background and culinary experience to the table, making for a dynamic and entertaining viewing experience.
Throughout the series, the students are mentored by some of the top chefs in the industry. These chefs come from all over the country and have years of experience working in high-end restaurants and other culinary institutions. They offer the students advice on how to succeed in the program, how to hone their skills in the kitchen, and how to navigate the challenges they will inevitably face.
The show also highlights the personal lives of the students outside of the culinary program. Viewers get a glimpse into their struggles with family, relationships, and self-doubt as they try to balance their personal lives with the demands of the program. The students' relationships with each other also play a significant role in the show, with alliances being formed and rivalries brewing between some of the more competitive students.
One of the standout elements of The Freshman Class is the range of cooking challenges that the students face. Some challenges are straightforward, such as preparing a roast chicken or making a dessert, but other challenges are more complex, such as creating a dish using a mystery ingredient or cooking for hundreds of people at a charity event. Each challenge tests the students' creativity, teamwork, and ability to think on their feet.
Overall, The Freshman Class is an entertaining and engaging show that offers an inside look into the challenging world of culinary school. The show strikes a balance between showcasing the students' culinary skills and personal lives, making it a relatable and enjoyable watch for viewers. Whether you are a seasoned chef or just someone who enjoys watching reality television, The Freshman Class is a show that is sure to satisfy your appetite.
The Freshman Class is a series that is currently running and has 2 seasons (16 episodes). The series first aired on June 10, 2013.