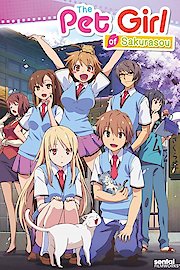 Watch The Pet Girl of Sakurasou
TV-14
2012
1 Season
The Pet Girl of Sakurasou is a multi-genre anime television series that was originally aired in Japan in 2012 and concluded in 2013. Produced by Media Factory, the show became an immediate hit among the audience for its unique storyline and eclectic mix of characters.
The story is set in a high school called Suiko, which is located in a small town in Japan. The school has a special dormitory, called Sakurasou, for students who are considered outcasts and have unique talents. Sorata Kanda is one such student who has been forced to live in Sakurasou because he could not handle taking care of a stray cat he brought home.
This is where he meets Mashiro Shiina, a talented painter who has moved from England to Japan to pursue her dreams. However, Mashiro also has a hard time taking care of herself and is unable to do the most basic things like dressing herself or cooking food. Sorata is assigned the task of taking care of her, and this is where the story of The Pet Girl of Sakurasou begins.
The show explores the personal struggles and aspirations of the main characters, as well as their relationships with each other. Sorata, who initially resents living in Sakurasou and taking care of Mashiro, gradually learns to appreciate her talent and becomes her mentor. Mashiro, on the other hand, discovers her passion for painting and develops a sense of independence, despite her social awkwardness.
The other characters living in Sakurasou include Nanami Aoyama, a hardworking and ambitious student who aspires to become a voice actress. Misaki Kamiigusa is a quirky and energetic girl who wants to become a successful game developer. Jin Mitaka is a playboy and Mashiro's childhood friend who harbors hidden feelings for Nanami. Ryuunosuke Akasaka is a reclusive gaming programmer who communicates with the world through a computer.
The show deals with various themes, including the importance of pursuing one's passion, the challenges of living with social anxiety, and the difficulty of maintaining romantic relationships. It also touches on the idea of societal expectations and how they can limit individual growth.
The animation in The Pet Girl of Sakurasou is well done, with vibrant colors that help bring the show's characters and settings to life. The soundtrack is also memorable, with catchy opening and closing themes and background music that complements the show's mood.
Overall, The Pet Girl of Sakurasou is an engaging and heartwarming anime that will appeal to fans of dramas, romances, and comedies alike. With its relatable characters and well-written plot, it is a must-watch for anyone who loves anime.
The Pet Girl of Sakurasou is a series that is currently running and has 1 seasons (24 episodes). The series first aired on October 10, 2012.