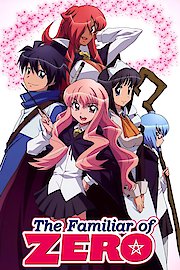 Watch The Familiar of Zero
TV-14
2006
4 Seasons
The Familiar of Zero is a romantic comedy fantasy anime that premiered on Anime Network in 2006. The show's protagonist is a high school student named Saito Hiraga who is mysteriously transported to a fantasy world where magic exists. In this world, Saito finds himself summoned as the familiar servant of a young girl named Louise Françoise Le Blanc de La Vallière.
Louise is a student at the Tristain Academy of Magic and hails from the noble Le Blanc de La Vallière family. She is known for her lack of magical ability and is often teased by her peers. Louise is desperate to prove her worth and gain the respect of her classmates, so she summons a familiar to help her with her studies. However, Louise is shocked when the familiar she summons turns out to be Saito, a mere human from another world.
Saito, bewildered by his sudden arrival in a fantasy world, finds himself at the mercy of Louise, who treats him harshly and frequently whips him with a magical whip. Despite this treatment, Saito is determined to find a way back to his own world and must navigate the dangers of this new world while in the service of Louise.
Throughout the series, Saito and Louise's relationship develops as they face various enemies and obstacles together. Saito is initially resentful of Louise's treatment of him, but gradually comes to care for her as he gets to know her better. Louise, on the other hand, struggles with her growing feelings for Saito, as she is conflicted by her duty as a noble and her love for him.
The show also features a cast of supporting characters, including Guiche, a fellow student and Louise's love interest, Kirche, a fiery magic user who befriends Saito, and Siesta, a young maid who develops feelings for Saito. The show explores themes of love, loyalty, and friendship, as Saito and Louise navigate the dangerous and magical world around them.
The animation in The Familiar of Zero is colorful and engaging, bringing the fantastical world to life. The voice acting is also top-notch, with Rie Kugimiya delivering an excellent portrayal of Louise, complete with her signature catchphrase "Zero!".
Overall, The Familiar of Zero is a charming and entertaining romantic comedy that will appeal to fans of fantasy and magic. Its unique premise and compelling characters make it a standout in the genre, and its blend of humor, action, and romance make it a worthwhile watch for fans of all ages.