Trey Songz: My Moment
Trey Songz: My Moment is a reality documentary that lasted two months on BET. The show was about the singer Trey Songz and his life in preparing in his upcoming tour during the taping of the show. The show lasted only 10 episodes, and many of the reviews were positive.
1 Season,

11

Episodes

June 27, 2009

Cast:

Trey Songz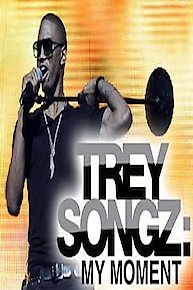 Trey Songz: My Moment Full Episode Guide
Episode

10

-

Episode 10 - Passion, Pain & Pleasure

Trey does a mini concert for Target and shoots the music video for the first single on his new album "Passion, Pain & Pleasure, Bottoms Up."

Episode

9

-

Episode 9 - Next

Trey becomes the new face of Rocawear.

Episode

8

-

Episode 8 - Finding The Balance

Trey works on his new album and visits the youth in Atlanta.

Episode

7

-

Episode 7 - Roseland

Now that the BP3 concert is finished, Trey will be able to headline his own concert.

Episode

6

-

Episode 6 - The End, A New Beginning

The BP3 tour comes to a close and now Trey must look to the future.

Episode

5

-

Episode 5 - Going Home

The biggest concert on the biggest tour of Trey's life. Trey reminisces about the first two albums, his...

Episode

4

-

Episode 4 - The Garden

Trey performs at the biggest concert of his life in New York at Madison Square Garden. Although it's Jay's concert, Trey definitely shows up!

Episode

3

-

Episode 3 - Doin Too Much

Trey's voice starts to go. Watch the latest episode.

Episode

2

-

Episode 2- The Grind

Trey arrives in Atlanta for the concert, but the list of things to do before the concert seems endless.

Episode

1

-

Episode 1 - The Preparation

Trey prepares to perform his first concert on the Jay Z's Blueprint 3 Tour. Also a look at his early years and the mentor that made a difference in his life.

The new docu-series featuring Trey Songz.