Watch Africa's Deadliest
Take a look at some of Africa's deadliest creatures.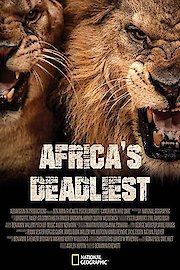 Africa's Deadliest

Full Episode Guide
Episode 3 - Lethal Weapons

Africa's predators wield some deadly weapons, from potent venom that dissolves internal organs, to razor sharp claws that can slice through thick hide.

Episode 2 - Predator Swarm

Predators who hunt in teams are capable of more power, ferocity, and strategy than any killer working alone. Perfected over millenia, their bodies are built to kill.

Episode 1 - Killer Tactics

Africa's Deadliest use power, stealth and deception combined with lightning-fast reactions to catch and kill their prey.
If You Like Africa's Deadliest, Then Try...