Watch American Pickers
History channel's hit reality series American Pickers has put a new face on the world of antiquing. The show follows professional Iowa-based pickers Mike Wolfe and Frank Fritz as they crisscross their way around the country in search for the next honey hole of antiques and collectibles to restore and resell. As they say in the show's opening, "What most people see as junk, we see as dollar signs." Digging through rusted mountains of riffraff in people's barns, basements, and outbuildings Mike and Frank uncover unique treasures of all kinds from early motorcycles to vintage oil cans and advertising to taxidermy elephant heads. Each piece comes with a story and history all its own that provides the audience with a deeper understanding and appreciation of America's roots.
American Pickers is about far more than the items discovered, though. It is just as much about the often eccentric individuals Mike and Frank meet along their journey through the back roads of the nation. The pickers never know what to expect as they pull up in their business Antique Archaeology's Sprinter van and knock on the door of a potential seller, adding to the sense of suspense and excitement of the program. Sometimes met with a shotgun and other times a cheerful Mrs. Clause-like granny figure, Mike and Frank introduce the audience to the diverse range of personalities that make America what it is.
At the heart of the show are everyday people with fascinating stories to share through the things they have collected. American Pickers' Mike Wolfe and Frank Fritz take viewers on an exciting treasure hunt through these people's homes for unexpected objects buried deep under years of dirt and grime. Not only do they explore unspoiled pockets of the country, but America's rich history as well.
Wednesday 9:00 PM et/pt on History Channel

11 Seasons,

221

Episodes - Currently Airing

January 18, 2010

10

/
Watch Full Episodes of American Pickers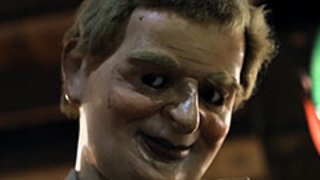 Season 11 Episode 10
Catch-32
Season 11 Episode 9
Rock and a Hard Plac...
Season 11 Episode 8
Risks and Rewards
Season 11 Episode 7
Concrete Jungle
Season 11 Episode 6
Time Warp (42:00)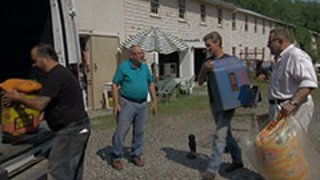 Season 11 Episode 5
Hydro Homestead (41:00)

Watch Episodes
News
Clips & Extras
American Pickers

Full Episode Guide
Season
11
10 full episodes, 6 clips available
Episode

100

-

Quick Picks: Fighting Nature

In the heartland of beer, Frank is shocked to meet an old pal; the boys secretly create a surprise build for Danielle.

Mike and Frank have their hands full on a large property with a bigger collection of custom 1932 Fords than they have ever seen together; Danielle tackles a valuable military mission.

Episode

9

-

Rock and a Hard Place

Mike and Frank go behind the scenes of a famous tourist attraction for the pick of a lifetime; in Cape Cod, Massachusetts, a collector shuts down deal after deal until his wife steps in.

Episode

8

-

Risks and Rewards

In Detroit, Frank takes a big chance on one of the best pieces he's ever seen; Mike gains a Purple Heart along with a very important mission.

Episode

7

-

Concrete Jungle

Mike and Frank choose New York City for the first time and travel back to the future at a sprawling computer shop filled with a mind-blowing stash of 20th-century technological artifacts.

Mike and Frank are shocked by a house with storefronts suspended in time, filled with a bounty of new-old stock and a hidden bootlegging basement.

Episode

5

-

Hydro Homestead

Mike and Frank try to buy from a handyman who dwells on a one of a kind homestead, but the handyman's deal making could halt the pick before it starts.

Episode

4

-

Hidden In Plane Sight

Mike and Frank examine a stash of really rare motorcycle parts found behind a secret wall, then they discover the ultimate aviation collectible -- a propeller linked to Charles Lindbergh.

Episode

3

-

The Greatest Pick on Earth

After a massive pick on a 25-acre homestead, the guys sift through the largest collection of sideshow memorabilia they've ever seen.

If the guys can't get a mammoth 1929 Roadster safely down a decaying 100-year-old elevator they will be $20,000 in the hole. Plus, Mike uncovers a surprise when he hears hissing coming from beneath an out-of-control collection.

Episode

1

-

High Energy Crisis

Mike and Frank have their arms full with a high-strung collector; Danielle arrives in New York City for a high-stakes auction of rock 'n' roll collectibles.
Season
10
17 full episodes, 3 clips available
Episode

17

-

Shocked and Loaded

Episode

16

-

Twin at All Costs

On a family compound in New York, Mike goes wild for a coin-operated elephant, while a group of A-list mannequins leaves him without words.

Episode

15

-

Bound for Badness

Mike and Frank make an amazing backroom deal after winding up at the house of a past arms dealer and her Judo-champion spouse.

Episode

14

-

Sgt. Picker's Lonely Hearts Club

At a drive-in, Mike and Danielle uncover a reel of Beatles footage that could turn out to be the only one of its kind.

Episode

13

-

Tough Nut to Crack

When Frank goes nuts for a century-old snack icon, he must decide if it's worth the high asking price; Mike falls hard for a Roaring '20s Roadster.

Episode

12

-

Bucking Bronco

The guys discover an impressive find and must decide to go big or go home. Mike gets down-and-dirty to rescue an old piece from Mother Nature.

Episode

11

-

Another Brick in the Wall

The guys have an awkward encounter with the "King of the Gypsies," who has an impressive stash but refuses to sell.

Episode

10

-

Picker's Code

The guys get a lead from a fellow picker, but is he a friend or competitor? Then, the toughest obstacle is making a deal with "the Godfather of Junk."

Episode

9

-

The Joy of Sax

Examining a garage door in Indiana leads to a 1950s wagon Mike is in love with; on a musical mission from Dani, the guys scour a farm with more than chickens and pigs.

Episode

8

-

Planes, Frames And Automobiles

In an antique shop closed since the 70s, Mike and Frank negotiate with the sibling owners.

Episode

7

-

Slim Pickings

The guys visit a jaw-dropping Kentucky property with a racetrack that revives an old Mike & Frank rivalry.

Episode

6

-

No Stoner Left Unturned

Mike and Frank meet a man who has had pieces on display in the Smithsonian; the guys encounter a roadblock when it comes to picking a Century Farm because of a power struggle between a man and his daughter.

Episode

5

-

Scrappy Go Lucky

The guys visit a hardcore collector in California who is feeling the heat from the County to downsize. Plus, a roadside hunch leads to a bonanza of rare vintage cars.

Episode

4

-

Picked a Peck of Pepper

The guys mega pick in Texas at the first Dr. Pepper bottling plant, but later face tough negotiations in a 50,000 square-foot warehouse.

Episode

3

-

One Giant Pick for Mankind

The guys uncover a former firefighter's stockpile which includes a rare piece of space-age history; Frank's plan goes up in smoke.

Episode

2

-

Tick Tock Pick

While at a sprawling ranch in Texas, Mike goes wild for a VW bus that's been transformed into a hunting lodge on wheels. Plus, Frank discovers a storied heirloom that reignites a high school obsession.

Episode

1

-

A Colonel of Truth

The guys pick through the collection of a reclusive businessman known as "The Colonel", who is determined to keep his identity a secret.
Season
9
50 full episodes, 192 clips available
Season
8
17 full episodes, 33 clips available
Season
7
17 full episodes, 3 clips available
Season
6
12 full episodes, 13 clips available
Season
5
17 full episodes, 32 clips available
Season
4
27 full episodes
Season
3
12 full episodes
Season
2
26 full episodes
Season
1
12 full episodes
If You Like American Pickers, Then Try...
Most Popular American Pickers Episodes
Season 11 Episode 9

Rock and a Hard Place

1/02/2017

Season 11 Episode 7

Concrete Jungle

12/19/2016

Season 11 Episode 10

Catch-32

1/16/2017

Season 1 Episode 1

Big Bear

1/18/2010
American Pickers News
New Season of Surprisingly Popular 'American Pickers' Premieres Tonight
Who'da thunk it? A show about two normal-looking dudes rummaging through barnyards and jam-packed homes in the far corners of the Midwest is a runaway success for The History Channel. "American Pickers" starts a new season tonight, and there will be far more people watching than you would imagine.
American Pickers Video Clips & Extras
American Pickers: Bonus: Great Eye for the Picking Guy (Season 16, Episode 2) | History
Clip (03:29)
American Pickers: Bonus: Biker Bros (Season 15, Episode 8) | History
Clip (04:03)
American Pickers: Bonus: The Compulsive Completist (Season 15, Episode 7) | History
Clip (03:41)
American Pickers: Bonus: The Man, The Legend (Season 15, Episode 10) | History
Clip (02:41)
American Pickers: Bonus: A Pick (Season 16, Episode 1) | History
Clip (02:59)
American Pickers: Bonus: Cop Some Loot (Season 15 , Episode 11) | History
Clip (03:58)
American Pickers: Bonus: Auction Addict (Season 15, Episode 12) | History
Clip (02:59)
American Pickers: Bonus: An Item A Day (Season 15, Episode 9 ) | History
Clip (03:02)