Watch Are You Smarter Than A 5th Grader
Are You Smarter Than a 5th Grader is a popular television game show. It ran for three seasons which aired from 2007 through 2009. The host is popular comedian Jeff Foxworthy. The show featured a single contestant that would try their hardest to answer common questions grade school children know the answers to. Each contestant would get ten questions along with a final bonus question. With each correct answer the contestant would bank more money, the questions are taken from grade school textbooks grades one through five. The max amount of money that can be won is $1,000,000. If the contestant cannot get the answer, they can ask for help from one of their "classmates" which is a group of children cast on the show. The kids are rather funny and definitely outgoing which adds to the shows allure.
Only two contestants have ever won the top prize. One was a school superintendent and the other was a university professor. One of the funniest and best parts of the game show is at the end when the contestant has lost. They must admit they are not smarter than a fifth grader.
What most don't know is that the show got its beginnings from being a regular comedy bit that quizzed only network executives on the Howard Stern Show, only it was called "Do You Remember Grade School?" It became so popular that it was picked up by Fox Network. Reruns of Are You Smarter Than a 5th Grader are currently airing on the Game Show Network.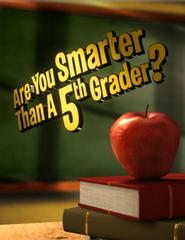 Are You Smarter Than A 5th Grader

Full Episode Guide
Episode 28 - Season 3, Episode 28

Episode 27 - Season 3, Episode 27

Episode 26 - Season 3, Episode 26

Episode 25 - Season 3, Episode 25

Episode 1 - Episode 301/302
If You Like Are You Smarter Than A 5th Grader, Then Try...