Watch Comanche Moon
Series Length:
1 Season,

3

Episodes
Description:
Based on the novel by Larry McMurtry the series follows a group of Texas Rangers as they deal with the tensions of life in the old west.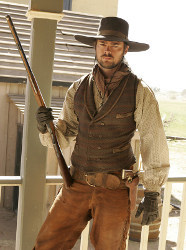 Comanche Moon

Full Episode Guide
Seven years has passed as Gus mourns over his wife's death and Jake's time spent with Maggie makes Woodrow feel jealous yet he refuses to believe that Newt is really his son. Meanwhile, Blue Duck visits his father on his death bed while Clara heads to Austin to visit Gus, and Scull is asked in Boston to lead an expansion towards the West.

The governor orders Gus and Woodrow to rescue Skull, who is being held for ransom by a Mexican bandit. Meanwhile, mush of Austin has been burned to the ground by a tribe of Comanches. Also, Gus fears that Clara is planning to wed another man, and Woodrow is worried that Maggie's baby is not his.

The Rangers are in search for a notorious horse thief when they are abandoned by Capt. Scull, in search for his beloved horse which has been stolen. Meanwhile, Gus and Woodrow are promoted to the rank of captain; Gus courts a local Austin beauty named Clara, and a young Ranger named Jake Spoon gets involved with Scull's wife.
If You Like Comanche Moon, Then Try...