Watch Corona de Lágrimas
Victoria Ruffo plays a single mother, Refugio, who is willing to sacrifice anything for the well-being of her three sons, despite a serious medical condition. Although she suffers from a degenerative eye disease that is causing her to progressively become blind, she has decided to neglect treatment to concentrate on her family.
However, despite this, she has received very little recognition for her sacrifices as her three sons show little gratitude although they are now adults. Patricio, a law school student, dreams of escaping their low class neighborhood and making money while Edmundo is an undisciplined but brilliant medical student. Ignacio, the eldest, is the only son who helps the family by paying for education for his brothers and household expenses, but was forced to put aside his college education and take a job as a garage mechanic in order to do so.
As life becomes increasingly difficult and her sons become more ashamed of their lives and their mother, Refugio's limitless devotion to her children and inner strength triumph over numerous adversities. She is finally able to rebuild peace in her cherished family and live with the appreciation and respect she deserves.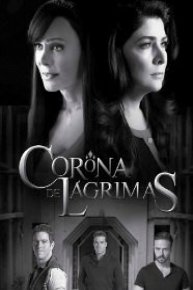 Corona de Lágrimas

Full Episode Guide
Episode

112

-

Triunfo de Amor

Patricio, Mundo y Nacho vuelven a ser una hermosa familia junto con su madre Refugio la cu'ál se pone muy feliz de que sus hijos al fin cumplan sus sueños.

Episode

111

-

Patricio al sentirse perdido y desdic...

Patricio al sentirse perdido y desdichado acude a la iglesia a pedir perdón, Refugio lo encuentra y lo abraza con un gran sentimiento.

Episode

110

-

Asfixia Por Enojo

Rómulo se enfada con Flor al grado de asfixiarla, Nachito despierta en el hospital y se pone feliz al ver a Chelito a su lado.

Episode

109

-

Pelea Perdida

Nachito es noqueado en su pelea de box y termina en el hospital, mientras que Rómulo es detenido por dos agentes del ministerio.

Episode

108

-

Boda Carcelera

Episode

107

-

Muerte Familiar

Episode

105

-

Orden de Muerte

Episode

104

-

Listo Para la Venganza

Episode

102

-

De Madre a Madre

Episode

101

-

Un Bebé Por Llegar

Episode

100

-

Verdades al Descubierto

Episode

99

-

Sin Miedo a Nada

Episode

98

-

Directo a la Cárcel

Episode

97

-

Visita Inesperada

Episode

96

-

Graves Problemas

Episode

95

-

Terrible Accidente

Episode

94

-

Grandes Problemas

Episode

93

-

Marrufo conoce al padre de Patricio y...

Episode

92

-

Cédula Profesional

Episode

91

-

Visita Costosa

Episode

90

-

Parte del Pacto

Episode

89

-

Patricio le pide a Refugio le dé la ...

Episode

88

-

Test de Lealtad

Episode

87

-

Confianza de Amigas

Episode

86

-

Interés Por la Familia

Episode

85

-

Fuera de Casa

Episode

84

-

Sólo Sirvienta

Episode

83

-

Familia Perdida

Episode

82

-

Heredera Universal

Episode

81

-

Embarazo Problemático

Episode

80

-

Estudiantes Usados

Episode

79

-

Cuidando a Olga

Episode

78

-

Esperando Una Respuesta

Episode

77

-

Riesgo de Aborto

Episode

76

-

Visita de Mamá

Episode

75

-

Años Perdidos

Episode

74

-

Negocios Sucios

Episode

72

-

Sirvienta Ladrona

Episode

71

-

Fuerte Encuentro

Episode

70

-

La Seductora

Episode

69

-

Buenas Intenciones

Episode

68

-

Creando Medicinas

Episode

67

-

MarchÃándose de Casa

Episode

66

-

Puras Humillaciones

Episode

65

-

Posible Aborto

Episode

63

-

Agradecimiento

Episode

62

-

Miedo a Volar

Episode

61

-

Preparativos de Viaje

Episode

60

-

Mujer Golpeada

Episode

59

-

Papeles Enterrados

Episode

58

-

Polo decide declararle su amor a Refu...

Episode

56

-

Malas Intenciones

Episode

54

-

Supersticiones

Episode

53

-

Lejos del Niño

Episode

51

-

Surgen Sospechas

Episode

50

-

Trabajo Misterioso

Episode

49

-

Título Comprado

Episode

48

-

Retirar Denuncia

Episode

47

-

Fuerza Maternal

Episode

46

-

Cansado del Amor

Episode

45

-

Olga le advierte a Patricio que no es...

Episode

43

-

Diferentes Padres

Episode

42

-

Verdad Sobre el Padre

Episode

41

-

Defendiendo a Refugio

Episode

40

-

Puras Amenazas

Episode

39

-

Rómulo le quiere dar una lección a ...

Episode

36

-

Patricio intenta seducir a la abogada...

Episode

35

-

Medios Hermanos

Episode

32

-

Enfrentamiento

Episode

31

-

De Mal en Peor

Episode

30

-

Celos Enfermizos

Episode

27

-

Fuertes Palabras

Episode

25

-

Sufrimiento Por Boda

Episode

23

-

La Tristeza Invade

Episode

22

-

Examen Profesional

Episode

21

-

Sólo Amigos

Episode

20

-

Patricio cree tener esperanzas de rec...

Episode

18

-

Súplicas y Ruegos

Episode

17

-

Sin Explicaciones

Episode

16

-

Nota de Amor

Episode

15

-

Irse de la Casa

Episode

14

-

Aires de Grandeza

Episode

12

-

Disputa Por Amor

Episode

11

-

Patricio por fin confiesa a Lucero qu...

Episode

10

-

Rosario Milagroso

Episode

9

-

Lamentable Accidente

Episode

8

-

Pelea Entre Hermanos

Episode

7

-

Abuso a Una Madre

Episode

6

-

Ardiente Beso

Episode

5

-

Enfrentamiento

Episode

4

-

Vida de Limosneros

Episode

3

-

Trabajo en Peligro

Episode

2

-

Falso Suicidio

Episode

1

-

Cambio de Vida