Watch Counting Cars
The newest History Channel show Counting Cars is great entertainment, with a long haired ponytailed host name Danny who is the owner and operator of Count s Kustoms. Count s Kustom is Danny's shop where he and his team of misfits such as Kevin, Scott, Roli and don't forget Horny Mike all work together to create custom works of art out of cars, trucks and custom motorcycles, let me take you on short join of this vastly entertaining and funny show.
One of the shows involved Danny taking on a project for Rick Harrison of Pawn Stars, to restore and fix up a 1968 Mustang Fastback. Danny and his team totally transformed that beat up pony into a beautiful masterpiece, identical to the Bullitt Steve McQueen had for his movies. When they got that car in the shop it was a bondo, rusty mess without an engine. When it was finished it was dark green and running like a dream. Great work, guys.
Danny took on a project to restore Elvira Mistress of the Dark's old Ford Thunderbird; it was looking pretty rough and not running the way it should. He totally redid this old bird, made it into Elvira's dream car by putting a leopard printed couch in the trunk of her car and put a really cool new hood ornament. Elvira rewarded Danny for such a great job by taking him for a cruise along the Vegas strip all decked out in her Mistress of the Dark attire.
Another show Danny and his group restored Barry Whites old Stutz IV Porte for his wife; they brought it back from the dead. However, the group doesn't just restore cars for famous people, they also drive around town looking for old beat up cars to purchase to fix up and sell. One of the projects that Danny almost lost money on was an old 1970 Ford F-100 pickup truck, that project arrived in many different pieces, but when it was finished it was a work of art and the lady loved it.
The show Counting Cars is just a great show to watch on the History Channel, it is not only entertaining and funny you also get to see some really awesome rides.
Tuesday 10:00 PM et/pt on History Channel

6 Seasons,

122

Episodes - Currently Airing

August 13, 2012

10

/
Watch Full Episodes of Counting Cars

Season 6 Episode 14
The Cart of War (21:21)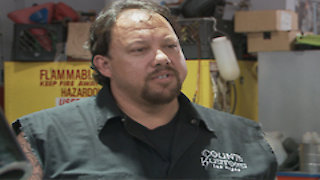 Season 6 Episode 13
Sailor's Soul (21:20)
Season 6 Episode 12
True Fire Fiasco (21:20)
Season 6 Episode 11
70's Scoot (21:20)
Season 6 Episode 10
Back in Time (21:20)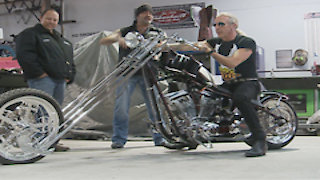 Season 6 Episode 9
Twisted Chopper (21:21)

Watch Episodes
News
Clips & Extras
Counting Cars

Full Episode Guide
Season
6
14 full episodes
Episode

14

-

The Cart of War

When Danny loses his temper upon seeing his beloved golf cart covered in dirt, grime and Horny Mike's weird stuff, Kevin launches a plan to make Danny happy, and teach Mike a lesson.

Episode

13

-

Sailor's Soul

The team builds a bike to commemorate the late artist Sailor Jerry for an upcoming upcoming charity fundraiser.

Episode

12

-

True Fire Fiasco

A memorial bike project presents a series of challenges for the paint team after builder Shannon doesn't get all the necessary information from the customer.

Episode

10

-

Back in Time

Two brothers want to surprise their dad with the ultimate gift.

Episode

9

-

Twisted Chopper

Dee Snider from Twisted Sister drops by the shop to get a new "Sugar Bear" front end put on his Von Dutch chopper.

Episode

8

-

Blinged Out Blazer

Danny tricks out a classic two wheel drive Chevy Blazer hoping for a big profit.

Episode

7

-

Lego My Caddy

Danny has big plans for a big client. But will his evil twist on a classic Caddy impress the high rolling buyer, or leave him all out of gas?

Danny and the team take on a 1967 Caddy for a high end client, but will Ryan and Danny's plan to match the unique interior with a root beer paint job fly, or fizzle?

Episode

5

-

Boogie Down Buggy

Danny takes in a dune buggy to trick out in outrageous Count's Kustoms style, and then gets into some seriously higher horse powered fare at the Shelby Heritage Foundation.

Episode

4

-

Snider's Ride

Dee Snider of Twisted Sister has Danny turn his brand new Tesla into a rock and roller's ride.

Episode

3

-

El Camino Royale

Danny continues his El Caminos love affair with a 1975 beauty.

Episode

2

-

Pick Ups and Ponies

Danny gets started on a project that he's been waiting a long time to tackle, a 1971 Chevy C10 Pick Up. He plans to flip it for a big profit, but a snafu in the paint department threatens to blow the budget sky high. Later, Danny's bandmate Stoney gets in a fender bender, and it's Danny to the rescue.

Episode

1

-

Sweet Lambo of Mine

Former Guns & Roses guitarist DJ Ashba arrives at Count's Kustoms in a 2004 Lamborghini Murcielago that he wants turned into the ultimate "mancar", but Danny must make sure he includes something special for DJ's wife. Ryan and Paulie hit the streets and try to score a classic Corvette that looks great on the outside, but is a disaster on the inside.
Season
5
11 full episodes
Episode

11

-

Colorful Customers

Buckle up with Danny and his crew and revisit some of the most eccentric and famous clients to walk through the doors at Count's Kustoms: The Mistress of the Dark, Elvira, who needs a facelift for her infamous Macabre Mobile, a feisty bar owner who wants the Count to build the bike of her dreams, Chumlee and the Lincoln Continental he wants to flip in true Pawn Stars fashion, and a Robert De Niro impersonator who wants his car to resemble the actor's ride in the movie Casino.

Episode

10

-

One Of A Kind Commissions

The crew revisits some of the most unique projects ever commissioned; a '72 Chevy Blazer turned into a tailgaster's dream; a chopper customized for an amputee rider; a '69 Pontiac Firebird brought back from the dead.

Episode

9

-

Perfect Paint

Revisiting some of the most impressive paint jobs; a '71 Road Runner gets a crazy new coat to commemerate a loved one; Rob Zombie's truck undergoes a transformation; a Harley transforms into a work of art inspired by the rider's own tattoos.

Episode

8

-

Run It Like You Brung It

Horny Mike gives all the guys their own drifter trikes, but they have to pimp them out, then race them at the local track; Danny is in hearse heaven.

Episode

7

-

Swap Meet Mayhem

Danny challenges the guys to get create to bring more money into the shop; Shannon suggests building a bike from parts picked up at a local swap meet; Danny and Kevin go to an auction in Palm Springs.

Episode

6

-

Carl's Corvette

Danny gets contacted by burger giant Carl's Jr., who is celebrating its 75th anniversary.

Episode

5

-

Finders Keepers

Danny can't wait to flip a 1974 Ford F100 for a big pay off but the Count falls in love; Mike and Ryan discover a couple of 1956 Chevys.

Episode

4

-

Harley and the Mystery Merc

Danny makes a plan to put the Count's Kustoms touch on a classic Harley Davidson that he hopes to sell for a big profit. But when the bike reaches Horny Mike the whole project is put in jeopardy. Meanwhile Danny finds a rare Mercury.

Episode

3

-

One Sweet 'Stang

Episode

2

-

Chrome Is Where The Heart Is

Danny tries to focus on the '62 Caddy project again; Ryan tries to right a wrong by finding a flip or two for the shop.

Episode

1

-

Who's Your Caddy?

Danny gets a 1962 Caddy which he hopes will be lucrative; Ryan goes behind Danny's back; Danny and Ryan visit a world class dune-buggy collection.
Season
4
33 full episodes
Season
3
25 full episodes
Season
2
26 full episodes
Season
1
13 full episodes
If You Like Counting Cars, Then Try...
Most Popular Counting Cars Episodes
Season 6 Episode 14

The Cart of War

8/16/2016

Season 1 Episode 12

Searching for Soul

9/25/2012
Counting Cars Video Clips & Extras
Counting Cars - Storage Snafu
Clip (02:27)
Counting Cars - Pretty in Pink
Clip (02:00)
Counting Cars - Meeting a Legend
Clip (02:03)
Counting Cars - Typical Day in the Shop
Clip (02:11)
Counting Cars - Vegas and Classic Cars
Clip (02:10)
Counting Cars - White Lightning
Clip (01:21)