Watch Dinosaur Train Online - Full Episodes
Series Length:
5 Seasons,

61

Episodes
Schedule:
Weekdays 9:30 AM et/pt on PBS Kids
Description:
Dinosaur train is a whimsical American animated television show that is the perfect show to watch with your children. The purpose of this show is to provide small children with information about dinosaurs and the prehistoric times. This show is also recommended by many clinical and child physiologists because it helps with the development of a child's brain by showing children how to count and how to interact with other people. This show is broadcasted on many public broadcast networks such as PBS and, in addition, this show is also shown in the Discovery Kids network.
The plot of Dinosaur Train is about an outspoken and overly curious tyrannosaur called Buddy. Buddy is different from other tyrannosaurs because he was adopted by a family of vegetarian pteranodons who found him when he was just a small, unresponsive egg. Buddy and his family always ride on the Dinosaur Train, a type of transportation method that teaches Buddy and his family several facts about other dinosaurs, and introduced them to several new friends.
The characters of dinosaur train included:
Buddy: Buddy is an adventurous and curious dinosaur who enjoys creating his own hypothesis and always asks questions. Buddy is a small tyrannosaurus who was adopted by a family of vegetarian dinosaurs which include several brothers and sisters and two loving parents. To satisfy his need for curiosity and information, Buddy rides on the Dinosaur train everyday.
Tinny: Tinny is a small and outspoken pteranodon who has aspirations to become a news reporter and, as a result, Tinny is always questioning and interviewing other dinosaurs.
Shinny: A super curious and girly girl, Shinny is the drama queen of the family.
Mr. Conductor: Te is the dinosaur train's driver.
Mrs. Pteranodon: She is the mother of the family who is nice and is the family's tour guide.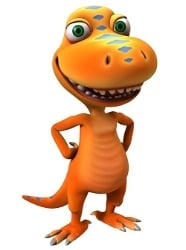 If You Like Dinosaur Train, Then Try...
Most Popular Dinosaur Train Episodes