Watch Duets Online - Full Episodes
Series Length:
1 Seasons,

9

Episodes
Schedule:
Thursday 8:00 PM et/pt on ABC
Description:
With the popularity of talent and singing competition shows on the rise, it is no surprise that ABC chose to jump on the bandwagon with its television show, Duets. This singing competition pairs hopeful amateurs with big name performing artists including John Legend, Kelly Clarkson, Robin Thicke, and Jennifer Nettles. At the show's debut, each artist was charged with finding two singers to act as their partners during the show. The chosen singers get the chance to be mentored by their respective recording artist and then perform onstage with him or her during a weekly live show. Each week these live shows focus on a different theme, forcing each pair to exhibit their skill at various types of musical genres. Some of the performance themes include: inspirational songs, classic duets, songs from the 2000s, and famous movie tunes. After each performance, the remaining three recording artists offer feedback. Once the contestants are narrowed down to a top 5, public votes decide who stays and who goes home. The final contestant will then rewarded with a recording contract courtesy of Hollywood Records.
There are some notable differences between Duets and other shows like it that cause the ABC program to really stand out. The active performance roll that each star takes is perhaps the most noticeable. This focus on the music translates into the basic set-up of the show as well. Unlike similar performance based shows, Duets puts very little focus on how and where each superstar found his or her duet partners, or on their back stories. In fact, each recording artist was sent out individually to find his or her two partners. Instead of holding large scale, formal auditions the artists held informal meetings in their hotel rooms. Duets jumps right in to the competition and puts the primary focus on the music rather than the individuals making it.
Duets began airing on March 24 and will run until July 19 on ABC.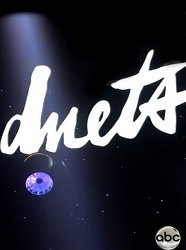 Most Popular Duets Episodes
Duets News
Well, it beats her originals. That's for sure. With "Duets" on a short break, Kelly Clarkson stopped by BBC Radio 1's Live Lounge this morning. While in the studio, she took Coldplay and Rihanna's "Princess of China" and knocked it out of the park with a more spare, acoustic-laced touch.