Watch Extreme Makeover: Home Edition
Series Length:
9 Seasons,

210

Episodes
Description:
As one of the most popular TV shows to hit TV, Extreme Makeover is a heartwarming TV show that has a huge following. The show is hosted by Ty Pennington and he has done a great job of simply having people be hooked to the show. The show is very unique and continues to be a big hit in other versions around the world.
What Is The Show About?
The Extreme Makeover: Home Edition producers go all over America to find families that have amazing stories and would need a new home. There have been countless stories and the overall outcome continues to be amazing. The whole makeover is simply something that has become a phenomenon in modern TV and shows that big changes can happen to people. Ty does a great job of hosting the show and also helping the crew out.
Who Fixes The Home?
There is a group of people in the show that help out. They are a team and they give their time to be able to help fix the home before the family gets back. It can be a very dramatic show and the stories are very touching. The people that give their time are simply doing it to help the family get a better home.
What Does The Family Do?
While the people are fixing their home, the family then gets an all expense paid trip to Orlando's Walt Disney World and they are able to just sit back and relax. The families are usually not rich and so this is something that they really appreciate. The kids are able to experience something very special and this is something that they would never forget.
How Is The Renovation Paid For?
There are a few sponsors that help to pay for all the equipment needed and all the things that they will be putting into the home. These sponsors tend to vary from show to show but most of them are able to donate everything from laundry machines, kitchen appliances, and even new clothes.
The show is one of those shows that really touches the heart and continues to still do so. Most people who watch will usually hope that they would get home makeover but only a select few have been able to experience the whole ordeal. Extreme Makeover: Home Edition is definitely a great TV show and is among the best to ever be released.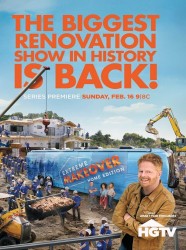 Extreme Makeover: Home Edition

Full Episode Guide
Episode 30 - Home Edition: Friday Family, Part 1

First Aired: December 16, 2012

The team helps build a home for a family that adopted five children.

Episode 28 - Home Edition: Harris Family, Part 1

First Aired: December 09, 2012

The team helps build a home for a veteran who helps wounded warriors.

Episode 27 - Home Edition: Zdroj Family, Part 2

First Aired: December 02, 2012

The team helps build a home for a family that's house burned in a wildfire.

Episode 24 - Home Edition: Watson Family, Part 1

First Aired: November 25, 2012

The team helps build a home for a family that helps single mothers.

Episode 18 - Friday Family

Episode 17 - Harris Family

Episode 16 - Zdroj Family

Episode 15 - Watson Family

Episode 14 - Joplin Family

Episode 13 - Gibbs Family

Episode 12 - Rhodes Family

Episode 11 - Johnson-Goslee Family

Episode 10 - Walker Family

Episode 9 - Dunning Family

Episode 8 - A Veterans Day Special

Episode 6 - McPhail Family

Episode 5 - Keefer Family

Episode 4 - Korpai Family

Episode 3 - Rucker Family

Episode 1 - Jubilee Family/Marshall Family
Episode 22 - Sharrock Family

Episode 21 - Prewitt-Brewer Family

Episode 20 - Dickinson Family

Episode 17 - Zeigler / Hansen Family

Episode 16 - Hurston Family

Episode 15 - Brown Family

Episode 14 - Graham Family

Episode 13 - Simpson Family

Episode 12 - Lampe Family

Episode 11 - Grommesh Family

Episode 10 - Gaston Family

Episode 9 - Anderson Family

Episode 8 - The Lighthouse School

Episode 7 - Marshall-Spreier Family

Episode 6 - Oregon School for the Deaf

Episode 4 - Arborleda Family

Episode 3 - Johnson Family

Episode 1 - Boys Hope Girls Hope

Episode 0 - Ty's Great British Adventure 2011
Extreme Makeover: Home Edition News