Watch Graveyard Carz
This reality show on Velocity takes place in Mark Worman's collision shop in Springfield, OR. The show centers around the passion Worman has for locating, researching, and restoring vehicles. Each episode features Worman giving his thoughts about the day to day operations of his business and he does not hold back on opinions.
Car enthusiasts are treated to a start from finish look at restoring cars. Some of the episodes feature the car's owners. Other times the work that the crew at Worman's shop do, along with Worman, to restore the vehicles. The best known project of the series is a 1971 Plymouth Phantom 'Cuda that got the entire series launched. The car was wrecked in 1980 and suffered severe damage. The 'Cuda was up on blocks for over twenty years being sold part by part. In 2008, Worman found the car and wanted to do a full restoration. The idea for the "Graveyard Carz" series was born when Worman approached the car's owner and reached an agreement to document bringing the car from the graveyard back to life.
Thursday 10:00 PM et/pt on Velocity

3 Seasons,

20

Episodes - Currently Airing

7.5/10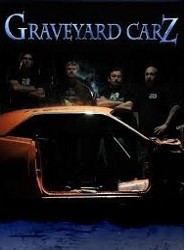 Graveyard Carz

Full Episode Guide
Episode 4 - Daytona Reborn, Part 2

Mark is behind on his promise to get Tom Partridge's '69 Daytona Charger finished by the end of the month. The crew unites to do whatever is necessary to fulfill Mark's promise to the owner and bring it back to life.

Episode 3 - Daytona Reborn, Part 1

The crew work tirelessly to complete work on a 1969 Daytona Charger.

Episode 2 - It's the Great Pumpkin, Goldberg!

Former professional wrestler Bill Goldberg arrives with his 1968 Plymouth GTX convertible.

A large sheet-metal order is made for the team's '70 Plymouth Superbird, and an offer is made on Daren's '70 Challenger R/T. What makes a certain '72 Charger so special is revealed.
Episode 10 - Flippin' the Bird

Episode 8 - You Win Some...

Episode 7 - Every Rose Has It's Thorn

Episode 6 - Holley Equipped

Episode 5 - Factory Correct

Episode 3 - Hey, Charger!

Episode 2 - Six-Pack to Go
If You Like Graveyard Carz, Then Try...