Watch Grimm
NBC's "Grimm" is an entertaining and fantastical ride through a world of strange and usually dangerous creatures most of us can't see. The exception is anyone who is part of the Grimm family tree. The show's premise is that Portland police detective Nick Burkhart (David Giuntoli) is a Grimm and can see the creatures for what they really are. In the pilot episode Nick begins to see things he can't explain. He learns from his dying aunt that he is special. He also discovers that there is a big price to pay for having his talent. There are those who want him dead over what he can see.
Set in beautiful Portland, Oregon, "Grimm" uses the city and region as part of the cast instead of just a set. Portland locations favored by locals are highlighted, and viewers get to see what sets Portland apart.
As Nick and his partner detective Hank Griffin (Russell Hornsby) solve gruesome crimes, Nick is working with the advantage of knowing when creatures others can't see are responsible. What he doesn't know is what their agendas are. Discovering the history behind different beasts of the nightmare realm is the driving force of the plot.
The history and characteristics of all the supernatural beings Nick comes across have been carefully recorded by his ancestors. He spends hours pouring over old books and illustrations trying to figure out the world around him. Imagine if what you thought of as myth you suddenly discovered was true.
Nick's significant other is Juliette Silverton (Bitsie Tulloch), and we see the strains his emerging self puts on their relationship. His police captain is Sean Renard (Sasha Roiz), and is part of the creature world too. Nick doesn't know that, putting him at a disadvantage. The show explores how different factions of supernatural beings are locked in a worldwide power struggle with each other and the Grimms.
He has a strong ally in Eddie Monroe (Silas Weir Mitchell), a reformed Blutbad, which is similar to a werewolf. Monroe is conflicted with his inner self but struggling to live as a human. He becomes a reluctant assistant and we see a friendship develop.
Once the jump is made on the premise of the supernatural beings existing, the writing sticks to science and logic. It's a nice intermingling of the fantastic with reality. "Grimm" is an intriguing and entertaining adventure.
Watch Full Episodes of Grimm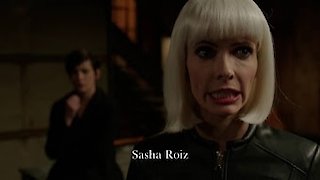 Season 5, Episode 22
Beginning of the End... (42:00)
Season 5, Episode 21
Beginning of the End...
Season 5, Episode 20
Bad Night
Season 5, Episode 19
The Taming of the Wu (43:21)
Season 5, Episode 18
Good to the Bone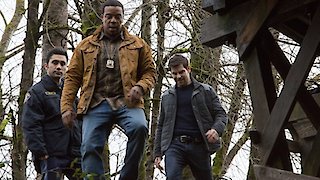 Season 5, Episode 17
Inugami

Watch Episodes
News
Clips & Extras
Season
5
22 full episodes, 41 clips available
Episode

22

-

Beginning of the End - Part Two

Adalind and Capt. Renard struggle with Diana's unpredictable behavior.

Episode

21

-

Beginning of the End - Part One

Black Claw makes a calculated move against Hank that stuns everyone and sends Nick into a frenzy. Hadrian's Wall ramps up their investigation as they seek out a mysterious man named Bonaparte.

Nick is at risk for losing everything as he battles Black Claw. Meanwhile, Captain Renard ramps up his campaign as election day nears. Elsewhere, Adalind is faced with a dilemma.

Episode

19

-

The Taming of the Wu

Following the bite he sustained, Sargeant Wu becomes involved in an unexpected altercation that could get him into trouble. After meeting the mysterious Bonaparte, Adalind is faced with a difficult decision that could change her and Nick's lives forever.

Episode

18

-

Good to the Bone

Nick and Hank investigate the death of a man whose bones were seemingly liquefied and removed. Meanwhile, Wu deals with a crisis of his own and Hank reunites with his old flame, Zuri.

Nick and Hank's investigation into the death of young man with a severed head suggests Japanese Wesen are acting on an ancient tradition of revenge.

Episode

16

-

The Believer

An evangelical preacher uses his Wesen identity to convert individuals. Nick and Hank respond to the scene when a group of "true believers" are determined to save the preacher and his flock by any means necessary.

Nick and Hank have a hunch Wesen are involved when they encounter a beautiful young woman who appeared to age 70 years overnight and then died. The investigation leads to a local doctor and Rosalee is enlisted to help find the truth.

Episode

14

-

Lycanthropia

In the aftermath of a brutal attack in the woods, Nick and Hank happen upon a horrifying Wesen disease that may be the inspiration for the modern-day werewolf myth. Meanwhile, Adalind receives an offer that may help her get back what she wants most.

Episode

13

-

Silence of the Slams

Wesen are under attack when a local maskmaker creates Luchador masks that contain great power.

Episode

12

-

Into the Schwarzwald

Nick and Monroe happen upon a treasure in Germany that has been hidden for centuries. Back in Portland, Capt. Renard teams up with Hank and Wu to track down a deadly assassin who has turned the city upside down. Unbeknownst to them, Eve is on a hunt of her own for the same man.

Nick and Monroe are drawn to the dreadful source of a simmering mystery. Elsewhere, Black Claw makes a deadly move that will send Portland into disarray.

Episode

10

-

Map of the Seven Knights

Monroe gets a call from a relative in Germany that will connect Nick with his ancestors. Things get complicated when the evil group Black Claw is also determined to find the same artifacts. Elsewhere, Capt. Renard helps a mayoral candidate get in front of his opponent. Meanwhile, Trubel confronts Eve about Nick and Adalind.

A barbaric Wesen ritual surfaces and Nick, Hank and Wu are already five steps behind the serial killer. Meanwhile, Hadrian's Wall's war against Black Claw escalates as Eve uses her unique skills to question a suspect.

Episode

8

-

A Reptile Dysfunction

A local legend is revived as Nick and Hank investigate a mysterious sighting linked to a tourist's death at a local lake. Rosalee's past catches up with her. Elsewhere, Capt. Renard continues to support a candidate for mayor.

Episode

7

-

Eve of Destruction

Nick and Hank investigate the death of a local business owner and the kidnapping of Monroe and Rosalee's friend.

When three Wesen go out on a hunt at a local dump, two of them are killed after they encounter the mythical Rat King.

Three young men begin their quest to win the daughter of a wealthy mobster and earn his fortune. As they work toward accomplishing their task, bodies start to pile up and Nick and Hank are on the case.

Rosalee is nowhere to be found after orphans decide she is the mother figure they've always dreamed of; and an encounter with a former colleague leads Adalind to consider going back to work.

Episode

2

-

Clear and Wesen Danger

Now that he's a father, Nick must make some major changes to ensure the safety of his child and Adalind. Monroe and Rosalee step up to help prepare for the new addition.

Episode

1

-

The Grimm Identity

Nick struggles following his mother's beheading and Juliette's death.
Season
4
22 full episodes, 43 clips available
Following a shocking discovery, Nick is determined to get revenge.

Henrietta's murder brings Nick and Hank closer to finding the serial killer. Meanwhile, Juliette's alliance leads her down a dark path.

Episode

20

-

You Don't Know Jack

A string of homicides has everyone suspecting a Jack the Ripper copycat. While dealing with the investigation, Nick, Hank, Monroe, and Wu deal with a situation they never expected.

Nick and Hank investigate a murder connected to an age-old Wesen rite of passage; Juliette makes a surprising new ally; Captain Renard continues to battle a darkness within, and Nick finds hope for Juliette in an unexpected source.

Nick and Hank investigate a murder that leads them onto the dark and mysterious path of a local Native American power quest. Meanwhile, Juliette's unusual behavior gets her in trouble with the law. At the spice shop, Rosalee and Monroe seek Captain Renard's help.

Episode

17

-

Hibernaculum

Nick and Hank search for a rare Wesen that freezes its victims. Meanwhile, Juliette feels out of control as she seeks to get revenge on Adalind. Elsewhere, Captain Renard continues to suffer from mysterious bleeding and visions while Monroe works toward coming to grips with the Wesenrein incident.

Episode

16

-

Heartbreaker

Nick and Hank investigate a deadly one night stand. Captain Renard seeks help from Monroe and Rosalee for recurring episodes of phantom bleeding.

Nick and Hank investigate a murder victim with his foot cut off. In the aftermath of Adalind and Juliette's showdown, Nick is still astonished and finds himself on a path to Henrietta.

Episode

13

-

Trial by Fire

During the investigation of a fire that may have Wesen origins, Nick is hesitant to ask an enemy from his past for help.

Episode

12

-

Marechaussee

Nick and Hank investigate a series of murders that can be linked back to the Wesen Counsel and a mysterious bounty hunter.

Episode

11

-

Death Do Us Part

Monroe and Rosalee are on their honeymoon, but there's trouble in Portland.

Monroe is abducted and Nick gets the whole team together to help find him and bring him back to Rosalee.

The Wesenrein follow through with their threats against Monroe and Rosalee's marriage. Meanwhile, Nick and Hank bring Wu to a place he's bound to find the answers he's looking for. Elsewhere, Juliette tries to accept her new reality.

While Nick and Hank are searching for the Chupacabra, Wu encounters a Wesen.

Episode

7

-

The Grimm Who Stole Christmas

Nick and Hank look into a group of home invasions that lead to a strange Wesen phenomenon.

Episode

6

-

Highway of Tears

Nick starts to justify being a Grimm again when there is an attack on Monroe and Rosalee.

Nick and Hank investigate a crime scene where a woman went mad because of a talking wolf.

Episode

4

-

Dyin' on a Prayer

Nick and Hank investigate an unusual death. At the precinct, Wu begins to grow more suspicious of Trubel's presence. At the Spice Shop, Elizabeth makes a breakthrough in her effort to help Nick get his powers back.

After Nick has a weird vision he finds himself with Hank on a case involving boxing.

Nick and Hank look into a group of attacks that leave the victims without their memories. Nick isn't sure if he should regain his Grimm abilities.

Episode

1

-

Thanks for the Memories

After the events at Monroe and Rosalee's wedding, Nick could possibly lose his identity as a Grimm. Find out what happens in the fourth season premiere.
Season
3
21 full episodes, 30 clips available
Season
2
22 full episodes, 28 clips available
Season
1
22 full episodes
If You Like Grimm, Then Try...
Most Popular Grimm Episodes
Season 5 Episode 22

Beginning of the End - Part Two

5/20/2016

Season 5 Episode 1

The Grimm Identity

10/30/2015

Season 1 Episode 1

Pilot

10/28/2011

Season 1 Episode 2

Bears Will Be Bears

11/04/2011

Season 4 Episode 5

Cry Luison

11/21/2014
Grimm News
NBC Renews 5 Shows
NBC makes 5 early renewals. Did your show make the cut?
What's New Tonight: Friday Night Edition
What's new tonight? "Grimm", "Cult", "Touch", and more! Which of these shows are you most looking forward to watching?
What's New Tonight: Friday Edition
What's new tonight? "Grimm", "Nikita", "Kitchen Nightmares", and more! Which show are you most looking forward to watching?
NBC Sets August 'Grimm' Season, 'Go On' Series Premieres
NBC's fall lineup has started taking some interesting shape. Hoping to capitalize on plenty of Summer Olympics visibility, the network is giving the second season of "Grimm" and series premiere of "Go On" some plum premiere slots in August. "Grimm" got a very early mid-March pick-up for a second season after becoming a 2011-2012 breakout. "Go On" will star Matthew Perry as a sportscaster coping with loss in a support group.
View More News

Grimm Video Clips & Extras
Cards Of Fate - Available Now Trailer
Clip (00:31)
Cards of Fate Extended Gameplay Trailer - Choose Your Weapons
Clip (00:50)
Cards of Fate: Preview (Google Play)
Clip (00:31)