Watch HBO Boxing
Since 1973, HBO Boxing has been the premier provider of high quality boxing throughout the world. HBO Boxing has broadcast the most important fights in the history of boxing including "The Rumble in the Jungle" between George Foreman and Muhammad Ali in 1973; "The Thrilla in Manila" between Muhammad Ali and Joe Frazier; "The War" between Marvin Hagler and Thomas Hearns in 1985; Mike Tyson's stunning first professional loss to James Douglas in Tokyo in the 1990s; and the most lucrative boxing event of all time between "The Golden Boy" Oscar De La Hoya and Floyd "Money" Mayweather in 2007.
HBO Boxing is hosted by the world famous commentators Jim Lampley, Max Kellerman, Larry Merchant, and Roy Jones, Jr. The show regularly features guest appearances by top pugilists including Lennox Lewis, Mike Tyson, Evander Holyfield, Sugar Ray Leonard, and Andre Ward. Events are covered throughout America, Asia, and Europe. The show is notable because of high level match-ups, massive celebrity appeal, and large audiences in attendance at world famous venues (Venetian Casino Macau, MGM Grand Las Vegas, Cowboys Stadium, etc.). HBO Boxing is currently featuring elite fighters from Top Rank Promotions such as Manny Pacquiao, Juan Manuel Marquez, and Timothy Bradley.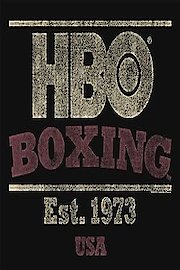 HBO Boxing

Full Episode Guide
Season 0
(60 clips available)
Experience the blood, sweat and glory of HBO Boxing.
Most Popular HBO Boxing Episodes
HBO Boxing News
Floyd Mayweather: Jail Hurting Boxer's Physique
Floyd, it's jail, you jack-hole. It's supposed to suck. I wish on every star in the sky that our society of entitlement hadn't sunk so low, that someone would actually petition the American legal system over this. And yet, here we are: TMZ reports that undefeated multi-division boxing champion Floyd Mayweather has petitioned to be released from the Clark County Detention Center and allowed to serve his sentence's remainder under house arrest, because jail is keeping him from staying in shape.
Floyd Mayweather Spars With Manny Pacquiao....Over Gay Marriage
Finally, Floyd Mayweather and Manny Pacquiado square off.....and predictably, it happens nowhere near a boxing ring. A battle between the two multi-division champions and pound-for-pound greats may be boxing's last uncontested dream match. Yet as negotiation after negotiation to make the bout happen falls through again and again, the two have finally traded shots over Pacquiao's denouncement of gay marriage. In his native Philippines, where he holds a legislative seat, Pacquiao recently told the country's National Conservative Examiner how he really felt toward U.