Watch Heat Seekers
When it comes to spicy food, people all over the world love to play with fire. Chefs Aaron Sanchez and Roger Mooking sing the joys of the pepper from two distinctly different places in the world: Latin America and Asia.
Monday 8:00 PM et/pt on Food Network

2 Seasons,

16

Episodes - Returning Series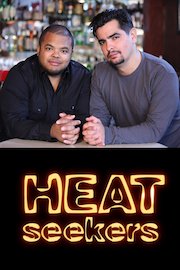 Heat Seekers

Full Episode Guide
In Atlanta, the chefs take on the Il Diavolo challenge at Avellino's Pizzeria. Also sampled: spicy shrimp and grits; Latin pork-belly sandwiches.

Episode 7 - Washington, D.C.

In Washington, D.C., the chefs face off in a fiery chicken-kabob challenge. They also try spicy half-smokes and Greek gyros drenched in scorching harissa sauce.

Chefs Aarón Sánchez and Roger Mooking sample the hottest food in Kansas City.

Chefs Aarón Sánchez and Roger Mooking take on the Inferno Bowl in Tampa Bay, a megasoup so dangerous no one has ever finished it. $1,000 is on the line for the winner. Plus, a bloody-hot BLT and Volcano Gator Nuggets drenched in Ghost Pepper mayo.
If You Like Heat Seekers, Then Try...