Watch Hell's Kitchen
Series Length:
12 Seasons,

170

Episodes
Schedule:
Monday 8:00 PM et/pt on FOX
Description:
What do you get when you mix 18 chefs of suspect talent with plenty of fear, toss in a handful of impossible tasks, and liberally spice with one of the fieriest chefs on television? You get Hell's Kitchen, Chef Gordon Ramsay's perfect recipe for disaster.
Hell's Kitchen, at its best, is great reality television. It's like a circus from hell with Ramsay as ringmaster. When he cracks the whip, the competitors jump, and If they don't they may end up in tears, scrubbing the floor, or even kicked out the door for good. At its worst it's a mosh pit of contrived drama where dreams are crushed. You wonder who was set up for failure, how much it was scripted, and even who might have been asked to take a dive.
Anyone who has heard of Gordon Ramsay knows he is as good a bully as he is restauranteur. Even in his other shows he comes across as hot tempered when there is no reason to be. In Hell's Kitchen he turns up the attitude, looking for weakness in the chefs and dressing them down at the top of his lungs. You kind of feel sorry for them and wonder if he treats chefs in his own restaurants this way.
But this is what makes Hell's Kitchen so addictive. Not knowing who is going to get it next, what parts are fake, and how long it will be until someone takes Ramsay out back and beats him senseless with a brick or Parmesan Reggiano stuffed into a sock.
Some of the chefs obviously shouldn't be there, but that's part of the fun. You never know when the line cook from a waffle house is going to flame out or how the nanny with no restaurant experience made it this far. There is also always one arrogant jerk who always gets further than he should. Man it's great when they go down!
After 10 seasons you would think that the audience or contestants would have grown weary of Ramsay and his act. Luckily Hell's Kitchen is still going strong and becoming more a part of reality show culture each year. The truth is, as long as the rewards are big enough there will always be people willing to embarrass themselves in front of an audience, and as long as that is true, there will always be an audience for Hell's Kitchen.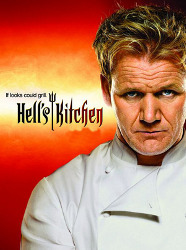 Hell's Kitchen

Full Episode Guide
Select the sources you want displayed in the episode guide. All others will be hidden.
45 Amazon Episodes

BUY / RENT
87 Hulu Episodes

FREE
77 Hulu Plus Episodes

SUBSCRIPTION
27 FOX Episodes

FREE
23 iTunes Episodes

BUY / RENT
Season 12
(20 full episodes, 1 clip available)
Episode 6 - 15 Chefs Compete

It's time to select a team leader for the next dinner service. Also VIP guests will be in Hell's Kitchen.

Episode 5 - 16 Chefs Compete

The two teams compete in a memory challenge and must match side dishes with four different types of protein. Later, the chefs must prepare a breakfast reception for the first ever Hell's Kitchen wedding.

Episode 4 - 17 Chefs Compete

The contestants must successfully create 10 perfect plates of lobster ravioli in the team competition. Later the contestants must prepare steak dinners.

Episode 3 - 18 Chefs Compete

The chefs are taught an important lesson about teamwork in the kitchen. Later, Chef Ramsay is once again disappointed by the dinner service.

Episode 2 - 19 Chefs Compete

Episode 1 - 20 Chefs Compete
Season 11
(84 full episodes, 9 clips available)
Episode 22 - Winner Chosen

Episode 21 - 2 Chefs Compete

Episode 20 - 4 Chefs Compete

Episode 19 - 5 Chefs Compete, Part 3 of 3

Episode 18 - 5 Chefs Compete, Part 2 of 3

Episode 17 - 5 Chefs Compete

Episode 16 - 6 Chefs Compete

Episode 15 - 7 Chefs Compete, Part 2

Episode 14 - 7 Chefs Compete, Part 1

Episode 13 - 8 Chefs Compete

Episode 12 - 9 Chefs Compete

Episode 11 - 10 Chefs Compete

Episode 10 - 12 Chefs Compete

Episode 9 - 13 Chefs Compete

Episode 8 - 14 Chefs Compete

Episode 7 - 15 Chefs Compete

Episode 6 - 16 Chefs Compete, Part 2

Episode 5 - 16 Chefs Compete, Part 1

Episode 4 - 17 Chefs Compete

Episode 3 - 19 Chefs Compete

Episode 2 - 20 Chefs Compete, Part 2

Episode 1 - 20 Chefs Compete, Part 1
Season 10
(38 full episodes, 6 clips available)
Season 9
(9 full episodes)
Season 8
(15 full episodes, 2 clips available)
Season 7
(15 full episodes)
Season 6
(15 full episodes)
Season 5
(15 full episodes, 2 clips available)
Season 4
(15 full episodes, 43 clips available)
Season 3
(11 full episodes, 50 clips available)
Season 2
(10 full episodes, 14 clips available)
Season 1
(12 full episodes, 15 clips available)
Hell's Kitchen News
View More News

Hell's Kitchen Video Clips & Extras