Watch Indecision 2008
Whether canvassing the conventions or reporting live on election night, The Daily Show Correspondents have the campaigns covered with irreverent commentary and dispatches from the field.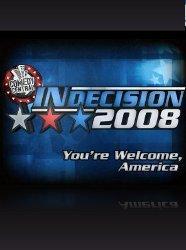 Indecision 2008

Full Episode Guide
Episode 2 - Republican National Convention

Hurricane Gustav is the top story as the storm looms large on the eve of the Republican National Convention in St. Paul, MN. So why is Samantha Bee carefully watching the weather in the Pacific Northwest? Excited to be in Minnesota, The Daily Show news team reports from the Larry Craig bathroom. When the GOP slams community service after declaring "service" their slogan, Jon has a thing or two to say to his audience. Joining Jon from the convention are guests: NBC's Brian Williams, Fmr. Speaker of the House Newt Gingrich, and Fmr. Gov. Mike Huckabee.

Episode 1 - Democratic National Convention

Jon covers the Democratic National Convention with the help of a few beer ads. What are The Daily Show correspondents up to in Denver? John Oliver heals Clinton supporters with the help of a child psychologist. Samantha Bee calls on everyone to unite behind correspondent Wyatt Cenac. Aasif Mandvi discusses Barack Obama's acceptance speech. Joining Jon from the convention are guests: Gov. Tim Kaine, DNC Chair Howard Dean, and Sen. Evan Bayh.
If You Like Indecision 2008 , Then Try...