Watch Kendra
Kendra is a reality television show that portrays the life of the ex-playboy model Kendra Wilkinson. She is married to former NFL player Hank Baskett with which she has a child, Hank Jr. Hank is adjusting from being an athlete to business owner, and this has its own challenges that they face together.
Kendra is struggling to keep her career afloat and at the same time be a good mom to her son. In one episode she has to conquer her fear of heights in order to do a dive on TV for a show she was a part of and was finally able to do it once she saw Hank Jr's smile in the crowd.
This show follows this couple's every day life and Kendra's new roles after Playboy as a mom ,wife and TV star.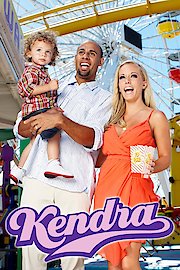 Kendra

Full Episode Guide
Episode 10 - Homeward Bound

Kendra comes face to face with Hank's past when they attend his high-school reunion. She also helps him deal with his fears of returning home without being part of a football team.

Episode 9 - The Homecoming King

Kendra comes face to face with Hank's past when they attend his high-school reunion. She also helps him deal with his fears of returning home without being part of a football team.

Kendra's book tour takes her through every city she and Hank have lived in since they got married. She sees old friends and confronts the shock jock who compared her to Mrs. Brady.

Episode 7 - Lovitz or Leave It

Kendra wants to hone her skills as a television host in hopes that it will help her book a few more gigs. See if she's got what it takes.

Episode 6 - Fathers and Sons

Episode 5 - Family Matters

Episode 4 - Meet Your Match

Episode 3 - Victoria's Secrets

Episode 2 - A Fine Bromance

Episode 1 - Here Comes the Neighborhood
Episode 8 - It's All Relative

Episode 7 - Come Out As You Are

Episode 6 - Bye-Bye, Bye Week

Episode 4 - The Unkindest Cut

Episode 2 - Let the Games Begin

Episode 1 - Welcome to Philadelphia
Kendra News
'Girls Next Door' Bunny Kendra Wilkinson Finally Gets a Wedding Invite - Will Hef Change the Date for Her?
Kendra Wilkinson has less reason to object to the marriage of Hugh Hefner and girlfriend Crystal Harris, after finally receiving an invite to the wedding. Wilkinson, who never wanted to marry the Playboy-man herself, was upset that she had yet to receive an invite. After the story ran, Wilkinson received an email soon after from Hef. "We haven't sent any 'Save the Dates' but if you can't make the planned wedding on June 18, we'll just change the date. Do you think I'd consider getting married without you being there?!" it read.
Kendra Wilkinson: The Next Wedding Crasher?
It's hard to imagine planning a wedding and taking the time to invite the former lovers of your soon to be husband (or wife). For most people, it's an intimate day you'd want to share with your friends and family. Kendra Wilkinson doesn't quite understand why some of Hugh Hefner's former girlfriends, including herself, have not received wedding invitations for Hefner's nuptials with Crystal Harris. According to PopEater, sources close to Harris say that she's undecided about whether she wants her wedding full of women her husband has slept with.
Surprise, Surprise: 'Girls Next Door' Star Kendra Wilkinson Has Another Sex Tape Surface
Poor Kendra Wilkinson. She left the Playboy Mansion and Hugh Hefner almost two years ago, but the sexual lifestyle is still following her. Kendra left the Hef, got married, had a baby and seemed to be on the fast track back in to a normal life. Until a sex tape of her was released by a former friend and boyfriend. Kendra and her husband Hank Baskett weathered that storm, only to be facing another one. This time, the tape shows Kendra with another woman. Didn't Kendra already have several sex tapes come out? What is so new about this one? Is it just the sheer volume of tapes that Kendra allowed herself to be in that is surprising people? According to Popeater, "the new video, which was shot by Wilkinson's ex-boyfriend Justin Frye, shows the star with a former high school friend.