Watch Kendra
Kendra is a reality television show that portrays the life of the ex-playboy model Kendra Wilkinson. She is married to former NFL player Hank Baskett with which she has a child, Hank Jr. Hank is adjusting from being an athlete to business owner, and this has its own challenges that they face together.
Kendra is struggling to keep her career afloat and at the same time be a good mom to her son. In one episode she has to conquer her fear of heights in order to do a dive on TV for a show she was a part of and was finally able to do it once she saw Hank Jr's smile in the crowd.
This show follows this couple's every day life and Kendra's new roles after Playboy as a mom ,wife and TV star.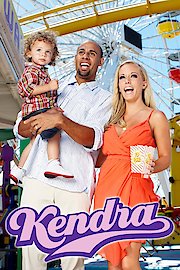 Kendra

Full Episode Guide
Episode 10 - Homeward Bound

Kendra comes face to face with Hank's past when they attend his high-school reunion. She also helps him deal with his fears of returning home without being part of a football team.

Episode 9 - The Homecoming King

Kendra comes face to face with Hank's past when they attend his high-school reunion. She also helps him deal with his fears of returning home without being part of a football team.

Kendra's book tour takes her through every city she and Hank have lived in since they got married. She sees old friends and confronts the shock jock who compared her to Mrs. Brady.

Episode 7 - Lovitz or Leave It

Kendra wants to hone her skills as a television host in hopes that it will help her book a few more gigs. See if she's got what it takes.

Episode 6 - Fathers and Sons

Episode 5 - Family Matters

Episode 4 - Meet Your Match

Episode 3 - Victoria's Secrets

Episode 2 - A Fine Bromance

Episode 1 - Here Comes the Neighborhood
Episode 8 - It's All Relative

Episode 7 - Come Out As You Are

Episode 6 - Bye-Bye, Bye Week

Episode 4 - The Unkindest Cut

Episode 2 - Let the Games Begin

Episode 1 - Welcome to Philadelphia