Watch M*A*S*H
M*A*S*H is a critically acclaimed television program that was based on the highly popular dark comedy film from 1970. A majority of the characters from the film transferred over to the series that ran for 11 seasons. The show was highly critically acclaimed and was a top 20 Nielsen ranked show for 10 out of its 11 years. The show won the Emmy award for Most Outstanding Comedy Series in 1974. Several members of the show's ensemble cast were also honored with Emmy awards for their acting. The list of Emmy winners included Alan Alda, Gary Burghoff, Loretta Swit and Harry Morgan.
The show, like the film, is set during the Korean War. The stories all center on a group of surgeons and nurses at a mobile hospital near the front lines of combat. Although it is a comedy, the show dealt with some very dark subjects related to the horrors of war.
Benjamin Hawkeye Pierce is the lead character who was portrayed by Alan Alda. He was the comic relief and occasional voice of reason of the show. A reccurring comedic plot was the romance between the uppity head nurse, Margaret Hot Lips Houlihan and a married officer, Frank Burns. Another comedy device that was often utilized included Corporal Maxwell's constant attempts to be kicked out of the army.
The series had many highly rated and critically lauded episodes. One of the most memorable moments was when the commanding office, Lieutenant Colonel Henry Blake, was killed in a helicopter crash.
Over the lifetime of the series, the show would often change things up. After Henry Blake was killed, he was replaced by Colonel Henry Potter. Other major characters that left during the show's run include Frank Burns, Radar O'Reilly, and Trapper John McIntyre.
M*A*S*H also set a record with its series finale that was titled Goodbye, Good Luck, and Farewell. It became the most highly rated and most watched television program of its time.
The show was considered ground breaking television and was years ahead of its time. M*A*S*H set the standard that future comedies and dramas would strive to achieve.
11 Seasons,

251

Episodes - Canceled

September 17, 1972

10

/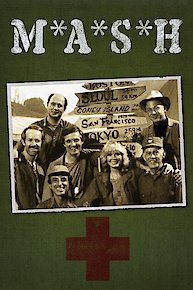 M*A*S*H

Full Episode Guide
Episode

16

-

Goodbye, Farewell and Amen

The final days have finally arrived for the 4077th. In the passing days we find Charles as a conductor for a musical group of Chinese prisoners, B.J. wishing to make it home in time for Erin's birthday and Margaret trying to find a glamorous Army post. But tragedy also befalls some of the group as Hawkeye battles his war memories after an incident aboard a bus, Father Mulcahy loses his hearing from an explosion and Klinger's fiancee can't find her family members. As the camp closes its doors forever, each member tells their plans for the future and say their final goodbyes.

Episode

15

-

As Time Goes By

Margaret and Hawkeye help collect items for a camp time capsule. Also, B.J. gets revenge with the help of a fake grenade, and Klinger falls in love with a young Korean woman who is suspected as being a spy.

Episode

14

-

Give and Take

A soldier learns a heartbreaking lesson after he makes a friendship with a GI he had wounded. Meanwhile, Charles will do anything to avoid taking part as the Charity Officer.

Episode

13

-

Friends and Enemies

Colonel Potter is torn between friendship and doing what is right when the doctors discover that his old friend, Colonel Woody Cooke, froze while the enemy attacked his platoon he was leading, causing unnecessary casualties.

Episode

11

-

Strange Bedfellows

Episode

10

-

U.N., the Night and the Music

Episode

9

-

Run For the Money

Episode

8

-

The Moon is Not Blue

Episode

7

-

Settling Debts

Episode

4

-

The Joker is Wild

Episode

3

-

Foreign Affairs

Episode

2

-

Trick or Treatment

Episode

1

-

Hey, Look Me Over
Episode

21

-

That Darn Kid

Episode

20

-

Picture This

Episode

19

-

Sons and Bowlers

Episode

17

-

Promotion Commotion

Episode

16

-

Where There's a Will, There's a War

Episode

15

-

Pressure Points

Episode

14

-

The Tooth Shall Set You Free

Episode

12

-

Blood and Guts

Episode

11

-

The Birthday Girls

Episode

10

-

Follies of the Living - Concerns of t...

Episode

9

-

'Twas the Day after Christmas

Episode

8

-

Snappier Judgment (2)

Episode

7

-

Snap Judgment (1)

Episode

6

-

Communication Breakdown

Episode

5

-

Wheelers and Dealers

Episode

4

-

Give 'em Hell, Hawkeye

Episode

3

-

Rumor at the Top

Episode

2

-

Identity Crisis

Episode

1

-

That's Show Biz
If You Like M*A*S*H, Then Try...