Watch Monica: Still Standing
Monica Still Standing is a reality series that aired for one season on BET. It stars Rhythm and Blues singer Monica and documents her life as she works on her sixth album. Monica Still Standing displays the many facets of Monica Arnold's life. She is an artist, mother, daughter and fiancé/wife. During the course of the show, Monica collaborates with many high-profile producers such as: Rocko Da Don, Jermaine Dupri, Kendrick WyldCard Dean, Polow Da Don, Timbaland and Dallas Austin. Her main focus is to find a title single for this sixth album. To Monica's dismay the record label rejects her two choices for the title track and she has to continue her search. Finding the single is critical because Monica has been out of the limelight for four years. She is in jeopardy of being dropped from J records' roster.
The show also documents several small venue performances where Monica gets up close and personal with her fans. With her family in tow, Monica travels to a sold-out performance in Birmingham, Alabama to sing at a small club where she is reminded why she sings. The series also shows her making public appearances at the Atlanta Car and Bike show and the Atlanta Children's Hospital. Before a performance at FAMU the show chronicles an impromptu forum where Monica has a heart to heart discussion with the female business students.
On a more personal note, the show also aired an episode where Monica visits her doctor and is advised to take control of her health. She meets with a chef and personal trainer and starts a daily routine that will enable her to feel great during her rigorous schedule of promoting her album. The viewer is also privy to the personal and professional relationship that Monica has with her cousin and Manager, Melinda.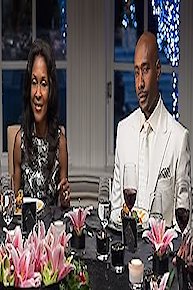 Monica: Still Standing

Full Episode Guide
Episode

13

-

The Single: Monica

Episode

12

-

Still Standing Finale

Monica finally makes a final decision on which song she is going to release.

Monica celebrates her 29th birthday by traveling to Tallahassee, Fla., for a concert at Florida Agricultural and Mechanical University.

Episode

10

-

Breaks My Heart

Timbaland offers Monica some new insight about her album.

Episode

9

-

Before You Walk Out of My Life

Episode

7

-

Don't Take it Personal

Episode

5

-

Love All Over Me

Episode

4

-

Why I Love You So Much

Episode

3

-

Believing in Me

Episode

2

-

Angel of Mine

Episode

1

-

Still Standing
If You Like Monica: Still Standing, Then Try...