Watch Pawn Stars
Series Length:
11 Seasons,

295

Episodes
Description:
Pawn Stars is a reality TV show that showcases the Gold and Silver Pawn Shop based in Las Vegas Nevada. The show airs each Monday night on the History Channel. The show revolves around four main characters. Rick Harrison is the co-owner who oversees operations at the shop. His father, nicknamed "Old Man", is the owner of the company. There will be times when they show him sleeping in his chair during the day.
Corey, also known as Big Hoss, manages the sales floor during the day. He is Rick's son and is most likely going to inherit the shop one day. His main job is to watch over ChumLee. He is dimwitted and often says and does dumb things for comic relief.
Customers will bring items into the pawn shop to be either pawned or sold. If an item is pawned, the customer is granted a loan that must be repaid within 120 days. If an item is sold, the item becomes property of the shop.
There are many experts and researchers that make regular appearances on the show when Rick, Corey or the Old Man doesn't know the value of an item. Gun experts, museum curators, handwriting experts and others are brought in to authenticate items to get a sense of their true value.
Another fascinating aspect of the show is the negotiation process that takes place before an item is pawned or sold. Many people believe that there autographed picture or concert poster is worth thousands when it may only be worth $50. The banter between the customer and the employees of the pawn shop provide many humorous moments for the show.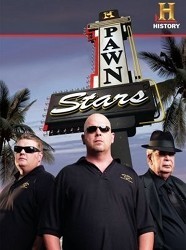 Pawn Stars

Full Episode Guide
Select the sources you want displayed in the episode guide. All others will be hidden.
192 Amazon Prime Episodes

SUBSCRIPTION
286 Amazon Episodes

BUY / RENT
5 Hulu Episodes

FREE
24 History Episodes

CABLE
100 Vudu Episodes

BUY / RENT
288 iTunes Episodes

BUY / RENT
4 Yahoo AU Episodes

FREE
Season 11
(67 full episodes)
Episode 19 - Sleeping Giant

Episode 18 - Chum's Revenge

The Pawn Stars are presented with a 1956 Buick and a Neil Diamond jacket. And later, the Harrison men get family portraits made to hang in the shop. Even though Chumlee is left out, can he find a way to leave a lasting impression?

Episode 17 - Traffic Jammed

The Pawn Stars are presented with a letter recovered from the United Flight 736 crash and nozzles from the Queen Mary ocean liner.

Episode 16 - April Fooled

Episode 13 - Choo Choo Chum

Episode 9 - You Snooze, You Lose

Episode 8 - McKinley Family Jewels

Episode 3 - Chords, Swords and Rewards

Episode 2 - The Great Pawnbino

Episode 1 - Rough and Tumble
Season 10
(87 full episodes, 2 clips available)
Episode 31 - Extreme Pawnover

Episode 30 - Rescue 9-1-Chum

Episode 29 - Sunday Funday

Episode 28 - Smurf and Turf

Episode 27 - Anytime, Any Mace

Episode 26 - Silent Stars and Rebel Cars

Episode 25 - Can't Buy Me Love

Episode 24 - I'll Be Doggone

Episode 22 - Truly Trivial

Episode 21 - You Say You Wanna Revolution

Episode 20 - Finding Fonzie

Episode 19 - Put Your Hands Up

Episode 18 - Lost in Spacelander

Episode 17 - Another Christmas Story

Episode 16 - The Amazing Chumlee

Episode 15 - Woah Pilgrim

Episode 14 - Gnarly Harley

Episode 13 - Bad to the Bone

Episode 12 - Open and Shut Case

Episode 11 - Rebel, Rebel

Episode 10 - Cold Hard Cash

Episode 8 - Chum of All Fears

Episode 7 - Brush with Greatness

Episode 6 - Comfortably Chum

Episode 5 - No Shoes, No Shirt, No Service

Episode 3 - Say It, Don't Spray It

Episode 2 - The Bald and the Beautiful

Episode 1 - Everyday I'm Shufflin'
Season 9
(24 full episodes, 10 clips available)
Season 8
(48 full episodes, 1 clip available)
Season 7
(51 full episodes, 1 clip available)
Season 6
(62 full episodes)
Season 5
(179 full episodes)
Season 4
(117 full episodes, 4 clips available)
Season 3
(125 full episodes)
Season 2
(93 full episodes, 3 clips available)
Season 1
(46 full episodes, 2 clips available)
Pawn Stars Video Clips & Extras