Watch Sal y Pimienta
Sal y Pimienta is a wonderful TV show that was launched by Univision, the television station is directed to the Hispanic audience in the United States. The Executive Producer of the successful program is Alex Rodriguez, with his incredible production crew, can back up all the efforts of those who are in front of camera.
The experience, knowledge and education of their host, have made the show one of the favorites within the options available for the Spanish speaking viewers. Rodner Figueroa, a Venezuelan social communicator, has gained some notoriety and status in show business; mainly by his numerous appearances on TV, by giving his expert opinion on celebrity fashion. Lourdes Stephen, a talented and charming journalist, born in Dominican Republic; who is well known for her career in TV and newspapers news coverage, as well as her transition to the entertainment area. Veronica Bastos, a Costa Rican with a fabulous background as a reporter and commentator in the prestigious Communication Media Field, contributes to the show with the spark that truly characterizes her, along with refreshing comments and bold & provocative interviews. Marisa del Portillo is a versatile Mexican women with a complete career in journalism, acting (theater and cinema), radio and TV who is also a great addition to the show.
All of the host, with their charisma and talent, has attracted thousands of viewers in the United States and all the other countries in which they reach, in record time.
Sal y Pimienta has extraordinary content that will keep the followers informed about what is new, what is coming and what has happened since the last time in which a person didn't get the opportunity to see the program. With amazing scoops, astonishing interviews that let you know the human side of the artists (splits, divorces, sues, trials, family problems, and all kind of personal situations in which they are involved), incredible behind the scenes views of some fabulous programs, surprising secrets brought to light by the celebrities themselves, exclusive and audacious interviews, announcements and comments that celebrities post in social media, shocking scandals in the entertainment world, criticism in the most important red carpet events, fashion designer interviews; pleasant visits from handsome actors, beautiful actresses, talented singers, famous presenters, and much more.
Also, you will have the capability to see incredible reviews, behind the scenes footage and interviews of the contestants of one of the most successful celebrity dancing shows at the moment; so you will not miss anything, even if you weren't able to view the dancing program itself because of the great coverage that is provided in detail.
Sal y Pimienta (Salt and Pepper), as its name implies, will give you the perfect seasoning for your week; with entertaining information, for a relaxing moment.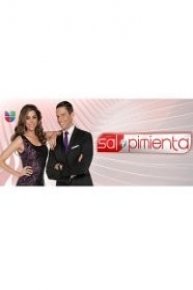 Sal y Pimienta

Full Episode Guide
Season
6
37 clips available
Episode

101

-

Especial de Gloria Trevi

Un detrás de cámaras de lo que sucede en los shows de concurso y en el mundo del espectáculo.
Season
5
1 clip available
Episode

21

-

Dom, Jun 15, 2014

Raúl Magaña se convirtió en el segundo eliminado de Bailando Por Un Sueño. Livia Brito sorprendió con su baile en Bailando Por Un Sueño.

Episode

20

-

Dom, Jun 1, 2014

Mark Tacher aclaró los rumores de que Cecilia Galliano est'á embarazada. Detalles de la boda de Ana Patricia y Luis Carlos.

Episode

19

-

Dom, May 25, 2014

Zuleyka Rivera y el hermano de Jencarlos Canela est'án juntos. Sylvia Pasquel defiende a su sobrina Frida Sofía del esc'ándalo.

Episode

18

-

Dom, May 18, 2014

La ganadora de Nuestra Belleza Latina 2014, Aleyda Ortiz, reveló si temió a su competencia. Alicia Machado aseguró que Aleyda es muy parecida a ella.

Episode

17

-

Dom, May 11, 2014

Alina Robert contestó preguntas del público y reveló si se casa. Lourdes Stephen recordó el último día que vio a su madre.

Episode

16

-

Dom, May 4, 2014

Adal Ramones habló del terrible secuestro que vivió hace 14 años. Rodner Figueroa se puso besucón ¡y hasta a Verónica la tocó!

Episode

15

-

Dom, Abr 20, 2014

Alicia Machado salió echando chispas del estudio de Nuestra Belleza Latina. B'árbara Bermudo y Pamela Silva Conde revelaron detalles de cirugías y si viene la cigüeña.

Episode

14

-

Dom, Abr 13, 2014

Juan Rivera reaccionó y explicó las razones por las que lo arrestaron. Angélica Vale reveló cu'áles fueron los sustos que ha tenido en su segundo embarazo.

Episode

13

-

Dom, Apr 6, 2014

Le hacen una rom'ántica propuesta de matrimonio a Alina Robert. Cynthia Klitbo llevó una vida de novela y habló de cómo salió de la depresión.

Episode

12

-

Dom, Mar 30, 2014

El Güero Castro sufre por estar separado de Angelique Boyer. José Ron y Ariadne Díaz no se ponen de acuerdo y dan las versiones de su separación.

Episode

11

-

Dom, Mar 23, 2014

Sangre y heridas, lo que no se vio del reto de la pasarela acu'ática de Nuestra Belleza Latina. Alicia Machado se desahogó y dijo "Yo nunca fui la favorita en ningún concurso".

Episode

10

-

Dom, Mar 16, 2014

Alejandra Espinoza se llevó tremendo susto al ser abrazada por una enorme serpiente. Ana Serradilla reveló las fobias que tuvo que enfrentar al interpretar a La Viuda Negra.

Episode

9

-

Dom, Mar 9, 2014

Ana Brenda rompió el silencio y reveló por qué cancelo su boda religiosa. Carolina dijo quién debería ser la próxima chica en salir de Nuestra Belleza Latina.

Episode

8

-

Dom, Mar 2, 2014

Los jueces del jurado felicitan a Jencarlo Canela por su debut como juez y terminan ech'ándose veneno. Funcionan las armas de Alicia Machado y Denise Quiñones en Nuestra Belleza Latina.

Episode

7

-

Dom, Feb 16, 2014

ArrancÏ?' Nuestra Belleza Latina con un espectacular desfile de las concursantes. En primicia, el debut de Doña Rosa como cantante.

Episode

6

-

Dom, Feb 9, 2014

Rodner Figueroa descubrió el 'Sexy Room' de la nueva casa de Noelia. Chino reveló que al fin encontró a su 'Chica Ideal'.

Episode

5

-

Dom, Feb 2, 2014

Sherlyn les llevó regalos a los presentadores de Sal y Pimienta. Cristian Castro llevó a su novia embarazada Paola a su concierto.

Episode

4

-

Dom, Ene 27, 2014

Todos los detalles del arresto de Justin Bieber. Especial de los 20 Años de Primer Impacto. Denise Quiñones quiere derrotar a Alicia Machado.

Episode

3

-

Dom, Ene 19, 2014

Chiquis Rivera se lanza como cantante. José Ron y Ariadne Diaz terminan su relación. Alicia Machado muy enamorada y reveló si es cierto o no que estuvo al borde de la muerte.

Episode

2

-

Dom, Ene 12, 2014

Todos los detalles de la inesperada muerte de Mónica Spears. Conoce a los nuevos presentadores de Nuestra Belleza Latina.

Episode

1

-

Dom, Ene 5, 2014

Ricky Martin comenzó año nuevo con vida nueva. Un adelanto de la nueva novela 'Que Pobres Tan Ricos'.
Season
4
5 clips available
Season
3
32 clips available
If You Like Sal y Pimienta, Then Try...