Watch Schitt's Creek
Johnny and Moira Rose are living the high life of money and luxury on the back of the chain of video stores Johnny owns and operates, as the video market closes down Johnny and Moira are forced into some major cost cutting exercises. The couple are shown losing everything they own in this Canadian sitcom until they are finally left with only the town of Schitt's Creek they bought for a joke decades earlier. With nowhere else to go they move to the small rural community and must adapt to life without their longed for luxuries.
Watch Full Episodes of Schitt's Creek

Season 3 Episode 5
Rooms By The Hour (21:47)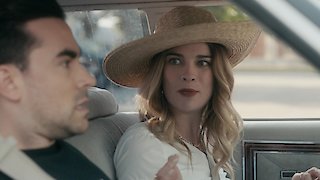 Season 3 Episode 4
Driving Test (21:49)
Season 3 Episode 3
New Car
Season 3 Episode 2
The Throuple
Season 3 Episode 1
Opening Night
Season 2 Episode 13
Happy Anniversary (21:50)

Schitt's Creek

Full Episode Guide
Episode

5

-

Rooms By The Hour

Johnny rents rooms to a morally shady enterprise, while David helps Moira tape a film audition.

As the new owner of the motel, Stevie is in over her head, and Johnny and Moira employ different strategies to discourage Stevie from selling. Meanwhile, Alexis drives a stressed-out David to his driving test, and Alexis finds herself in the unusual position of coaching her older brother.

Johnny decides to buy a new car, and he and Moira craft an increasingly elaborate ruse to avoid getting gouged by the dealership. David accompanies Stevie as she says goodbye to her great-aunt and confronts her own mortality in the process. Alexis and Ted negotiate the rules of their professional relationship when Ted receives a gift from a female client.

Johnny offers to help out an injured Twyla by waiting tables at the cafe, but soon gets in over his head. Alexis and Moira make a plan to have lunch, despite the fact that they're both anxious about spending time alone together. David and Stevie try to figure out the boundaries of their three-way relationship with Jake.

Episode

1

-

Opening Night

Johnny struggles to get a new business venture off the ground while dealing with unwelcome competition at Bob's Garage. Moira makes a splash at her first Town Council meeting, but quickly encounters roadblocks from the other councilors. Meanwhile, David and Stevie are shocked to learn that their romantic lives are intersecting; and Alexis receives a generous offer with Mutt, but has to deal with Mutt's new girlfriend.
Season
2
13 full episodes
Episode

13

-

Happy Anniversary

Johnny and Moira go out for their anniversary and run into a couple they knew from their former lives, while Alexis and David attend Mutt's annual barn party, making up with some friends, and making out with others.

Moira's campaign takes a turn when some of her lawn signs dissappear.

Episode

11

-

The Motel Guest

Johnny and Moira have to deal with a surprise motel guest while Alexis and David go apartment hunting.

Episode

10

-

Ladies' Night

Johnny and Moira on the campaign trail meet with a key demographic. Alexis struggles in her new job. David offers awkward emotional support to his boss' 14-year-old daughter.

Episode

9

-

Moira's Nudes

Moira worries that salacious photos from her past will jeopardize the campaign. Johnny swallows his pride to ask for financial help. Alexis becomes gainfully and surprisingly employed.

Alexis accidentally gets Johnny into the raw milk business. Moira tries to connect with the townsfolk and David gives style advice to the competition without fully considering the consequences.

Episode

7

-

The Candidate

Johnny contemplates running for Town Council. David and Stevie look for love in all the wrong places while Alexis comes to terms with single life.

Episode

6

-

Moira Vs Town Council

Moira attempts to beautify the town. David misuses the company credit card. And Alexis and Mutt question their relationship after a personal grooming misstep.

Johnny talks himself into an unlikely business partnership with Bob. David gets an interview at a woman's clothing store while Moira reluctantly cares for an ailing Alexis.

Johnny and Moira go to an estate sale. Mutt surprises Alexis with a bike, while Roland asks David to help him shop for a special item.

Moira attempts to join the town's a cappella group. Alexis enjoys the heady first days of her latest relationship. And Johnny helps out at Bob's Garage despite himself.

Episode

2

-

Family Dinner

Moira decides to cook dinner with the help of David. Johnny scopes out an office for his consulting business. And Alexis finally comes clean with Ted about their engagement.

Episode

1

-

Finding David

The Roses search for their missing son, David, while Alexis takes her relationship with Mutt to the next level despite technically being engaged to Ted.
Season
1
13 full episodes
If You Like Schitt's Creek, Then Try...
Most Popular Schitt's Creek Episodes
Season 3 Episode 1

Opening Night

1/11/2017

Season 3 Episode 5

Rooms By The Hour

2/08/2017

Season 3 Episode 4

Driving Test

2/01/2017