Watch Star
In the newest brainchild from creators Lee Daniels and Tom Donaghy, a trio of woman forms a musical group in Atlanta, Georgia. Star Davis is a tough teen who's desperate to make it big after spending her childhood in and out of foster care, with little more than the clothes on her back. Alecx is a well-off, upper-class trying to shed her privileged past and set her sights on more authentic modes of musical artistry. Simone, Star's sister, is a talented youngster still bound by the foster system, looking to music and to her sister for escape. These three young, talented vocalists will be tested- creatively, professionally, and emotionally- if they want to make it in the music biz. Much like Lee Daniels' Empire, Star will contain original scores and feature numerous notable hip-hop cameos, such as Nicholas Gonzalez, Benjamin Bratt, and Queen Latifah.
Watch Full Episodes of Star

Season 1 Episode 4
Code of Silence (42:02)
Season 1 Episode 3
Next Of Kin (42:24)
Season 1 Episode 2
The Devil You Know (43:58)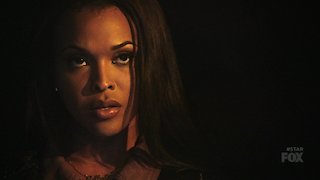 Season 1 Episode 1
Pilot (45:37)

Watch Episodes
News
Clips & Extras
Season
1
4 full episodes, 7 clips available
Episode

4

-

Code of Silence

Carlotta tries to figure out the truth behind Simone and Star's past, as a familiar face reaches out for Jahil's help. Meanwhile, Miss Bruce prepares the salon to compete in an upcoming hair show. In a positive turn of events, the empress of soul, Gladys Knight, is scheduled to introduce their showcase, which includes a live performance from the girls.

Carlotta's protective nature surfaces when someone close to her is in jeopardy. In his efforts to raise funds for a recording session, Jahil finds himself in great danger. Meanwhile, Simone's past continues to haunt her.

Episode

2

-

The Devil You Know

While Star, Alexandra and Simone focus their attention on a demo for an opportunity to perform at a music festival, Roland Crane and his wife, Rose, come into town, revealing a big secret that could cause major damage.

In the series premiere, meet Star, a strong-willed young woman who was raised in the foster care system. She decides to track down her sister, Simone, and her Instagram bestie, Alexandra, and the three girls embark on a journey to Atlanta with the hope of becoming music superstars.
If You Like Star, Then Try...
Most Popular Star Episodes
Season 1 Episode 3

Next Of Kin

1/11/2017

Season 1 Episode 4

Code of Silence

1/18/2017

Season 1 Episode 2

The Devil You Know

1/04/2017

Season 1 Episode 1

Pilot

12/14/2016
Star News
View More News

Star Video Clips & Extras
Star Spotlight: Miss Bruce
Clip (02:10)
Road to Stardom: Queen Latifah
Clip (02:26)
Star Spotlight: Amiyah Scott As Cotton
Clip (01:30)
Road to Stardom: Lee Daniels
Clip (02:43)
STAR Spotlight: Lenny Kravitz As Roland Crane the Rockstar
Clip (01:26)
Star: Official Trailer
Clip (02:37)
Star: Official Trailer 3
Clip (01:00)